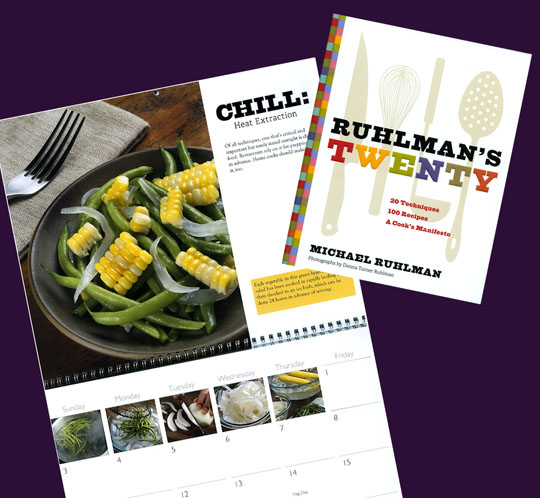 Two years ago, Donna made a calendar of some of her favorite food shots. Last year she didn't and several people complained. So this year she made one using some of her favorite shots from Ruhlman's Twenty. I linked each one to one of the twenty techniques and also add some words about the technique and about the dish featured. The dates page includes process shots of the dish where there's room.
They're printed on demand and shipped by Apple, so they're a little on the pricey side. Sorry, but unless we wanted to print 10,000 of them they are what they are, $38 delivered.
If you would like a copy of Donna's Ruhlman's Twenty Calendar, it works like her ratio chart. Here's what to do:
Go to paypal.com, an excellent and secure way to send money, sign in to your account, click the "send money" button and send $38 to michael@ruhlman.com. Please put "Calendar" in the subject heading of your message, no nead to put something in the message box, just hit send.  Donna says printing and shipping take a week or less. Sorry that we can only ship within the US. (If you must pay by check or credit card, email me separately, using the "contact" button above.)
And by all means, let us know what you think!
If you liked this post on Twenty Calendar, check out these other links:
© 2011 Michael Ruhlman. Photo © 2011 Donna Turner-Ruhlman. All rights reserved