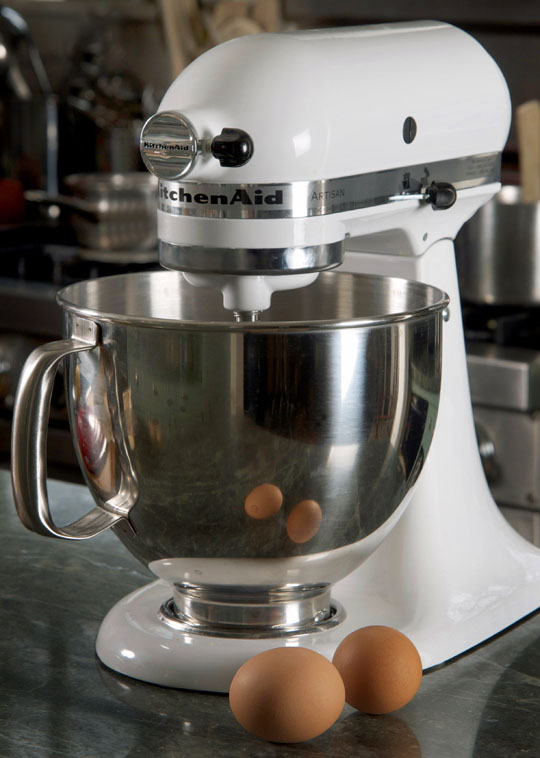 This week's posts will be devoted my personal kitchen tool gift guide, starting with the big guns.
I got my first KitchenAid stand mixer 20 years ago as a Christmas gift from my mom's boyfriend, Hap, and it was one of the best gifts I ever got. It's the most used appliance in my kitchen. I've beaten the hell out of it, even flipped it off the countertop while trying to grind something particularly difficult. And it still runs.
When Donna and I began doing photography for Twenty, we wanted something a little better to look at and so now use the above "Artisan" 5-quart model (linked to above). If you're looking for that over-the-top gift for the one in your family who loves to cook, this can't be beat. It's what we tested all the Bouchon Bakery recipes on for Thomas Keller's next book, and it's the one I used yesterday to make bread dough with my son James.
One of the five most important tools in the kitchen? Two sharp knives. A big one and a little one. I recommend these Wusthof knives. My cousin gave them to me 21 years ago and they remain fabulous knives. Biggest problem in American home kitchens is dull knives. Buy good ones, keep them sharp.
For cookware, my favorite pots are Le Creuset cast iron enamel.  Worth every penny. If you cook for a lot of people, you need the 7-quart version. For smaller stews and braises, the 3.5 quart version is really convenient.
Saute and sauce pans. I recommend All-Clad.  They're the best (and they're made in America!).  Again, if you're just starting out, you need a pig pot and a smaller one, a big sauté pan and a small one.
My favorite all-clad pan is the saucier, a great all-purpose pan.
The VitaMix blender is another one of those professional caliber tools that costs a bundle but there simply is no more powerful blender you can buy, that I know of. It's why you see this thing in every good restaurant kitchen, if not several of them. They last forever, the make very smooth purees, you can grind grains in it, make mousselines in them, great smoothies, and I've even seen hot soups made start to finish in them (because the motor gets so hot).
A new item this year for me is the Fagor induction burner. They're super powerful burners that use radio waves to instantly make steel and iron pans hot. They're super efficient (a stick of butter set next to the pan won't melt), boiling water in half the time as my gas flame. When summer heat makes cooking oppressive, this won't add extra heat to your kitchen. And it's great for big cooking days when you need that extra burner, or you want to keep a pot warm in the dining room (it's portable). I'm offering a special deal over at OpenSky on this item. You need to follow me at Opensky and click on my collection to take advantage of the Amazon price and free non-stick pan (and free shipping on all items purchased from OpenSky through today).
I can't recommend the cheaper induction burner Fagor sells because it doesn't have the same power, but if you're pinched, it would probably do.
Do you have a charcutier in your family or someone who wants to make sausage? Here's the grinder I recommend.  And this is an eminently affordable 5-pound cylindrical stuffer from Butcher & Packer.
Sausage that we put into this terrine mold, we call pâté. This cast iron enamel terrine mold is a great gift.
I don't use a food processor very often, but a lot of people do. Certainly when you need them, they're great to have. Here's the one I use. (But again, it's the stand mixer featured at the top of the paget that's my kitchen workhorse.)
Finally, another first in the recommended gift category: the iPad2 and the Kindle Fire. They are increasingly used in the kitchen. I love my iPad (I can play music while cooking, refer to app and cookbooks, search recipes, all pretty much simultaneously—thank you Steve Jobs). I've just started using my Kindle Fire but I can I LOVE it. Look out iPad! Kindle Fire is hot.
Get your shopping done now, so you don't stress later!