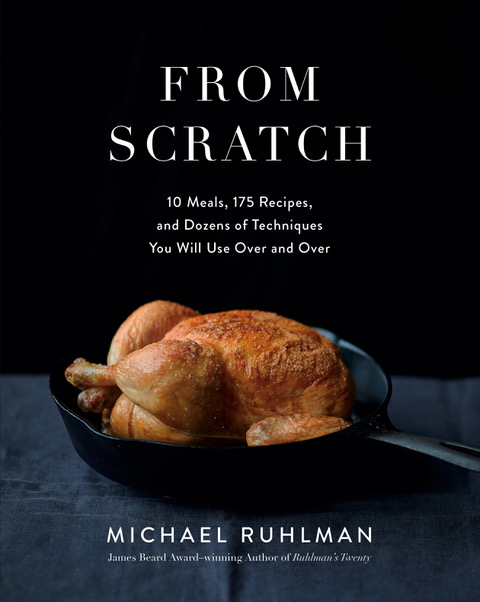 This is my most recent cookbook, and the details are these: It looks at 10 staple meals—roast chicken, steak dinner, lasagna—and explores all the techniques and dishes you learn simply by knowing one of them. It includes 175 recipes, gorgeous photography by Quentin Bacon of food I made in my home kitchen. I'm all about technique and learning. But I sent it to recipe goddess and writer I truly respect and admire, Ina Garten, terrified she wouldn't like the food.
I got this back: "Hi Michael, ... It's simply STUNNING!! I love your voice, the recipes, the components, and all the amazing information. Small batch stocks is transformative. And the recipes we made are so delicious!"
And she offered these words:
"I love this book!! Michael Ruhlman is a genius cook and teacher. I love his voice, his recipes, his tips, and the way he makes great cooking totally accessible. Through the recipes for 10 classic meals, he covers how to cook almost anything. From Scratch inspires me to be a better cook and I know you'll feel the same way I do!"-- Ina Garten, Barefoot Contessa cookbooks & television.
Thank you, Ina, you generous soul.
I also sent it to the phenom testing guru, cook, restaurateur and author, J. Kenji Lopez-Alt, who said even more:
"Like a master chef clarifying a murky stock into a crystal-clear consommé, Ruhlman detangles the complex web of technique, myth, and folklore that is cooking. With From Scratch, he embeds lessons in the context of things you really want to eat, and he shows how understanding one recipe really well can open the door to dozens of others. The lessons are set up in such a way that you can decide exactly how deep a dive you want to take, though with a guide like Ruhlman at your side, that's most likely a mouth-first leap straight into the deep end."-- J. Kenji López-Alt, author of The Food Lab: Better Home Cooking Through Science
Thank you amazing Kenji!
Hope you'll give it a look. The world is better and we are happier when we cook our own food. Period
What Does From Scratch Mean?
To me it means only this: you made the meal yourself.
You didn't buy it and reheat it or have it delivered. Is popcorn made on the stove top in a pot with melted better "from scratch" if you didn't make the butter yourself? Of course it is.
For lasagna, if you roll your own pasta, make your own sauce from tomatoes you grew, include sausage you seasoned yourself and include ricotta and mozzarella you also made? That is SERIOUSLY from scratch. And you should (and do) rejoice in the work and the pleasure of sharing it.
But I believe if you cooked the noodles and assembled it using jarred sauce and pre-grated cheese, you can call it from scratch because you started with raw, you cooked it all and served it to as many people as possible.
The Story of FROM SCRATCH, how it came to be:
The book came about while I was writing a completely different cookbook. I was thinking about one of my favorite meals, roast chicken, and all you could learn from it (how to make a stock, and then any stock, how to make a pan jus, how to make gravy, a refined sauce fines herbes).
And I recalled the long ago BLT From Scratch Challenge. How great was that: everyone agreeing to make their own bread, make their own mayonnaise, grow their own lettuce and tomatoes, and cure their own bacon. None of it particularly difficult, and a blast if you like to cook. I went back to the winners entry, and remembered 9-year-old Emma Kate, who once again brought me to tears with her story.
This lead me to wonder aloud (lying in bed one Sunday reading The Times), what other meals can you learn from? As my wife, Ann, stepped into the shower, she shouted out "Lasagna!"
Yes! I thought. How to make pasta. A variety of tomato sauces. How to make your own ricotta, and even mozzarella. And also Bolognese sauce and Béchamel. And other pasta dishes. There's even an offshoot recipe for the cleanest Bloody Mary you can make.
Here are the ten meals from which 175 recipes are born:
Roast Chicken
The Omelet
Lasagna
Steak Frites
Paella
Cassoulet
Slow-Roaasted Pork Shoulder
Curry
The BLT
The Profiterole
Hope you'll pre-order the book! Here are various links depending on how you like to buy books:
Amazon: https://www.amazon.com/dp/1419732773
B&N: https://www.barnesandnoble.com/w/from-scratch-michael-ruhlman/1130856266#/
IndieBound: https://www.indiebound.org/book/9781419732775
BAM: https://www.booksamillion.com/p/product/search/9781419732775
Indigo (Canada): https://www.chapters.indigo.ca/en-ca/books/from-scratch/9781419732775-item.html
Book Depository (International): https://www.bookdepository.com/From-Scratch-Michael-Ruhlman/9781419732775
Booktopia (Australia): https://www.booktopia.com.au/from-scratch-michael-ruhlman/book/9781419732775.html
Pre-order From Scratch from your favorite book retailer before October 15, then fill out the form page to receive an exclusive signed 11x17 print from the book! Link to form: https://abramsbooks.wufoo.com/forms/z66xjvp1wuns6z
Feel free to contact me via the contact button on the site.
Happy cooking!