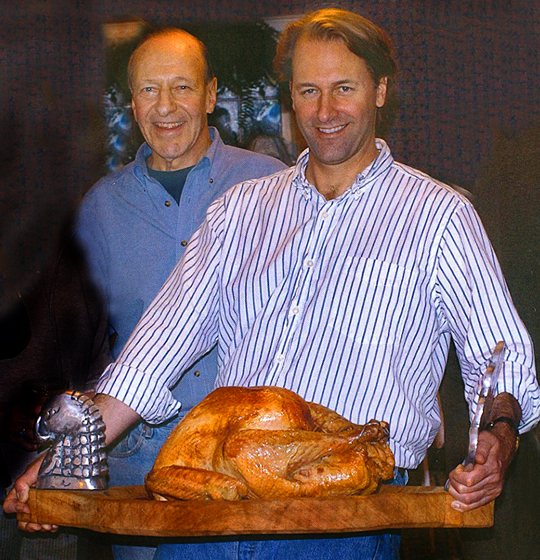 Of the many many reasons I have to be thankful, one of them is this blog and the enormously thoughtful, intelligent readers who drop by to read and comment. I truly am grateful. Thank you. I wish you all happy Thanksgiving (and hope that you have tons of fun in the kitchen today)!
The above photo was taken on Thanksgiving 2007 (I'm struggling to hold the turkey up, but I think it's important to parade the bird before carving it—my mom found the platter in Mexico). That's my dad, Rip, with me. It would be the last Thanksgiving I would have with him. Three weeks after this day, he sat me and Donna down in front of the fire after dinner at his house. He had something to say. Recent X-rays showed a spot on his lung, he said. He'd need to go in for a biopsy. A former but long-time smoker, he feared the worst. Which is what it turned out to be. In less than 9 months, he would be gone. Gone, gone, gone.
My father was the ultimate giver, the provider of the feast literally and spiritually.
So my Thanksgiving message to you, cherished readers, is to be thankful for those you have in your midst, be thankful for what we have this moment, and each moment we have it. Let the people you love know it, let them know it as often as possible.
One of the qualities that defined my father was his determination not to be wasteful. He valued economy and efficiency. So it's appropriate here to remind all of you who will have the carcass of a devoured turkey on hand, to make stock from it. It makes the most wonderful broth. Please don't discard it. Break it up, put it in a big pot, cover it with water, and put it in a low oven overnight.
Doug Katz, the chef who suggested the roast/braise method to me that works so well, would recommend making a barley soup from the stock. Great idea. Sweat some onions or leeks and carrots, add the stock and an appropriate amount of barely, along with any left over turkey you might have on hand! It can be as simple as that.
Again, Happy Thanksgiving to all!
Turkey Stock: Oven Method
1 turkey carcass
2 large Spanish onions, cut up
4 large carrots, cut up
4 bay leaves
1 tablespoon peppercorns, cracked with a saute pan (optional)
5 or 6 cloves of garlic (optional)
2 tablespoons tomato paste (optional)
several sprigs fresh parsley and thyme (optional)
Put all the turkey bones in a pot. The more meat left on them the more flavor your stock will have. You may want to break them apart so that they fit more efficiently in the pot. Cover them with an inch or two of water. Put the pot in the oven and turn the oven to below 200 degrees F. (180 degrees F. is best). Leave them in the oven, uncovered, for at least 8 hours and as many as 16.  If you have an enormous pot of water and bones, you may want to bring it to a simmer, and then put it in the oven.
Remove the stock from the oven and add the remaining ingredients.
Bring the stock to a simmer on the stove top, then turn the burner to low and cook for an hour on the stove top, or return the pot to the oven for a few more hours.
Strain the stock through a fine mesh strainer or once through any kind of strainer, then again through kitchen cloth (or one of our all-strain reusable cloths!).  Chill, remove the fat from the top.  Freeze in pint deli cups.  Or make onion and barely soup!
If you liked this post on Thanksgiving & Turkey Stock, check out these other links:
© 2011 Michael Ruhlman. Photo © 2011 Donna Turner-Ruhlman. All rights reserved