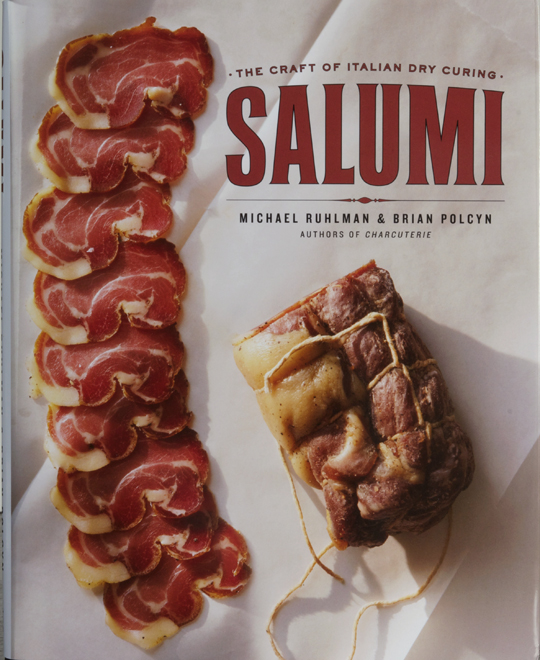 I can already feel Donna rolling her eyes. I'm like that, um, ham, who runs out onto a Broadway stage and flings out his arms ... and then silence. Well, it is my theater here, and I don't exactly sell tickets, and at least it's not a political ad!
Brian Polcyn and I are very proud of our new book, Salumi: The Italian Craft of Dry Curing, about how to make your own pancetta, guanciale, coppa, and other dry-cured wonders in the grand and ancient tradition of Italy. There's a reason one of the oldest examples of early civilization still exists. Because everyone can do it, and because it's delicious. Granted, not everyone wants a piece of meat hanging from the chandelier for three weeks, but for those demented and wonderful souls who do, this book is for you. You see it increasingly in restaurants throughout the country—and where chefs dare tread, home cooks follow.
Salumi exists because the most unlikely of publishing phenomenons happened: Charcuterie. Our last book together, that is, Charcuterie: The Craft of Salting, Smoking and Curing. This book is nothing but a thinly veiled love song to animal fat and salt, America's two primary bugaboos. Publisher's Weekly put it bluntly: "Ruhlman and Polcyn present an arsenal of recipes that take hours, and sometimes days, to prepare; are loaded with fat; and, if ill-prepared, can lead to botulism." Try to sell that to a publisher! Well, we did, for a pittance, but we loved-loved-loved our subject. The PW review continues: "The result is one of the most intriguing and important cookbooks published this year." That was 2005, and this paean to animal fat and salt has sold more than 100,000 copies, and we hear it is the most stolen cookbook in restaurant kitchens nationwide. Girls, the guys love this book; guys, if your girl loves to meet to eat meat, this is for her.
The book closest to my heart is Ruhlman's Twenty: 20 Techniques, 100 Recipes, a Cook's Manifesto. I continue to pare down and isolate the fundamentals so that we can be more free and efficient in the kitchen (important given the fact that cooking food is fundamental to our humanity). All you really need to know to cook basically everything is twenty fundamentals. This is a book for people who want to understand how cooking works, inside the hood as it were (recipes are the body and trim, techniques are the engine). It's also a book for those who like or need to cook and want to cook better. My wife Donna did all the photography and the food is not styled but shot as I made it so you can see what food can look like when you know the basics. I dislike over-stylized food photography that makes home cooks feel like failures because "that's not how it looked in the magazine." Well, that's because you're not cooking it to photograph it, but rather to eat it. Most—although not all—food that gets photographed in studios gets dumped, not worth eating. That weekday coq au vin on page 52: dinner! Ditto the lamb shank. That angel food cake? I couldn't eat it because the kids got to it first!
Twenty won both the James Beard Foundation Award and the IACP award for general cooking. Donna and I are really proud of it. It was so successful that the publisher failed to print enough copies and it was sold out last year, in December. Zippo, no books. December, prime book-buying month of the year! I went to a signing at the wonderful Heirloom Books in Charleston, SC, and they had to turn people away because they had no books. So, to piss off the publisher this year, I'm doing a big giveaway of the book next week, signed copies, for free, that they sent me. To piss them off. (Kidding, of course; Chronicle Books, did a fabulous job. I've never been more pleased with a book's design, feel, heft, everything. I love this book.)
Ratio: The Simple Codes Behind the Craft of Everyday Cooking and The Elements of Cooking: Translating the Chef's Craft For Every Kitchen also strive to simplify the work of cooking, because it is work, but it's really, really important that we cook our own food. Our future in many ways depends on it.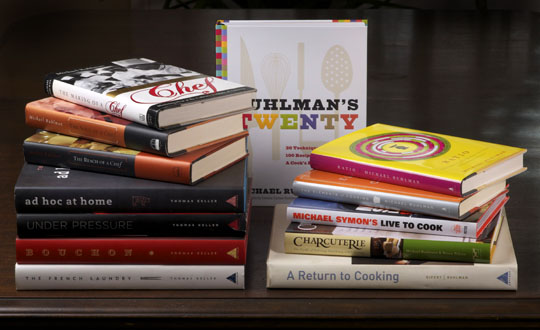 The book I'm proudest of having written has to do with craftsmanship but not food: it's about the world of pediatric heart surgery. It's called Walk on Water. I wanted to subtitle it something like "Travels in the Harrowing Jungles of Heart Surgery on Babies." The publisher made me go conservative with "Inside an Elite Pediatric Heart Surgery Unit." OK, you're a publisher, you know what you're doing and I can live with that. But the booked tanked—its publication party took place on the night of shock and awe, the Iraq war, March 2003, thank you, W. (We all remember where we were on 9/11; I was interviewing a nurse at the bedside of a baby who was not doing well; I looked across the hall and saw an anesthesiologist gaping at a TV screen in an empty ICU room.) Well, what's done is done. But no! The publisher issued the paperback and changed the subtitle to "The Miracle of Saving Children's Lives." Now, I could go George Carlin—mellow, ironic, cynical—or Lewis Black—spluttering, outraged, maniacal!—but I'll just say that when a publisher turns your book jacket into a fucking greeting card it kills the soul a little and makes you hate people.
But not my beloved and cherished readers who will share in my rage, rage! (see, I got three comedians into this bit). I'm also proud of my other book about craftsmen, Wooden Boats: In Pursuit of the Perfect Craft at an American Boatyard, about a year working in one of the few plank-on-frame yards in the country in Vineyard Haven, MA.
My most beloved culinary nonfiction seems to be The Soul of a Chef: The Pursuit of Perfection, closely followed by The Making of a Chef: Mastering Heat at the Culinary Institute of America, followed by The Reach of a Chef: Professional Cooking in the Age of Celebrity, each book about differing aspects of the endlessly fascinating, brutal, elegant, metaphor-for-life professional kitchen.
And did you know my first book was about a boys' school that was defiantly all-boys? Yep, says so right here in the New York Times.
I reported The French Laundry Cookbook, and ghost wrote the remaining Thomas Keller cookbook series. which includes Bouchon, Under Pressure: Cooking Sous Vide, and Ad Hoc at Home, all of them stunners created by a big and talented team. The most recent of these is The Bouchon Bakery cookbook and it gets the lead mention in the NYTBR cookbook round-up this Sunday. It's one of the best books on baking I know of.
And last but not least, a great stocking stuffer, my essay-long memoir on How I Became a Food Writer Without Ever Wanting to Be One, a Kindle Single called The Main Dish, readable on any device via the Kindle app, including iPads and laptops. I wrote this because I wanted to. I mean, how did this all happen, and why? It's important that we stop every now and then and answer these questions.
How did this happen and why?
The shopping links for the week:
© 2012 Michael Ruhlman. Photo © 2012 Donna Turner Ruhlman. All rights reserved.