I get sent so many cookbooks we had to build more shelves. So while I don't get deluged the way the NYTBR does, I do see a good deal of what's being published. The stuff I get seems to be what publishers are most hopeful about (and therefore worth the price of the book and postage). I will note below the books that I actually purchased (because I already have more cookbooks than I need or even want, that's saying something), as well as my pick for favorite book of the season (it's not my own, btw).
I was sent the above Modernist Cuisine at Home by Nathan Myhrvold with chef Maxime Bilet, a pared-down version of the incredible multi-volume version published last year. Myhrvold was peeved by my 90% positive and awe-struck review in the NYTimes (that's an A in my book, Dr. Myhrvold), and this version does take care of one of my criticisms, that it needed serious paring. Well, here it is, pared. And it delivers on the basics of what is now and should always be referred to as modernist cuisine. And it is great for the home, giving basics on sous vide cooking, the best way to use your grill, innovative ways to use the microwave and pressure cooker, and other basics. And the drop-jaw-stunning photography remains. I was surprised not to find the BBQ sauce recipes (since Myhrvold is an enthusiast and expert), which are great for any cook, modernist or not. I suppose they had to ruthlessly pare down. Happily, there are many general recipes for brining and marinades and sauces to keep both the modernist and traditionalist happy for years. The volume is beautifully packaged as you can see. This one costs $99; the big boy is $446 (though prices have been fluctuating on Amazon). Highly recommended for passionate and committed cooks, and a must for professionals.
If you're shopping for the literary and brainy sort who loves to read about food and cooking, Consider the Fork: A History of How We Cook and Eat by Bee Wilson is excellent.
OK, the two I purchased with my cherished dollars are below: How to Make Bread by Emmanuel Hadjiandreou and Focus on Food Photography for Bloggers: Focus on the Fundamentals by Matt Armendariz. Donna and I met Emmanuel on assignment this summer in Gascony where he was teaching at Kate Hill's awesome old farmhouse. Donna was so enamored of the book's photography, she asked me to buy it. The cover alone inspired my 13-year-old son to ask if he could make bread upon returning home from school the day it arrived. I said, "It's too late to have for dinner but you can mix it today, we'll keep it in the fridge and bake tomorrow and it will be even tastier." He said, "Cool," chose the ciabatta, got out the scale, and the result the next night was killer. My 13-year-old made killer bread. It was an at-table, high-five moment.
I bought Matt's book (we are acquainted and he's as wonderful as he seems on his blog and in his books), because I am a horrible photographer and I can't always rely on my fabulous wife to be available. If she's traveling and I want to post, I want her to be pissed that I'm so good! The book not incidentally got Donna's emphatic approval.
I included the third one, What Katie Ate: Recipes and Other Bits and Pieces by Kate Quinn Davies (which the publisher sent) because it's beautifully designed and photographed and I trust the author-photographer because her blog is so beloved. Very cool book that likely wouldn't exist were it not for food blogs.
Another fun book, by a sweet man and talented writer-blogger, is Secrets of the Best Chefs: Recipes, Techniques, and Tricks from America's Greatest Cooks by Adam Roberts.
Of course, the Bouchon Bakery cookbook by Thomas Keller and Sebastien Rouxel, is a must for all professional bakers and all serious home bakers. The bread section alone, by head baker Matt McDonald, is worth the price of the book. Groundbreaking as far as I'm concerned. (I'm biased; I wrote the whole thing—no easy task to take on the voices of Keller, McDonald, and leader of Bouchon and primary author of the book, chef Sebastien Rouxel, a native Frenchman). Sebastien is easily one of the 10 best pastry chefs in America, I'd even go so far as to say second to none. Thank you, Artisan, for letting us use grams first and volume measures as an alternative. Yes, some of the preparations are four-star-patisserie and intensive (macarons, croissants), but the cookies, muffins, breads, and sandwiches are all very home-friendly and were tested on home equipment by Susie Heller and Amy Vogler. And if you do want to know how to make killer macarons or croissants, the details are here and thoroughly tested. It's another gorgeous production from Thomas Keller's team, one of the best on the subject of baking I know. (Sebastien, if you read this, I want you to know that the aforementioned 13-year-old was charged with making the cornbread for Thanksgiving dinner, and everyone said it was the best cornbread they'd ever had. Bar none. We cooked for many and so did two big iron skillets; were able to double the recipe because we measured by weight! It rocked.)
For the gluten-free baker, there's a new book, Small Plates and Sweet Treats: My Family's Journey to Gluten-Free Cooking, from the Creator of Cannelle et Vanille, by the Spanish-born pastry-chef-turned-food-stylist-and-photographer (and mom), Aran Goyoaga.
Another fine cookbook on an under-written-about cuisine is Japanese Food Farm by Nancy Singleton Hachisu, who lives it.
Scroll down for more recommended books, but my favorite book of the year, I don't even have a copy of it, yet. I had to read it via PDF from the publisher, who asked if I would consider blurbing it. A book on sauces? One of my favorite and cherished subjects! To be a great sauce cook, or chef saucier, is to be a great cook, period. Modern Sauces by food journalist Martha Holmberg is outstanding—I hope a new classic reference book on the craft of sauces. They can be easy, they can be complex. Holmberg covers the whole range and does a beautiful job of it (and Chronicle, which published Ruhlman's Twenty last year, does its customary high-quality design work). A great book.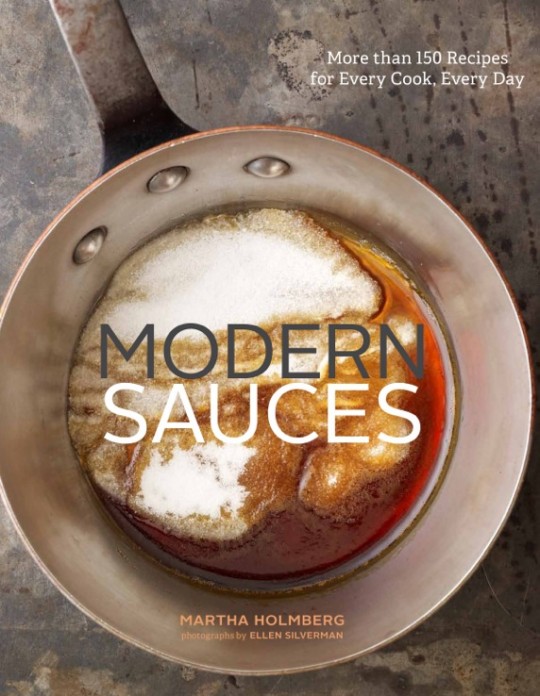 Other new books of note, chosen by me and my Girl Friday, cook and curler Emilia Juocys (and please forgive us if we've failed to mention any, nothing good or bad should be construed; it's a crowded field and we can only get to so many):
SPQR: Modern Italian Food and Wine by Shelley Lindgren, Matthew Accarrino, and Kate Leahy, of the San Francisco restaurants A16 and SPQR—what the title says, organized by regions.
Frontera: Margaritas, Guacamoles, and Snacks by Rick Bayless with his wife Deann. For intelligence and authority on Mexican cuisine, no one beats Rick Bayless. (Special shout out to one of Bayless's main chefs, Shaw Lash, who is a fount of knowledge herself—thanks, Shaw, for the lessons on chocolate and chiles!)
A Girl and Her Pig by April Bloomfield, was published in, of course, April, but mentioned here because Bloomfield (The Breslin, Spotted Pig in NYC) is one of my favorite cooks in America.
Eat with Your Hands by Zak Pelaccio, from founder-owner of Fatty Crab and Fatty 'Cue, food so personal and quirky it defies description and answers the question, "Why do we need another cookbook?" Because they're about more than recipes, they describe a philosophy and personality. This is a perfect example.
Sugar Shack au Pied de Cochon by Martin Picard—if you need to ask why I don't hesitate to recommend everything readable and edible by this man, then, well, you need to find out.
The Preservation Kitchen: The Craft of Making and Cooking with Pickles, Preserves, and Aigre-doux by Paul Virant and Kate Leahy, Emilia's find and again, the title says it all. If you need to know why this blog would recommend this book, you're here by accident, so Welcome!
Happy Cookbook Buying, everyone!
© 2012 Michael Ruhlman. Photo © 2012 Donna Turner Ruhlman. All rights reserved.