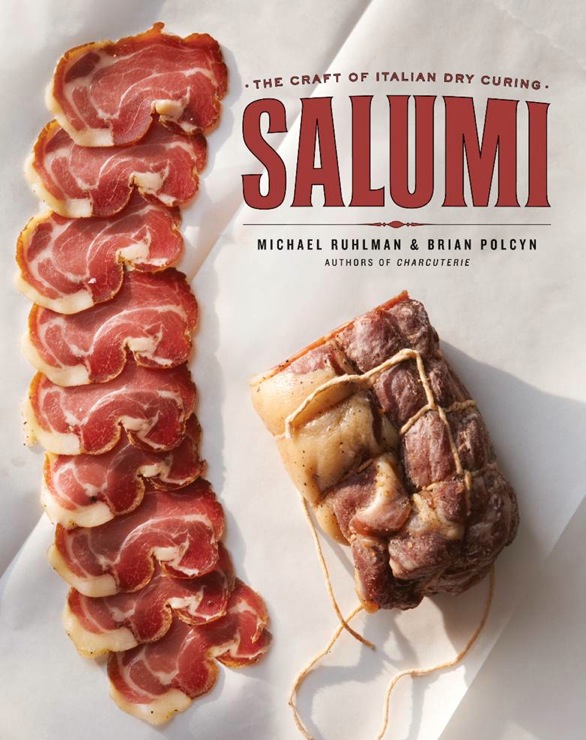 To celebrate this week's publication of Salumi, my and Brian Polycn's deeper quest into the craft of dry-curing meat, I'm giving away three copies signed by both me and Brian to three commenters on this post.
For those who aren't clear on the definition (and Italians don't make things easy), salumi refers to Italian cured or preserved meats—mostly dry-cured, and mostly made from pig parts—everything from guanciale to mortadella to prosciutto. Salami, with an A rather than a U, are dry-cured sausages and are one of the many preparations that salumi comprises.
My aim, as in much of my cookbook work, is to simplify what seems to be complicated. When I walked into my first salumeria, I was astonished by the variety available. Case upon case of salumi, whole sections devoted to different kinds of lardo, different types of prosciutto, and so many styles of salami the mind boggled. It was like entering a pork version of Willy Wonka's candy factory.
But the fact is that all of salumi is easily divided into eight basic subcategories, and once you break it down this way, this ancient craft is welcoming.
In Salumi, we describe these eight categories, give eight fundamental preparations for each, then go on to give 100 recipes that are all variations on the Big Eight. There are instructive illustrations on how to break down the pig specifically for salumi cuts (how to capture the entire coppa, or neck muscle, usually bisected in American-style butchery, for instance). There are color photography inserts of Brian's finished salumi. And the final section of the book includes recipes for dishes that use salumi (we know not everyone wants to dry-cure their own ham or make salami, but today excellent salumi is for sale across the country)—such as Chickpea, Roasted Garlic, and Guanciale Salad, Vegetable Soup with Acini di Pepe and Pancetta, and Cotechino with Lentils. And even a real pizza with real salami on it.
There's been an extraordinary resurgence in the craft of preserving meats, once a necessity for a community's survival, now practiced because it creates food like no other. Embraced by chefs and home cooks alike, we're betting it's only going to grow—and this a very good thing indeed.
To be included in the giveaway, just leave a comment with a working email by 11 am eastern time Friday. (Sorry, can only do United States.) Because this is do-it-yourself intensive, I'd love more ideas for DIY projects, if you have them. Winners will be announced on Twitter (folo me @ruhlman) on Friday at noon eastern.
Happy curing!
Other links you may like:
© 2012 Michael Ruhlman. Photo © 2012 Donna Turner-Ruhlman. All rights reserved.