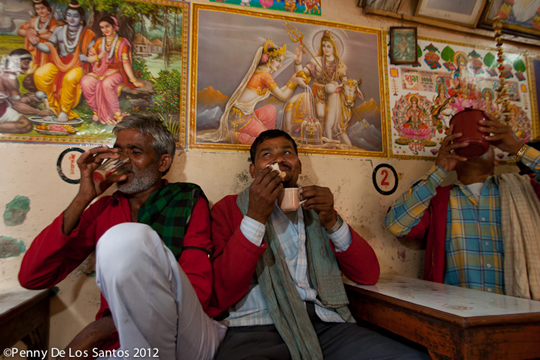 I'm very proud the Cleveland Public Library is bringing two extraordinary individuals in the food world to Cleveland, photographer Penny De Los Santos and Dan Barber, chef of Blue Hill in Manhattan and Blue Hill Stone Barns in Pocantico Hills (former Rockefeller estate), to talk about what matters most to them.
The event is FREE! and OPEN TO ALL! I'll be speaking and moderating, but basically you will see images from one of the most thoughtful photographers working in food and travel journalism today and hear one of the best chef story-tellers I've ever encountered (I hear he's a good cook, too). If you don't believe me have a look at Penny's site, or listen to one of Barber's amazing stories. (Penny's not so shabby in the TedTalk Dept. either!)
Penny shot the above image for Saveur magazine, a story in Delhi about the origins of Indian food in America and how and why certain recipes and traditions migrated to the United States. These men work at the train station; Penny photographed them on on their daily chai break in the market.
The Cleveland Public Library's Lockwood-Thompson Dialogues, orchestrated by Cleveland Public Art, is a great series, and there are no people I'm more proud and eager to welcome to Cleveland—safe travels Penny and Dan!
And thanks to all the local chefs who are helping out!
Reception and viewing of Penny's work begins at 5 pm at the main library downtown, tomorrow; Thursday, March 8. The conversation, and I'm looking forward to lively Q&A after, begins at 6:30 pm. Again, details here.
Clevelanders, please facebook and tweet and tell your friends (or even call them—now there's an idea!). Seriously, I want the city I'm so proud of to welcome people I so admire.
If you liked this post on Penny De Los Santos & Chef Dan Barber, check out these other links:
© 2011 Michael Ruhlman. Photo © 2012 Donna Turner-Ruhlman. All rights reserved