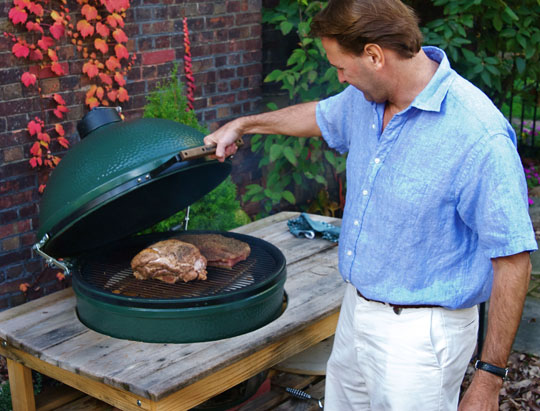 This summer, I tweeted that I had Big Green Egg envy, word that reached Ray Lampe, aka Dr. BBQ and Big Green Egg's official chef. He convinced the company to ship me their top of the line (with the cypress wood table, which is awesome if you can afford it). I really wanted to cook with one because I'd heard such great things about it. (He's @DrBBQ on twitter, and a hearty #FF to him).
After we corresponded, I'd read about these ceramic charcoal heated ovens in The New York Times, generically called kamado cookers.  I accepted his offer enthusiastically.  So: Full disclosure: they sent it to me free; I told them I'd love to use it and write about it but to know that if I didn't like it or didn't think it was worth the money, I would write this. This is a major investment. For the extra large egg, my nearest dealer charges $1,200 for the egg, $150 for the nest it stands in, and you'd want a shelf/heat deflector if you wanted to do any low temperature smoking, which you definitely want to do.
You can watch my review but the short answer is this: It's an extraordinary cooking tool. My only caveat is the price, and I can't advise anyone on that; it is what it is.
I can say that for the maiden voyage, I smoked a pork belly for traditional bacon. I smoked hams and briskets as shown in the video at 250 degrees F. This grill will get up to 700 degrees F and I made pizza using the pizza stone (cha-ching!) and it was indeed amazing. It did a fabulous job on a whole chicken.
This much should be clear: You do not need this if you just grill steaks and burgers and barbecued chicken. Webers do just fine with that.  But for consistent low temperature cooking (200 to 250 degrees) over many hours, the Big Green Egg works astonishingly well.  For extremely high heat cooking, it can't be beat.  For hot smoking, amazing. As I say in the video, it does all it claims to do; whether or not that is worth the cost is up to you.
For more info visit the Big Green Egg website.
My Video Review on the Big Green Egg

If you liked this post on the Big Green Egg, check out these other links:
© 2011 Michael Ruhlman. Photo © 2011 Donna Turner-Ruhlman. All rights reserved