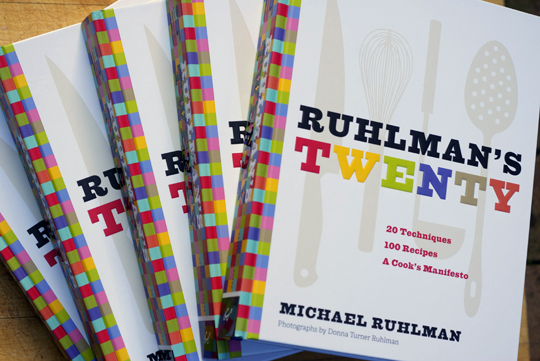 As I begin to travel this week to promote my new book, I want to give away five personalized signed copies. But I want something from you. An "ah-ha" moment.
Earlier in the month, promoting my appearance at Butcher & Larder in Chicago, owner Rob Levitt asked people for just such a moment, a revelation, a moment when you tasted something, combined two uncommon ingredients, used a tool in a new way, that changed the way you saw food, the kitchen, cooking.
I've had many, and they're always a thrill. I write about one in the new book, the time my chef instructor at the CIA, Michael Pardus, tasted my cream of broccoli soup and said, "This is good. But I want you to take this back to your station and taste it again. Then I want you to take a spoonful and put a drop of white wine vinegar in it and taste the difference."
I did. A single drop changed that soup from fine, just OK, to very good if not better. It was a lesson that would apply not only to broccoli soup, or soup generally, but to everything. The importance of acidity and the ability to use it (Technique #5), would become something I'd consider in everything I made, from soups to stews to sauces, to sandwiches, to meats and fish, to whole composed plates, even to sweet things (I add cider vinegar to butterscotch sauce, for instance, just a few drops, all about balance).
I want to know what your ah-ha moment is. Four people who leave their ah-ha moment in comments below will be chosen at random this Friday (sorry Canada, it's too expensive and headache making to ship across the border, so this is only for US residents, alas; take small comfort though that the book is dedicated to a Canadian!). Leave a working email (it won't bet published or used in any way other than to contact you, promise).
The fifth signed copy will go to someone very clever indeed. I've included in the book THE twenty techniques I believe a cook needs to prepare virtually anything in the kitchen. But I left one out (on purpose). The first person who comes up with it, gets the fifth copy. If no one does, check back and I'll give some hints, but I'm hoping someone figures it out.
I'll be in Chicago this week as mentioned, also doing a demo at The Chopping Block, followed by an open signing from 1:30 to 2:30.
But if you miss those events, and even if you don't, join me at Publican, one of my favorite restaurants, this Wednesday evening where Paul Kahan, one of my favorite chefs, and his staff have created a special menu, and where I hope to hold court with as many people as possible who care as much as I do about cooking! I'll be there from 7 to 10—hope to see you there. (Call 312.733.9555 to reserve a spot; it's not listed yet on their site but I will indeed be there.)