Funny.  The recipes people are pulled toward, desire, crave, are the most basic. Like Onion soup. Part of why I love people's hunger for basic food is because there's so much to learn from the simplest dishes. This recipe is from the new book, Ruhlman's Twenty.  The new book attempts to distill cooking down to 20 fundamental techniques. Two of the techniques are not verbs but rather nouns: water and onion—two of the most powerful ingredients in your kitchen, rarely given the reverence they deserve.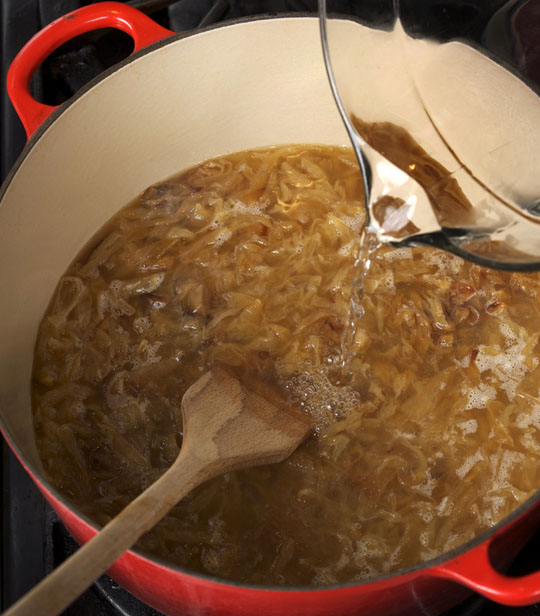 The soup deserves this high praise not only because it's delicious and satisfying, but because it was borne out of economy. This is a peasant soup, made from onions, a scrap of old bread, some grated cheese, and water. Season with salt and whatever wine is on hand or some vinegar. Do not be tempted to use stock! Even if it's really good homemade stock, it will detract from the economy of the dish, which can easily become too heavy and cloying. (And please don't add the canned stuff. How many onion soups have been ruined by adding store-bought broth?)
Most recipes for onion soup I've seen call for stock or broth, and yet this changes the soup completely—it becomes beef-onion soup or chicken-onion soup. I could not find a historical basis for my conviction until I began researching a specific style of bistro in Lyon, France, called a bouchon. There are only about twenty of these restaurants in Lyon, and they serve a distinct, country-style, family-meal menu. At some, you sit at communal tables, and platters are passed from table to table. What I like about bouchons is that they serve elemental, efficient food. It had to be, as a husband and wife usually worked the place. I spoke with a journalist in Lyon, an expert on the subject of la vrai bouchon, "the true bouchon," who confirmed what I'd always suspected. At a bouchon, and indeed at most peasant households, a time-consuming and costly stock would not be used for onion soup. Onions and a splash of wine for seasoning and a crust of bread with some cheese melted on it—that is all you need to make a fine soup with a pure caramelized onion flavor.
Plan ahead when making the soup because the onions take a long time to cook down, from a few hours to as many as five if you keep the heat very low, though you need to pay attention only at the beginning and the end. Before the onions caramelize, they'll release copious amounts of water (be sure to taste this liquid!), which must cook off first. You can simmer the onions hard if you want to reduce the cooking time; be sure to tend the pot and stir often, or the onions can stick and burn. You can also caramelize the onions a day or two in advance, and refrigerate them until needed. They freeze great too. If you do this, the soup can be finished in the time it takes to heat the water and melt the cheese on top.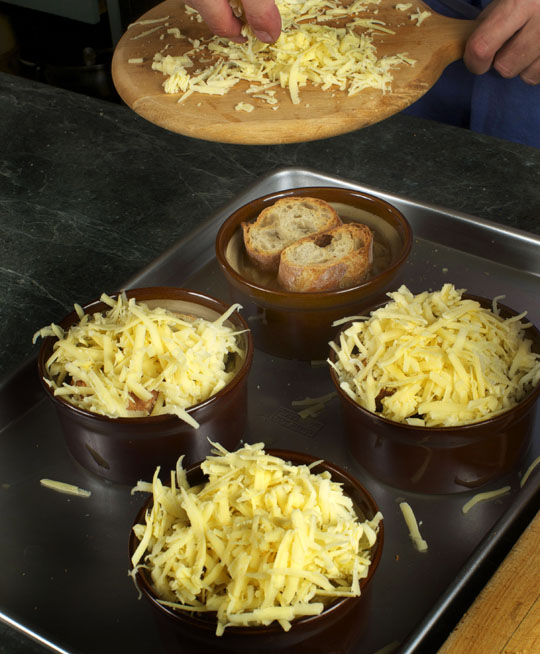 Traditional French Onion Soup
1 tablespoon butter
7 or 8 Spanish onions (7 to 8 pounds/3.2 to 3.6 kilograms), thinly sliced
Kosher salt
Freshly ground black pepper
6 to 12 slices of baguette or any country-style bread (it's best if they cover the width of your serving bowls)
⅓ cup/75 milliliters sherry
Red or white wine vinegar (optional)
Red wine (optional)
½ to ¾ pound/225 to 340 grams Gruyère or Emmanthaler cheese, grated
Use a large pot, with a capacity of about 7 ½ quarts/7.1 liters, that will hold all the onions. An enameled cast-iron pot will provide the best surface. Place the pot over medium and melt the butter. Add the onions, sprinkle with 2 teaspoons salt, cover, and cook until the onions have heated through and started to steam. Uncover, reduce the heat to low, and cook, stirring occasionally (you should be able to leave the onions alone for an hour at a stretch once they've released their water). Season with several grinds of pepper.
Preheat the oven to 200°F/95°C. Place the bread slices in the oven and let dry completely (you can leave the slices in the oven indefinitely, as the heat is not high enough to burn them).
When the onions have completely cooked down, the water has cooked off, and the onions have turned amber—this will take several hours—add 6 cups/1.4 liters of water. Raise the heat to high and bring the soup to a simmer, then reduce the heat to low. Add the sherry. Taste and season with salt and pepper as needed. If the soup is too sweet, add some vinegar. If you would like a little more depth, add a splash of red wine. I like the onion-to-liquid ratio with 6 cups of water. But if you'd prefer a little more delicate soup, add 1 cup/240 milliliters water.
Preheat the broiler/grill. Portion the soup into bowls, float the bread on top, cover with the cheese, and broil/grill until the cheese is melted and nicely browned. Serve immediately.
Serves 4 to 6
If you liked this post on french onion soup, check out these other links:
© 2011 Michael Ruhlman. Photo © 2011 Donna Turner-Ruhlman. All rights reserved.