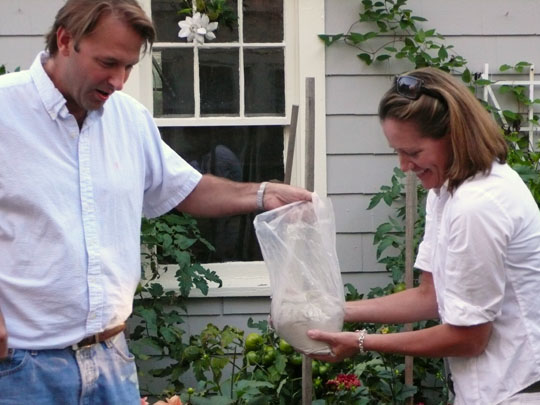 Three years ago on this date, a Saturday, Donna, my mom, I, the kids, our dear friend Stu, and the dog spent the morning standing vigil as my father succumbed to the lung cancer. Mom had gone to the farmer's market and gotten corn and she and I stood at the kitchen island plowing through a dozen and a half ears, butter dripping off our chins. My dad, Rip, hadn't been conscious since very early in the morning, 3 am, Donna and I on the bedside, holding his hand. Realizing the end was truly near, he wanted our assurance that I had indeed returned his library books. I had.  "We love you, Dad, we're going to be fine, don't worry, everything's going to be OK." By eleven a.m., he breathed sporadically. I hoped he could hear ears of corn being eaten. He liked it when people were eating, because it meant people were happy. He fed a lot of people throughout his life. The corn was really good, but we weren't really happy, and we were about to get really, really sad.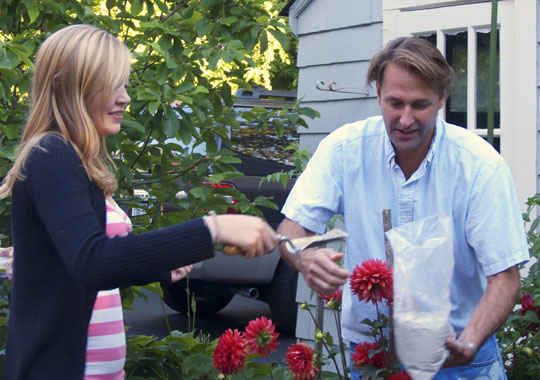 Exactly a week later, family and a group of his closest friends gathered in his back yard and spread his ashes in his garden, among Dahlias (his were famous for their size; by September they'd be as big, appropriately, as dinner plates) and tomatoes (a compulsive record keeper, he kept a tally of tomatoes picked all summer, cherry tomatoes included).
On this third anniversary of his death I want to remember the part that food played in that day. First, Michael Symon and his wife, the wonderful Liz, catered the event. It's a dizzying day, with the service, family from out of town, I couldn't think straight. Though I remember one of my nearest and dearest shaking his head afterward saying, "Don't take this the wrong way, Michael, but that was the most entertaining memorial service I've ever been to."  This made me proud. We'd told good stories about my dad. He would have been proud too. He died thinking he was unremarkable.
So we came together around Michael's amazing food and Liz's, well, happiness (the real secret behind Symon's restaurants in my opinion)—she ran the bar and the general good cheer, and Michael watched over the food, and it was really happy in that saddest of ways happiness can be.  There was solace in this, and I was grateful beyond words, not just for the food and drink, but for Michael and Liz's presence. Donna and I were nearing the end of working on Michael's book, so we'd been spending a lot of time together during my dad's illness. (When, the next day, straightening up the kitchen I'd grown up in, I asked Michael for the bill and he said, "We got this one." I was pretty wrecked generally, so when I realized what he was saying, I all but melted in a blubbering puddle. It's the only time I've heard Michael laugh nervously. I just felt that it was an extraordinary gift. How lucky I was.)
The second gift came from one of Michael's former cooks, Jonathon Sawyer, whom I've gotten to know well thanks to his extraordinary Cleveland restaurant, The Greenhouse Tavern. We knew each other then, but not well. Symon showed up that day with a huge basket, filled with fruits and vegetables and bottles of oils and vinegars. Michael told me it was from Jonathon.  Jonathon had passed around the basket to some chefs to throw something in for consolation. It was incredibly touching, the gift of food, from a chef I didn't know well and other anonymous chefs.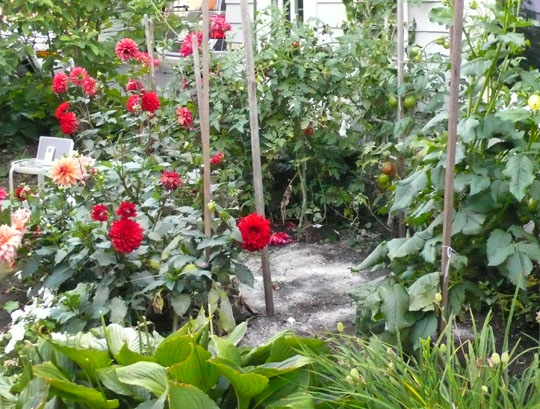 Jonathon had included a bottle of beer vinegar. It made me smile when I tasted it. Tasted like beer. Was definitely vinegar. So herewith, remembering my dad who was never happier than when he was feeding friends and pouring them wine, and thanking my chef friends, is Saywer's beer vinegar.
Jonathon Sawyer Beer Vinegar
"I started making beer vinegar back when I was at Cento," Sawyer says. "We cleared our beer lines regularly and so were flushing about two gallons of really good European-style beers a week. I didn't want to waste it. I first combined the beer with some Bragg's cider vinegar, which looked like it had enough stuff at the bottom to get the vinegar going. But I thought that the result took on too many characteristics of the cider vinegar, so now I just let it ferment on its own. You could add a mother if you want to, but I haven't needed it."
If I were doing it, I'd want to add some mother. I had a vinegar go bad on me once, developed a thick mat of mold on top, and this was depressing.   You can buy a vinegar kit through leeners.com (excellent source for all fermenting needs), or look for some vinegar with viscous sediment at the bottom, or go it alone as Jonathon does now routinely. Either way, choose a good beer and make sure that the alcohol can breathe.  You need a big jar with a big open lid to let the air flow, covered it with light cloth to let air in and keep fruit flies out.  Best to keep it in the dark and I've found that cool is good, though Jonathan keeps his everyday vinegars at home right near the heat of the stove.  Bacteria thrive at 100˚ to 110˚F. Jonathon says you could probably make vinegar using Bud Lite, but that it wouldn't be worth the effort. Use a good beer with lots of complexity, especially wheaty and malty beers. Bacteria, simple themselves, thrive on complexity.
Use your delicious beer vinegar on any fried foods, in braises, in acidic mayonnaises (as for a fried fish sandwich).
Beer Vinegar
½ gallon good, wheaty or malty beer
vinegar mother (optional)
Put your beer in your container.  Give it a good whisk to aerate it and release some of the gas. Let it sit out and open for six hours or so.
Add the mother if you're using one. Or do as Jonathon does and let the natural bacteria and flora of your kitchen or basement settle in for a good time.
Cover the opening with a handkerchief, cheesecloth, anything that will let air in and keep bugs and debris out.  Date the jar. Give it a taste in three months and see how you did.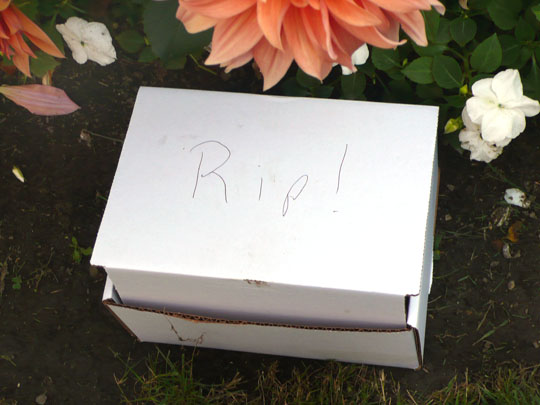 If you liked this post, check out these other links:
© 2011 Michael Ruhlman. Photo © 2011 Donna Turner-Ruhlman. All rights reserved.