Great foie gras fun going on in this household ever since del Grosso asked me to write about the foie gras au torchon he and Pardus's created for Hudson Valley Foie Gras. It's an excellent product. And it was fun showing people that serving foie gras doesn't require a Catholic-length production, but can be simple and casual.
Sometimes, though, you do want to elevate it, make it yourself and serve it to people you care about. So herewith, a step-by-step slideshow of the foie gras au torchon, one of the greatest culinary preparations known to man. I first learned about the torchon—which means dish towel in French, because the foie is traditionally wrapped in a dish towel (love that this culinary luxury is wrapped in a lowly towel)—while working on The French Laundry Cookbook.
I wanted to try both the traditional version and a sous vide version, so I asked Hudson Valley Foie Gras for two foies, which they generously provided (thanks Marcus!). The traditional method in the slideshow wins by a mile! I will never sous vide a foie gras again. Too much fat is lost.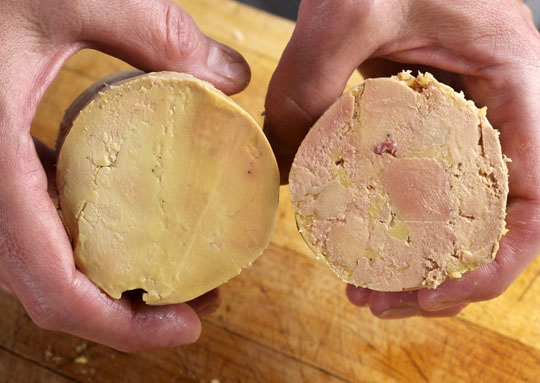 Comparing traditional and sous vide. The foie on the left was cooked traditionally. The foie on the right was cured using sodium nitrite, and was cooked sous vide. Notice the pockets of fat, which are not desirable. Also the texture was more grainy than the one cooked traditionally. (Bob del Grosso comments here defending sous vide for foie and I defer to him, as he makes a great foie torchon sous vide. The one above was indeed made with out a proper vacuum sealer.)
The below ratio was suggested by Bob del Grosso and modified by me during the testing. It's a great all-purpose ratio. My foies weighed just under 800 grams each or 1.75 pounds. I'll also give the French Laundry recipe for those who want to use American volume measures. It's a very light seasoning—you can do it by eye the second time around.
The basic overview of making a foie gras au torchon is this: devein, season, roll in cloth, poach, reroll again to make sure it's tight, chill, slice. That's it. Anyone can do it.
The steps take place over a few days, but none are hard, and it's all fun!
To see the photos with captions, view them on my photostream at flickr.
Torchon de Foie Gras Seasoning Ratio
Per 1000 grams foie gras
10 grams kosher
1 gram pepper (white or very fine black)
2 grams sugar
2.5 grams sodium nitrite (aka pink salt, or DQ Cure, optional)
10 grams Cognac or Sauternes (optional)
Method:
Day 1: Pull apart the lobes and remove as many veins from the foie gras as possible. Remove any sinew or membranes from the outside of the foie. If there are any bruised parts, cut them away and discard. Working from the bottom of the lobes, butterfly them and locate the primary vein in the center of each. Slice through the lobe to the vein, following its path and pulling the foie apart to see the vein clearly. (Don't worry if you mangle the foie, better to get the veins out). Put the foie gras in a baking dish and cover with milk. Press plastic wrap down onto the surface of the liquid. Refrigerate overnight or for up to two days.
Day 2: Drain and rinse the foie gras. Combine the salt, pepper, sugar, and pink salt (if using). Sprinkle the seasoning all over the foie gras. Press the foie into a container in an even layer ¾ inch to 1 inch thick. Sprinkle it with the Cognac or Sauternes if using. Press a piece of plastic directly against the foie gras so as little air as possible is in contact with it. Refrigerate overnight.
Day 3: Forming, cooking, and hanging the torchon. Remove the foie from the container and let it rest for an hour or so at room temperature (it will be easier to work with). Place it on a piece of parchment paper (best) or plastic wrap (will suffice) in the form a loaf about 6 inches long and 3 inches wide (16 x 8 centimeters). Roll the foie into a log, twisting and squeezing the ends of the parchment paper or plastic to help compact the foie.
Unwrap the foie, discard the paper or plastic and transfer the log to a piece of cheesecloth about 1 foot wide by 2 feet long (30 x 60 centimeters). Place the foie on the short end of the cheesecloth. Begin to roll it to force the foie into a compact log again.
Using butchers twine, loop a length of string around your index finger. With the same hand, hold one end of the cheesecloth tightly and wind the string around the end of the foie. Continue wrapping the string about ¼ inch into the foie gras, this will help force the foie gras to compress into a tight roll and tie it off. Repeat the procedure on the other end. Tie a few ties along it's girth for extra support.
In a wide pot, bring enough stock or water in which to submerge the foie gras to a simmer. Prepare an ice bath. Place the torchon into gently simmering liquid for 90 seconds. Immediately remove the torchon to the ice bath to cool, 5 or 10 minutes.
The foie will be loose in the cloth. Make it compact again by compressing it in a second cloth (leaving the first one on). Roll it as tightly as possible. Twist and tie the ends of the towel with a string and hang the torchon from a shelf in the refrigerator overnight.
Day 4: Unwrap, slice and serve or slice, cut with a ring mold and serve.
Foie Gras au Torchon (adapted from The French Laundry Cookbook)
1 foie gras
Milk to cover
2 teaspoons kosher salt
¼ teaspoon freshly ground white pepper
¼ teaspoon sugar
½ teaspoon sodium nitrite (pink salt, optional)
Marinate the foie gras in milk for a day, refrigerated.
Follow the above technique for deveining, seasoning, wrapping, poaching and so on.
Notes:
The French Laundry soaks in milk before deveining; I think it's more effective to disrupt the vessels first, then soak—takes out more blood.
French Laundry uses white pepper, I believe for cosmetic reasons. To me white pepper has an unpleasant chemical taste so I never use it; I don't mind the black specks.
You can purchase whole foie gras from Hudson Valley Foie Gras, linked to above.
If this is your first time, you may think 90 seconds in hot water isn't nearly enough time to cook anything so fat. In fact, you aren't really cooking this, you're more or less melting it all back together again. Foie gras is mainly fat so, unlike the moist protein environment of meat, it's not very hospitable to bacteria. Plus it's soaked and cured for a day. You could probably eat one raw, veins and all, straight out of the bag without worry.
Remember that foie is maleable. It's composed mainly of fat. If you wanted, you could poach it, then pack it into a terrine mold, and weight it down to compress it, then chill it. That would work great too. In Return to Cooking Ripert does this, only he layers in some mango which is an awesome pairing with foie gras.
Finally, if you were in a hurry, you could do the steps in Day 1, 2, and 3 in one day and have a finished torchon tomorrow.
_______________
If you liked this post on torchon, check out these other links:
© 2011 Michael Ruhlman. Photo © 2011 Donna Turner-Ruhlman. All rights reserved