Reynolds Price was a protean man of letters: novels, plays, memoirs, essays, criticism, poetry. Just as important, he was a teacher for more than forty years.  And he was the one who gave me, when I was 20, the tools I would need to make my way as a writer.  He died on Thursday after a long and rich life. (NYTimes obit.)
Last weekend I attended the Key West Literary Seminar, this year devoted to food. Before leaving I phoned Reynolds because I hadn't spoken to him in two years and a recent letter and emails had gone unanswered (which was not like him—he was an ebullient correspondent). Reynolds answered on the first ring—"Maddog, old pal," he said; he was indeed ill yet remained his jovial self, eager to hear about the seminar.  I asked if he were writing—yes, at work on another memoir, he said.  The conversation was brief.  Donna and I left the next day and at the end of the seminar, we met the official photographer, charged with taking each participant's photograph on a big 8-x-10 view camera, big sheets of real film.  His name was Curt Richter and it came up that he had done a book of portraits of southern writers.  "Did you photograph Reynolds Price?" I asked.  "I did," he said, and upon arriving at a makeshift studio on Fleming St (he's based in Finland, works all over), he showed us the book, and the photograph of Reynolds.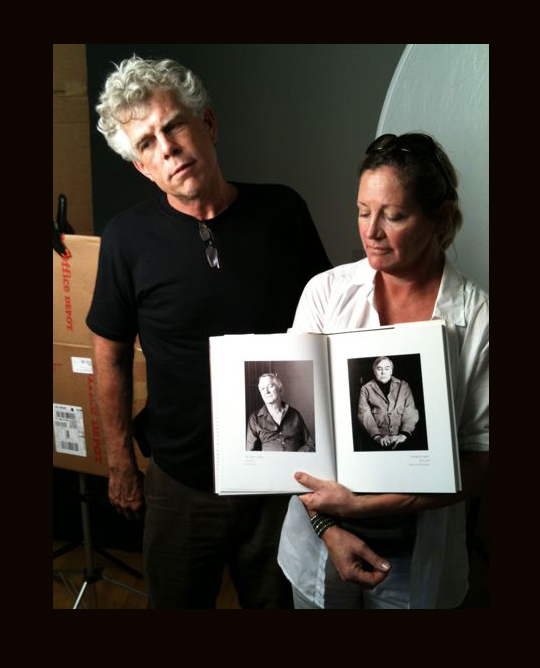 I photographed him and Donna with my iPhone holding up the picture in the book.  Curt is mimicking his portrait of William Styron, Donna, the dour Reynolds. I intended to email the snapshot to Reynolds. Alas, too late. Reynolds would have delighted in the obscure connection.
RP was a non-churchgoing believer in a Christian god, but whatever The Source of all things happens to be, I always felt he had a direct line into it.
As a way to honor him here—because I know many of the people who come here, are writers and many are aspiring to be—I'd like to offer what he taught me, in as concise a way as possible.
He began the one class I had with him, Writing Longer Narrative Fiction, by asking us what is the shortest possible story.  Is "The king died" a story?  No.  Here though, is a story: "The king died, and the queen died of grief."
There are shorter stories, but this underscored what defined story: something causes something else, and all three parts need to be interesting. To someone who doesn't know you, the writer.
When writing, he said, ask yourself, "Will this be of interest to someone who doesn't know me?" Be outward looking, rather than inward looking. No one cares what you see in the mirror except you.
"Don't bore me," he warned us in ominous baritone.  Boring someone was only a rung or two above child abuse, he said.
He taught me that story was fundamental to our humanity: "A need to tell and hear stories is essential to the species Homo sapiens—second in necessity apparently after nourishment and before love and shelter," he wrote in the essay "A Single Meaning," collected in his book A Common Room, which, for any young writers out there, includes the excellent "Letter to a Young Writer."
Above all, he taught me this:  That all imaginative writing, non-fiction and fiction alike, is generated, in some measure, unconsciously.  And that you can train your unconscious to help you with the very heavy lifting of writing.  "The unconscious is like children and dogs," he said, quoting one his colleagues. "It loves routine and hates surprises." Therefore: write at the same time of day, every day, for about the same amount of time and produce about the same amount of words.  Actual word count didn't matter, 350 or 2000, that was a question of the writer's metabolism.  Time of day didn't matter, only that it was the same time, whenever you could reliably give yourself at least two undistracted hours.
I'm here to say that it works—for me it took ten years till I figured it out. There are countless writers out there who benefited from his words on craft, starting with the precocious Anne Tyler, in his first class ever.
Dear Reynolds, I am lucky beyond words for all you gave me and will be forever in your debt. I hope you're doing a jig up there and catching up with Eudora.
A few of my personal favorite books by Reynolds:
Learning a Craft: A Craftsman's Notebooks, 1957-1997
A wonderful novel for young readers, A Perfect Friend
His extraordinary memoir of surviving cancer, A Whole New Life