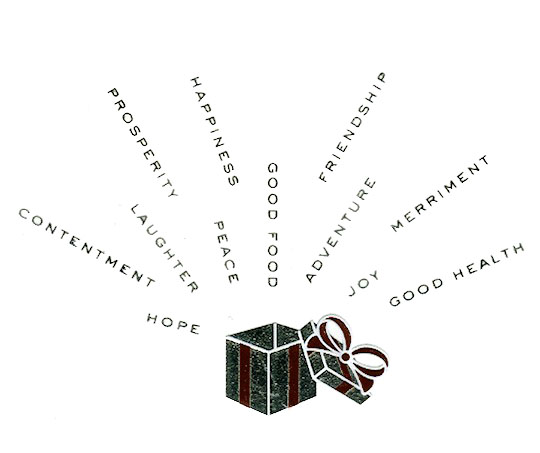 I'm not one for New Year's resolutions, but I am for  recognizing good fortune when it comes my way.  In a career blessed with good luck, high on the list are the people I'm able to work with.  The above card lifted my spirits when I received it. It was created by Joleen Hughes, who, with her husband David, run a design firm called Level in the Napa Valley.  David is the one responsible for the playful nature of the book Ad Hoc, and so much more. It is a pleasure to work with these two people who rarely get enough recognition. I'm grateful to you, David and Joleen!
Joleen designed the card for Thomas Keller, another person I'm incredibly lucky to work with, along with every single member of his team I encounter.  Brian Polcyn, my partner in Charcuterie, will soon be my partner in Salumi.  That scoundrel Bourdain, yes, even lucky to work with him, no matter how he maligns me in public. And the blogging community, so many people I feel lucky to connect with—such as the wonderful whiteonricecouple, Todd and Diane, who created a series of mini video editorials I look forward to posting soon for no good reason except mischief and fun. (Have a look at their 2010 video outtakes—what fun you guys have! Thanks for including me!)
I am, of course, most lucky to be married to Donna, who shoots the food and calls my bullshit when I get lazy.  I met Donna in the wee hours as 1987 became 1988—if there were a luckier day in my life, I'm not aware of it. This eve is our true anniversary.  Thank you, Donna!  And thank you, readers and commenters for making this blog such a fun part of my life.