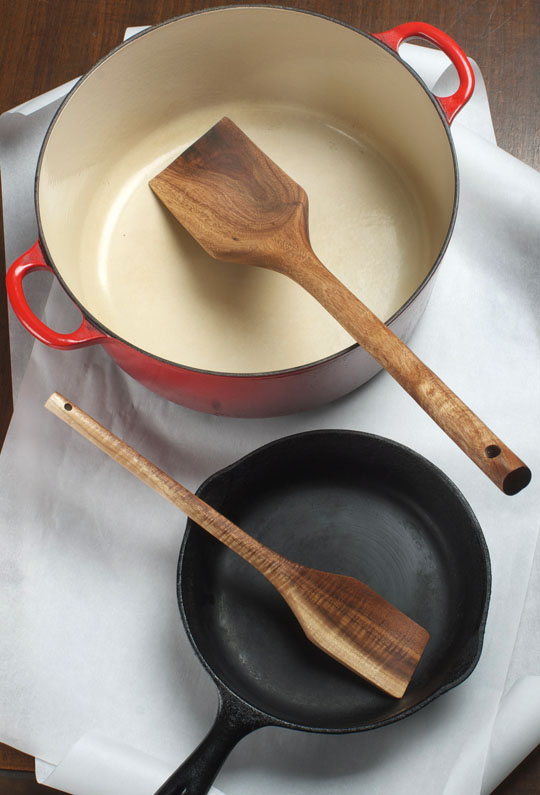 As some readers know, I and my buddy Mac have begun to manufacture new cooking tools that we love, and we're already getting great feedback. We love The Spanker, above (photo by Donna, thanks hon!)—the big paddle for stirring big pots. There's simply nothing out there like it that we could find. I'll be using it to stir a double batch of Hoppin' John for a New Year's Day fete. But my mom said it was too big for her—she never cooked in batches that would require this bad boy.  Another reader said the same, but added that she loved the paddles she'd received so much that she'd have been happy to pay the same amount for two small paddles.
This is exactly the kind of feedback we need, and because we've produced our tools in such small numbers, we can actually make changes in them, perhaps create one in between.  So please, for those who have bought anything, give us your feedback, good and bad.
Now, For the Giveaway:
My awesome partners in internet commerce, Josh and Lindsay at OpenSky, are so excited about the partnership that they've put together a bundle of my favorite products to give away, more than $200 worth of invaluable tools. The Spanker, of course, and the very popular All-Strain clothes, the 12-inch wenge Knife Grabber, as well as the EatSmart scale, and the big awesome John Boos cutting board.
To be eligible to win, follow me on OpenSky by going to this page.  By following me, not only will you be eligible to win the five-pack of tools, you'll also get offers for eyebrow raising deals on other products I curate and recommend (as in, 30 to 50% of the already low-margin prices).  I know they're planning a deep discount on the CIA sidetowels next week to all followers (please join my plot to rid the world of pot-holders).  You'll also be alerted to new Dalton-Ruhlman tools as soon as they become available (we've got some awesome spoons in the works for later in the month).  The winner will be chosen on Wednesday, January 12.
If you don't know about OpenSky, have a look—it's an exciting way to spread the word about great products and to learn about great products from trustworthy sources.
That's all for now—come back tomorrow for Hoppin' John and bean technique.