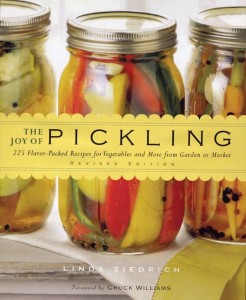 I get green tomato pickles on my mind every time I walk past the tomatoes on the vine in my backyard these chilly days. I've been reading about pickles, too.  One of the best books I've found is Linda Ziedrich's The Joy of Pickling.  It's not only thorough, it's also very well written (I was hopeful from the beginning when I saw that the book opens with an epigraph from an excellent Salman Rushdie novel).  I liked also that she immediately simplifies the subject by saying there are basically two kinds of pickles, fermented pickles and vinegar pickles.  Fermented or natural pickles use a brine to encourage good bacteria to create the acidity.  Vinegar pickles can work faster and tend to have more of a sweet-sour profile, whereas the fermented pickles don't rely on sugar to balance the acidity.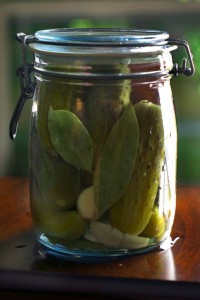 My favorite kind are the fermented ones, because I like to put beneficial microbes to work on food, part of the wonder of the kitchen.  (The ones at right are naturally fermented and flavored with garlic and bay, photo by Donna Ruhlman.)  But ever since making Michael Symon's pickled chillis, I've loved the possibilities of the vinegar pickle.
It's fall, and time to put stuff up, and this weekend it's going to be pickled green tomatoes.  Here's Linda's Curried Green Pickle recipe, along with some links to other interesting green tomatoe recipes. If you don't grow your own, inexpensive green tomatoes can be found now at Farmer's markets.  Thanks for the recipe, Linda, and for the excellent book!
Curried Green Tomato Pickle
Makes about 3 pints
This green tomato pickle, with its unusual spices, is one of Linda's favorites. According to an old Mennonite cookbook, the recipe is French in origin. Linda, a freelance writer and editor near Scio, Oregon, likes to use these to accompany grilled meats, but they'll go with any rich grilled, braised or roasted meats.  They'd also be a great acidic component in a sandwich.
2 ½ pounds fleshy green tomatoes, such as paste types, sliced 3/16 inch thick (about 2 quarts tomato slices)
1 medium-size onion, thinly sliced
2 tablespoons pickling salt (1.15 ounces sea or kosher salt)
2 cups cider vinegar
½ cup firmly packed brown sugar
1 ½ teaspoons curry powder
1 teaspoon ground turmeric
½ teaspoon dry mustard
½ teaspoon ground cinnamon
½ teaspoon ground ginger
½ teaspoon ground allspice
Combine the green tomatoes and onion in a large bowl or a crock. Add the salt and mix gently. Let the mixture stand at room temperature for 8 to 12 hours.
Drain the vegetables, rinse them, and drain them again. In a large nonreactive pot, combine the vinegar, sugar, and spices. Bring the mixture to a boil and add the vegetables. Bring the contents to a boil again, then reduce the heat. Simmer the vegetables gently, stirring occasionally, about 3 minutes, or until the vegetables are just heated through. Pack the mixture into pint mason jars, leaving ½ inch headspace, and close the jars with two-piece caps. Process the jars for 10 minutes in a boiling-water bath.
Store the cooled jars in a cool, dry, dark place for at least 3 weeks before eating the pickle. After opening a jar, store it in the refrigerator.
A few other pickle recipes:
Pickled Green Tomato Relish from All Our Fingers In the Pie
Green Tomato Caramel Pie from Biscuits and Such
Green Tomato Chutney from Healthy Green Kitchen
Pickled Green Tomatoes from Homesick Texan