My dad made this cranberry sauce when my daughter was very young. He was mystified, as I recall, having never cooked cranberries before, always used the kind with can-ribs, sliceable. That his granddaughter loved it made it very special to him. He continued to make it. His granddaughter is no longer four but rather seventeen and she will be making it this year (and so did I, because I wanted to share it in this post and think of my dad while it cooked).
It's really simple, can be done today or the day of (or several days ahead, next year). Just throw everything in the pot, bring it to a simmer, and set a timer for 90 minutes. It will thicken up, but you may want to give it another 20 minutes if it's soupy (you can always add more water, what you cooked out of it, if you find it's too thick when it's chilled).
Make real cranberry sauce. It goes fabulously well with turkey and everything else. There's a reason for it; the unique berries grew in America on the East Coast where this whole thing, meaning, um, America, began. Tomorrow the entire country celebrates our singular food-centered gift: this free country and free speech that we must honor and cherish and protect and rejoice in (despite our differences, and they are vast). But tomorrow: Together. As one. A Happy Thanksgiving to all.
Cranberry Sauce for My Dad
one 12-oz bag cranberries
orange juice to cover (about 2 cups)
¼ Meyer's rum (optional)
¾ cup brown sugar (less if you like tart, more if you've got a serious sweet tooth)
pinch of salt
½ teaspoon ground cinnamon
¼ teaspoon ground cloves
2 tablespoons Grand Marnier (optional)
zest from half an orange (or to taste)
Combine all ingredients except the Grand Marnier and orange zest in a pot. Simmer on medium-low to low until thick, about an hour and a half, or until you have 2 cups. Taste, and add more sugar if you wish, but it should be somewhat tart.
Allow to cool.
Serve cold or at room temperature, adding the Grand Marnier (if using) and, last, the orange zest before serving.
Makes 2 cups
The cranberry sauce is done or it's not going to happen. Time to think about gravy, the easiest part of the meal (if you made good stock), and what brings the meal together.
People freak out about gravy. I don't know why. Gravy is easy as pie. Actually, easier than pie. All it is is a delicious, rich stock thickened with flour. In cooking school, they call it velouté, French for velvety. You take a great stock and give it a velvety texture.
Flour-thickened sauces got a bad name when bad "French" restaurants served heavy, badly made sauces. Properly prepared, flour-thickened sauces are light, flavorful, and refreshing. I prefer them to heavy reductions, which, prepared thoughtlessly, are gluey with protein and make the tongue stick to the palate.
The key is dispersing the flour uniformly through the sauce. We do this by combining the fat (butter or rendered chicken or turkey fat) so that the granules of flour are each coated with fat to prevent their clumping together. We accomplish this by adding flour to the fat and stirring. But we want to do more than just coat the flour. We want to cook it, too, so that you don't taste any raw flour. Flour can be cooked pale (it will smell like pie crust), or it can be deeply browned, which gives it a wonderful nutty flavor but reduces its thickening power. (Someday I should do a quick plain roux video to show how easy it is, starting with equal parts fat and flour by volume, then adding more flour till you have a thin paste—3 parts flour to 2 parts fat is ideal if measuring by weight, but for small quantities, by eye is fine.)
The below gravy is simply minced onion cooked in the rendered chicken fat; flour is added and cooked; stock is added and brought to a simmer as the flour absorbs the liquid and expands in the heat to thicken the sauce. Skimming foam is key for a good for smooth velvety finish (that's one of our new offset spoons in the last photo, for basting, tasting, and skimming!). Flavor it any way you want. Sage? Chopped giblets? Sautéed mushrooms? Go for it. White wine is always a good idea for acidity and flavor. Season to taste with salt and a few drops of lemon or vinegar.
You can make this any time of the day and keep it on a low burner or do it the night before and refrigerate. But the most important thing? Make loads—it's one of the best parts of the meal and it helps to keep the food hot! Many a dry turkey breast has been saved by delicious gravy.
Originally posted on November 18, 2011
½ Spanish onion, cut into small dice (½ to ¾ cup)
¼ cup turkey fat or fat saved from a roasted chicken or butter
4 to 6 tablespoons of all-purpose flour
1 quart turkey stock, cold or at room temperature
salt to taste
lemon juice or white wine vinegar to taste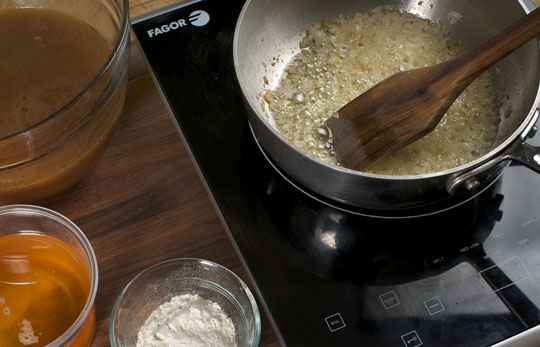 In a medium saucepan, combine the onion and fat over medium heat and cook until the onions are completely tender and just beginning to brown (if you want to brown them, go ahead), 5 or 10 minutes.
If you want a thin gravy, add 4 tablespoons of flour, for a thicker gravy, add 6 tablespoons. Continue to cook the onions with the flour till the flour lightly browns and loses its raw smell.
Turn the burner to high and pour in the stock, whisking continuously as you do.
Keep cooking until the gravy comes to a boil and thickens. Season with salt to taste. Skim and discard any foam that collects on the side of the pan. Add a few drops of lemon juice or white wine vinegar.
Taste. Does it need more acidity or salt? Add it. Would you like to put pepper in it? Go ahead, it's your gravy. Fan of giblets? If you roasted the gizzard and heart with the turkey, chop those up and add those. Too thick? Add a little more stock from the cool cooking method I posted on Monday. Too thin? Either make a quick roux of fat and flour and add that or a slurry of cornstarch and water. When it's perfect, it can keep warm for ages, covered, while you work on the rest of dinner. Serve piping hot.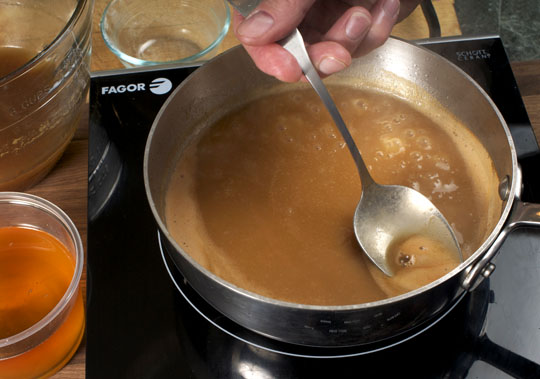 My other Thanksgiving links you may like:
© 2012 Michael Ruhlman. Photo © 2012 Donna Turner Ruhlman. All rights reserved.