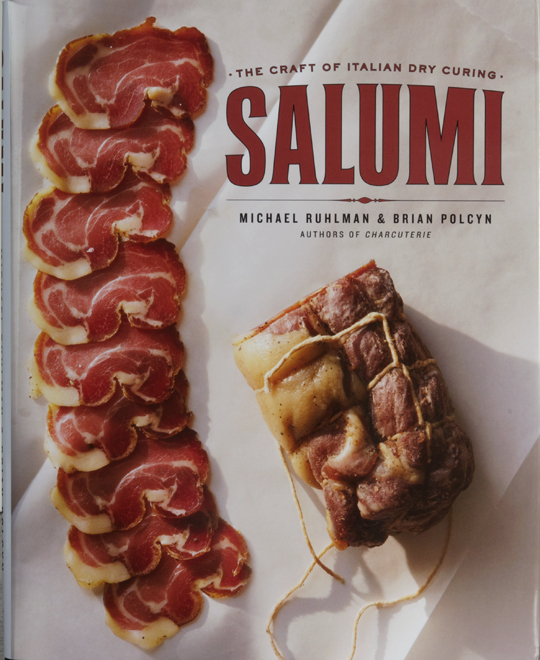 Amazon is always ahead, damn them! They'd been advertising an August 27 release date for my new book, Salumi: The Craft of Italian Dry Curing, but suddenly I'm getting twitpics from people who have ordered and already received their copy!
The video isn't ready, but you folks clearly are, so here it is, Brian Polcyn's and my Salumi, the follow-up to our previous love song to animal fat and salt. The new book focuses on dry-curing meat, both whole muscles, such as coppa and pancetta, and ground meat, such as salami.
Charcuterie encompassed a broad range of preserved foods, including pâtés and confits. With a couple of exceptions (mortadella, the sopressata of Tuscany, which is the Italian version of french fromage de tête), salumi refers to salted, dried meats that are, when done well, with well-fed, well-raised pigs, some of the best foods on the planet. I would argue the healthiest, too, though American nutritionists would be all over me for that (let's define "healthy" first, can we?).
I think Brian is most proud of how we've defined and illustrated breaking down the hog, both in the American style, but more importantly in the Italian fashion, which is designed both to follow the natural seams of the animal, requiring only one saw cut, but also to take advantage of the best salumi cuts. In America, we slice right through the coppa, for instance, the long neck and back muscle that segues into the loin. In Salumi, we show how to capture the entire coppa, which is one of the easiest and tastiest cuts to dry-cure, with its perfect interior marbling.
For me the pleasure in writing it was the revelation of how simple salumi actually is. Walk into a salumeria and you might be overwhelmed by the variety and seeming complexity of its offerings. But in fact the entire craft of salumi can be broken down into eight basic categories, and that's how we organized the book, first describing butchery, dry-curing basics, the fundamental techniques, the eight basic categories of salumi, variations on those categories (more than 100 recipes), then how to put salumi to use, whether you make your own or purchase it from the burgeoning salumerias around the country (see below).
As with so many ancient culinary traditions that America learned only recently (great cheese, wine, beer, charcuterie), chefs and home cooks have already embraced the Italian traditions of salumi with passion.
It makes us proud. It also is yet another example of why there's never been a better time in America to be a cook.
Other links you may like:
© 2012 Michael Ruhlman. Photo © 2012 Donna Turner-Ruhlman. All rights reserved.