Last week I wrote about our first meal in Italy with the Motturas—the fineness of the meal and the pleasures of sitting down to many courses. But many courses didn't mean many elaborate courses but rather food of the simplest order. The first course was composed of nothing more than day-old bread and a few garden vegetables, seasoned with vinegar and oil. When this was done, our host Alessandra disappeared from the table to make the soup course. It too used vegetables from the garden and water.
I've long espoused the value of water, devoting a whole chapter to its many uses in Ruhlman's Twenty, and I was pleased to see it used so efficiently here. So much so that I bought a couple of small summer squashes at our Saturday farmers' market to make it again and describe exactly how it's done.
The following is the mise en place—zucchini, aromatic vegetables, inexpensive white wine, olive oil, and salt. All you do is cook the vegetables, add the wine and water, and season with salt, pepper, and olive oil.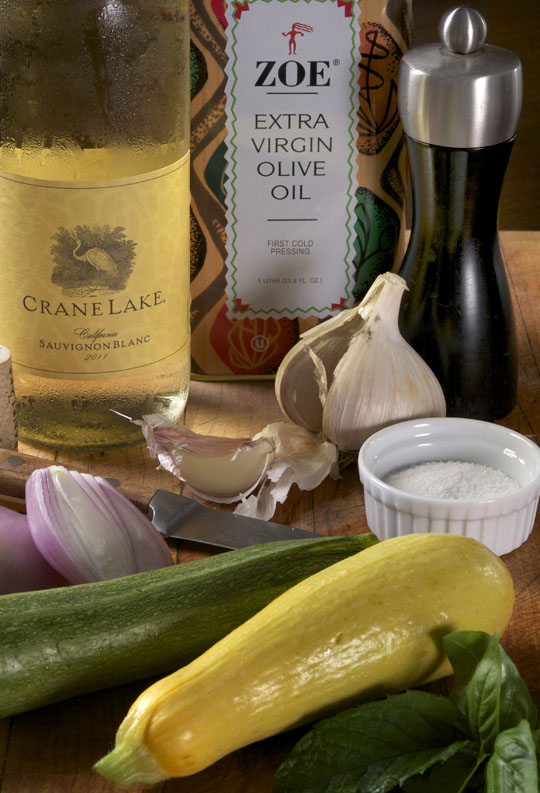 Those worrying that cooking is too difficult or time consuming, consider zucchini soup. Healthy, light, flavorful, and making use of what's growing.
Now I'm preparing for Brian Polcyn's arrival, and a pig, to film a promotional video for our new book, Salumi: The Craft of Italian Dry Curing, just out this week!
Simple Zucchini Soup
1 large shallot, minced
1 garlic clove, minced
olive oil as needed
1 small zucchini, quartered lengthwise and thinly sliced
1 small yellow summer squash, quartered lengthwise and thinly sliced
¼ cup white wine
1 ½ cups water
salt and pepper to taste
a few leaves of basil, chiffonade
a few leaves of mint, chiffonade
Sauté the shallot and garlic in 1 tablespoon of olive oil over medium heat till tender, just before it's browned, 5 minutes or so.
Add the zucchini and summer squash and sauté till tender, a few more minutes, salting them as you do. Give them several good grinds of pepper.
Add the wine and bring to a simmer.
Add the water and bring to a simmer, then reduce the heat and cook for about 5 minutes.
Add the basil and mint and serve, garnished with a healthy drizzle of olive oil.
Serves 2 (can be doubled)
Other links you may like:
© 2012 Michael Ruhlman. Photo © 2012 Donna Turner-Ruhlman. All rights reserved.