There's a visceral pleasure to eating dangerous or forbidden food. Wild fugu, for instance. Wild mushrooms. Raw meat. Even oysters, still virtually alive. Why on earth would anyone try to eat something that stings? And believe me, these are prickly motherfuckers. Why? Because it's fun. But there's more to them than that. And the devoted baker and wonderful soul who runs Two Sisters Bakery in Homer, Alaska, describes why this "pesky, painful weed" is great to eat. Thanks for this valuable guest post, Carri! — Michael
Nettles, the wild edible and pesky, painful weed that has been a staple of traditionalists and confounding gardeners since the beginning of time, are finally getting their spot on the culinary stage. Nettles are replacing kale as the superfood of the moment, boasting the highest levels of protein and plant-digestible iron of any other green and high in vitamins A, C, and D as well as calcium, potassium, and manganese, according to Janice Schofield's book Nettles (published in 1978 and unfortunately out of print). So nutritious, if not a little dangerous, these greens are showing up in gourmet shops and farmers' markets across the country.
While nettles are tasty in soups, tea, and even pizza, one of our favorite things to do with them is to make pesto or, as we like to call it, nesto.
My friends Jenny and Sydney and I have been getting together in the early summer for many years now to make big batches of nesto. We usually make it an afternoon affair, with the kids all suiting up in protective gear and tromping around our nettle patches, filling big wicker laundry baskets and telling their worst stinging nettle stories. Once our greens are picked, it's time to head into the kitchen, where we formulate batch after batch, some with no nuts for Jenny's daughter Lia, some with no cheese for Sydney, and just generally playing around with different ingredients. As we taste test, we sip wine and reminisce about summers past, and before you know it, there is jar after jar of beautiful green goodness. After years of tweaking, we have come up with this version that is always a hit. The flavor of the nettles is fresh and clean, almost cucumbery, and while the pesto does rely on nuts, cheese, and oil for flavor, what I find remarkable is that I don't miss the basil one bit.
To harvest you want to cut just the top 3 bracts of the nettle plant. By trimming back your nettles this way, you should get multiple cuttings from it into mid summer. (Never use once they've flowered as they contain a granule that can irritate the urinary tract. Also, be sure to harvest from an area away from the road and not contaminated in any way.)
Nesto (Nettle Pesto)
8 cups of nettles
1 cup Parmesan or pecorino romano (these are very different flavors but both produce excellent results)
1 cup walnuts (any nut will do, really)
5 garlic cloves, peeled
juice of half a lemon
½ teaspoon kosher salt
a few turns of the pepper mill
½ cup olive oil
Drop the nettles into a large pot of boiling salted water.
Blanch the nettles for 3 minutes. With a slotted spoon, move them into an ice water bath to shock and cool.
Squeeze out all the liquid and give the nettles a rough chop. You should have about 3 cups of cooked greens.
Place the nettles into your food processor along with Parmesan/pecorino romano, walnuts, garlic cloves, lemon juice, kosher salt, freshly ground black pepper, and olive oil. Process to the desired consistency. If things aren't moving around in there like they should, add a bit more oil.
You should get enough out of this to pack into four 8-ounce glass jars.
Now that we've made our pesto and had a glass of wine or two, let us geek out a little more on the attributes of this dangerous and delicious weed. It has, it turns out, quite a past. This prehistoric plant has been in use by humans from the Bronze Age, when they would pound the fibers to make clothing and fashion nets, which get their name from the common term for this irritating wonder of nature. Janice Schofield's other book, Discovering Wild Plants, tells us also that not only are nettles a true super food, up here in the north they are used traditionally as a spring cleaning for the digestive system, giving them credit as a remedy for the "breakup blues," a malady that tends to hit just as the ice is breaking up at the end of our long, dark winters. I've only recently realized that the rush of warm energy we would feel after these fun afternoons making nesto was from eating the nettles—we used to blame it on the wine.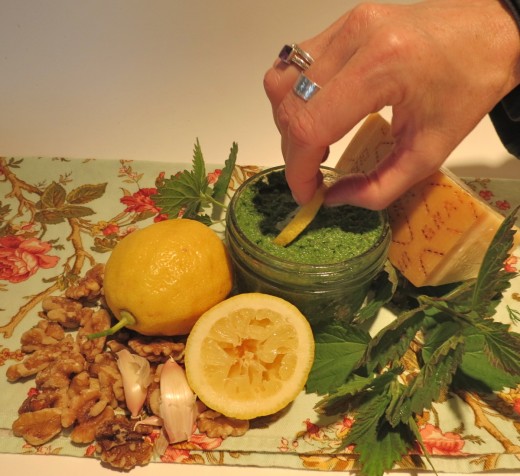 If you liked this post on stinging nettle pesto, check out these other links:
© 2012 Michael Ruhlman. Photo © 2012 Donna Turner Ruhlman. All rights reserved.