My first mint julep was made for me by a guy who remains one of my dearest friends and confidants. We were wayward, then, but he has gone on to be a talented and superlative writer, generally. Having at the time (1987) a Kentucky girlfriend and having recently spent four years at Tulane, he knew his juleps.
The night ended badly. Blown speakers at my girlfriend's apartment and roof tar all over her nice wood floors—she was pissed, and I staggered out into the early spring sunshine. On the subway home the next morning from 110th and Amsterdam to 39th and 1st—wouldn't you know it—I heard, "Michael?!" An old high school girlfriend had spotted me, my first kiss actually, and still dear friend. She picked lint out of my unshaved face and, with concern and disappointment, told me I needed to get some rest.
My apartment was chained shut so I had to knock. Billie Holiday was on the speakers. An unclad, unfamiliar female form crossed what I could see through the crack. My roommate, the mint julep maker, opened the door scratching his head apologetically. I told him my mother was arriving in hours, get the woman out. He told me, "She's eating a sandwich." I repeated my request. He paid the woman and asked her to leave. My roommate was unclear on exact details. I found gum wrappers in my sheets.
The next julep I had, several years later, was at the Oak Room, with the woman who would become my wife and has been a decidedly better influence on me. It was an August afternoon and hot, but the Oak Room was cool and dark, and Donna said, "Wouldn't a mint julep be perfect?" We asked our server. He returned saying that the bar didn't have any mint but surely there must be a sprig somewhere in The Plaza Hotel, and they were scouring it now. The juleps, only slightly delayed, were delivered proudly by the server. The server was duly thanked and generously tipped for his extra effort. They were perfect. Donna and I left the Oak Room, hand in hand, giddily in love.
Interesting how stories come readily attached to specific drinks.
Today, with springtime in full flush, the mint already plentiful—mint is excellent to have on hand, but it's a weed, so be careful where you plant it—juleps will be the evening cocktail. Traditionally, a mint julep is nothing more than mint muddled with sugar, combined with bourbon and ice.
I've enhanced this one. I pulverize the mint in a mortar and pestle with sugar and a little of the bourbon, then add the bourbon, let it sit a few minutes to absorb the mint, then strain it over ice. Pulverizing it gives the drink extra spiciness. I then give it a squeeze of lemon to balance the sugar. I missed the Kentucky Derby this year, but I don't have to miss the mint julep.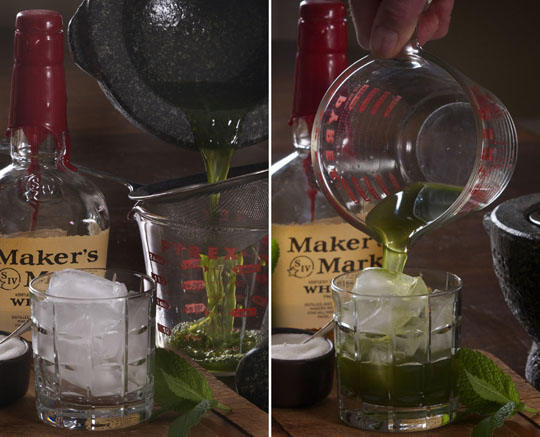 An Excellent Mint Julep
10–12 broad leaves of mint, plus a sprig for garnish
2 teaspoons sugar
3 ounces Maker's Mark (or bourbon of your choice)
Lemon wedge
Combine the mint, sugar, and ½ ounce of bourbon in a mortar and pulverize it with a pestle.
Add the remaining bourbon and let it rest while you ready a lowball glass with ice.
Strain the bourbon over the ice (I actually strained it into a 2-cup measuring glass because my mortar and pestle is so big and heavy, then poured it over the ice). Press the mint in the strainers to squeeze as much liquid out as possible. Squeeze in some lemon juice.
Serves 1 (1 is just right, 2 is too many, 3, as I learned in New York, is never enough).
If you liked this post on the mint julep, check out these other links:
© 2012 Michael Ruhlman. Photo © 2012 Donna Turner Ruhlman. All rights reserved.