I had my first cocktail with an egg white in it at The Best Bar in the World, and it was a revelation. A Ramos gin fizz. The egg white gave it the kind of body I'd never felt. (And nutrition! If LA starlets can call an egg white omelet a meal, I can call my cocktail a meal!) I've since become a huge fan of what an egg white can bring to a drink. I even put the VTR Whiskey Sour in Ruhlman's Twenty!
Herewith the Friday Cocktail Hour a classic whiskey sour. It's typically made with bourbon, and that's fine, as is scotch. But after last week's Manhattan, which used Old Overholt Rye, I had a rye on the rocks to evaluate it and was impressed by how dry it was relative to the sweeter bourbon. I think this dryness is best suited to balance the sweet-sour nature of the whiskey sour.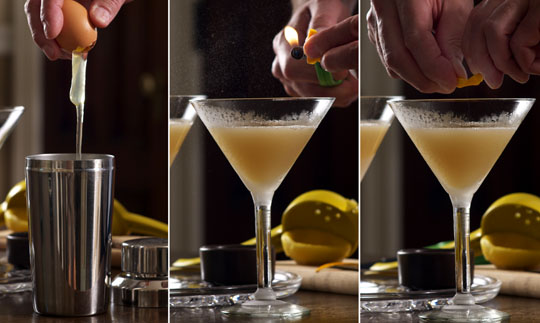 The VTR uses the above technique of separating the white from the yolk: cracking the fat end of the egg and removing enough shell to allow the white, but not the yolk, to fall out (notice the two different parts of the white, the thin and the thick, the raison d'être for the badass egg spoon, bien sûr). The method is cool, and shows the customer they're getting an actual egg white in their cocktail glass. But there are different ways to handle egg whites. I make a lot of custards, carbonaras, mayo, Hollandaise, and its derivatives, which leaves me with a lot of whites. Happily, whites freeze really well so that you can have them on hand at a moment's notice, for cakes, cookies, and cocktails. Large eggs, by definition, weigh 2 ounces, or between 50 and 60 grams. So if you're using frozen whites stored in a deli-cup (for easy removal), chop off and weigh out 40 grams, or 20 grams per serving. If you're not using a scale, use the above method.
As far as mixing the white, I use a shaker, but you could also lightly whisk it, or use an electric frother, gently. You don't want to make a meringue.
To finish the drink, I like to flame some orange zest oils over the glass, and finish it with a twist of orange—but garnish is up to you.
Since it's Friday, I suggest we all stop work at 5 on the nose and have a couple of egg-white appetizers called The Whiskey Sour.
Rye Whiskey Sour
40 grams egg white (1 large egg white)
35 to 40 grams 1:1 simple syrup (1 tablespoon sugar dissolved in 1 tablespoon water)
90 grams Old Overholt Rye, or whiskey of your choice (3 ounces)
30 grams lemon juice (2 tablespoons)
10 grams lime juice (2 teaspoons)
Ice cubes
Orange zest, or garnish of your choice
Chill two martini glasses.
Put the egg white in a cocktail shaker and shake thoroughly 20 to 30 times. Add the simple syrup, rye, and lemon and lime juices and shake again until well combined.
Fill the shaker with ice and shake gently to chill the cocktail completely. Strain into the chilled glasses. Garnish as you please.
Serves two, and I recommend, unlike the martini, having a second, as it's Friday.
If you liked this post on the VTR Whiskey Sour, check out these other links:
© 2012 Michael Ruhlman. Photo © 2012 Donna Turner Ruhlman. All rights reserved.