OK, it's really gotten bad. I'd been ready to give up the fight. But I just can't let this one go. I went up to the bar, I'm not even going say where, and asked for a martini.
The bartender, I shit you not, said, "Any preference of vodka?"
I left. I just left. Walked out.
I've gotten used to the question, "Vodka or Gin?," grudgingly and have been told outright by Jonathan Gold to simply give it up, losing battle, he said.
But I can't. I can't. Names are important.
H.L. Mencken, as the martini Wiki entrance notes, calls this drink "the only American invention as perfect as the sonnet." So true! And sonnets are not writ with Vodka, which is defined by tastelessness.  (The "vodka martini" should be referred to as a Kangaroo, "vodkatini," or as one Twitterer suggested Lousy-tini.) My friend Paulius calls America "a nation lobotomized by vodka."  Indeed, we've made vodka the most popular spirit in America in the same way we've made Wonder our bread choice, and Oscar Meyer quintessential mortadella.  (Our friends in Columbus, Middle West Spirits, are gunning to change this with a vodka that is actually flavorful, called OYO, bless them.)
And what's with this "very dry" business?  Who started that idiotic trend? This open the vermouth and let the fumes pass over the glass?  If you can't taste the vermouth, the martini hasn't been made right. The classic proportions are the best, 5:1.  I prefer a twist. Unless I'm hungry, in which case I ask for olives. I prefer the gin and vermouth below, but I also like Hendrick's and Plymouth gins.
The following recipe is for the perfect martini.  It's a big one, because that's the way it should be.  As MFK Fisher wrote of the martini, "One is just right, two is too much, and three is never enough."
The Classic Martini
90 grams Beefeater gin at room temperature
18 grams Noilly Prat dry vermouth, cold
ice as needed
1 twist (or olives)
I chilled martini glass (the colder the better, with sides angled no lower than 50 degrees; large shallow glasses tend to slosh)
In a 2-cup measuring glass, combine the gin and vermouth.
Fill the measuring glass with ice and stir more or less continuously for 90 seconds (I hate the shaken martinis with all the shattered ice floating in them).  It's fine to pause while you retrieve glass from freezer, and ready the twist or olives.
When the ice and alcohol have commingled for the appropriate time—you want about 30 to 40 grams of water to melt and soften the gin—strain the martini into the glass, and garnish it with the lemon or olives.
Yield: one 145-gram martini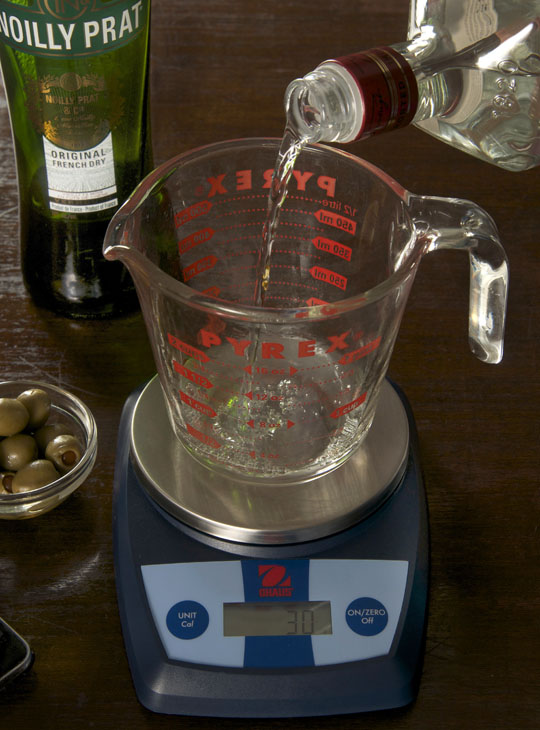 If you liked this post on the perfect martini, check out these other links:
© 2012 Michael Ruhlman. Photo © 2012 Donna Turner-Ruhlman. All rights reserved