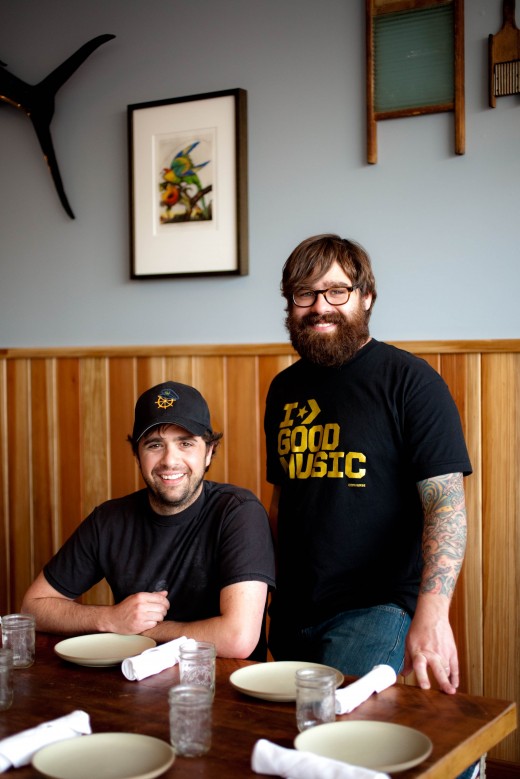 A couple weeks ago Tuesday, I was lucky enough to score an early rez at the restaurant Animal, the much-hyped LA restaurant run by chefs Vinny Dotolo and Jon Shook (Vinny's the bushy one, photo courtesy of Animal). A few weeks earlier, in town for a gig at the Los Angeles Chamber Orchestra (bet you didn't know I played the cello!), a friend took me to their second restaurant Son of a Gun. I told this friend I loved it and that it reminded me of The Greenhouse Tavern, because it did the same kind of food. (Only of course it didn't really--Greenhouse doesn't sell alligator schnitzel!--so what did I mean? Fabulous dish, that schnitzel.)
It wasn't till I ate at Animal with my friend the writer Dan Voll and our kids that I realized what I'd been feeling at Son of a Gun. Our server asked me if I was enjoying everything. And I said yes. But that wasn't enough, I needed her to know there was more to it than just yes: "What those guys in the kitchen are doing is about more than just food," I said. "They're doing what they love, it's so obvious, so clear in the food. I wish everyone worked that way." She said, "Wow, thanks!" I'd had a couple glasses of wine and numerous dishes of truly fine and original food--my absolute favorite food, succulent fatty bone marrow with excellent grilled bread, pig ears with an egg on top, hamachi, foie, shrimp and rabbit spring roll, and the best crispy pig tail I've ever had, see checked items below--so I was kind of effusive. "You don't understand what I'm saying. What I'm saying is that if everyone did their work in the same way those guys are cooking food, those guys back there rocking in the kitchen, if EVERYONE did their work exactly that way, the world would be a better place! An incredible place. The whole world, imagine it! If everyone just followed this kitchen's lead."
The server smiled nervously and departed. Dan and I were thrilled by the food, my daughter and her friend, 16-ish, we're mainly grossed out and asked when can we go someplace normal? But Dan's son, 13, was ecstatic, bless him, a cook in the making.
It's the same reason I love Greenhouse Tavern. Because it's so clear from the food that Jonathon Sawyer is doing exactly what he loves, just as Vinny and Jon are doing. They aren't just cooking, they are conveying their love of the world, through the food, directly to the diner. Love, passion, exuberance for life—that's what these dishes are. And if the man or woman or youngster who walks through their door are willing, they can open a vein and mainline that goodness.
So yeah, wonderful server whoever you were, I'd say I was enjoying myself.
If you liked this post on doing what you love, check out these other links:
© 2012 Michael Ruhlman. Photo © 2012 Donna Turner-Ruhlman. All rights reserved