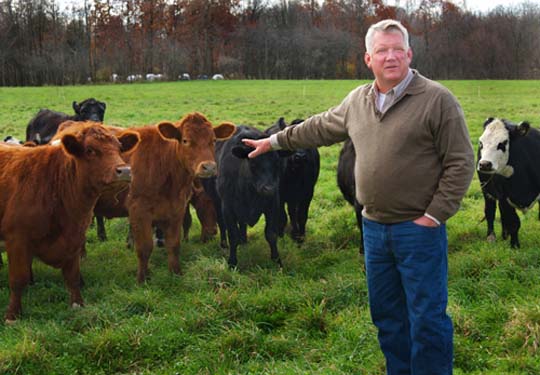 A while ago I wrote about Aaron Miller (above, photo by Donna Turner Ruhlman) and his grassfed beef, which I've found to be astonishingly succulent for 100% grassfed (it's all in how you treat the grass, he says; you are what you eat, even if you're a cow). We cooked his turkey at Thanksgiving.  He also raises excellent pigs. And now he's started a lamb program,  available by order from their site.  I cooked some for Jonathon Sawyer, chef at The Greenhouse Tavern, and he took one smell and said, "You can smell it's grass-fed!"
Aaron and his wife Melissa are part of growing number of small farmers raising animals on grass. I'd love for more bloggers to post links to livestock farmers in their area raising animals for food, sustainably and well. If you do, send me a link to your post and I'll put it up. We're moving into prime growing season. On Sunday, The New York Times asked readers to defend the ethics of eating meat, a contest. I believe it's ethical and good, provided the animals are treated humanely. We make it available by buying from such farmers. This kind of meat will be more expensive, and it should be. Pay the same, but eat less. And if you blog about food, post about them and send me a link or leave a link in comments.
The Millers take orders for lamb on their site, Miller Grassfed (there's a great video of their farm on their home page) and they have drop-offs on east and west sides. You can also order their lamb through Foster's Meats at The West Side Market.  They are also at the Howland Farmer's Market in Warren, Ohio, on April 21 and you can, of course, come out to the farm--by appointment. I've been there, it's lovely.
Other great farms I've bought from at my grower's market, North Union Farmers Markets are these:
New Creation Farm (great pork, also do beef by special order).
Tea Hills Farms, excellent poultry
Millgate Farm for 100% grassed beef
I havent bought from them but The Great American Lamb Company sells lamb there.
This is not a complete list of the many livestock farms that sell at the North Union Farmers Markets, so check them all out yourself!
And bloggers, if you post on farmers in your area, let me know and I'll link here.
Spring Lake Farm from Meredith, NY
Yonder Way Farm from Brenham, TX
Larga Vista Farm from Boone, CO
Saugatuck Craft Butchers located in Westport, CT
Cutter Ranch, Clinton, BC, Canada
Josef Meiller's Farm, Pine Plains, NY
If you liked this post on local lamb, check out these other links:
© 2012 Michael Ruhlman. Photo © 2012 Donna Turner-Ruhlman. All rights reserved