I hadn't planned this post but when my wife, Donna, started emailing these iPhone shots of the dishes she was served at per se yesterday at lunch I just had to put them up. First of all, Thomas Keller and his ace staff two years ago began offering dishes a la carte in their salon area, outside the dining room. It's a fabulous way to taste what the per se chefs, led now by CDC Eli Kaimeh, are up to. (It's no wonder that Sam Sifton, in his final column as restaurant critic for The New York Times, called it the best restaurant in New York City.) Chef Kaimeh did not work lunch yesterday; in his stead was Chef David Breeden.  I once complimented Deborah Jones on her amazing photography in Under Pressure (she's photographed all of Keller's books). She said, "Don't compliment me, compliment the chefs. They make my work easy."
The meal, as always begins with the salmon cornets, salmon tartare in a tuile cone. Keller has been serving every diner these nifty little cones for nearly twenty years and they never get tired. They are always a pleasure. Gougeres followed, and then the main dishes.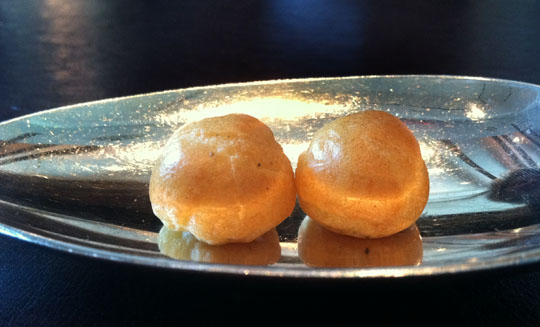 These gougeres, cheese puffs, are now filled with mornay sauce.
Celeriac veloute with marcona almonds and sour cherries.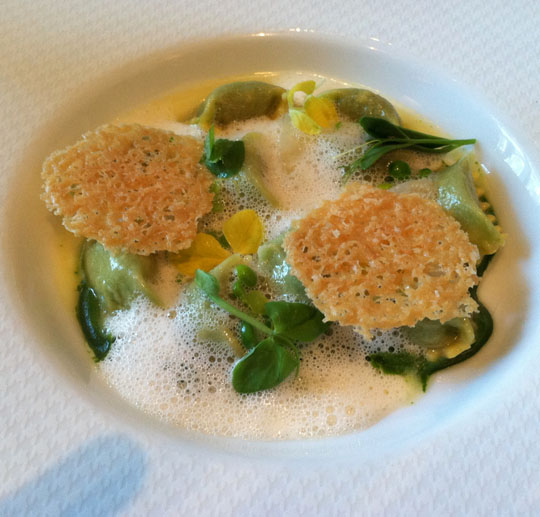 Agnolotti, little Basil ravioli with pea shoots and glazed sunchokes.
Butter poached lobster with bell peppers, artichokes and spicy lobster broth.
Foie gras terrine with chocolate financier crust, black mission fig marmalade, cipollini onion shoots, little lettuces and a guiness chocolate sauce with brioche and two salts.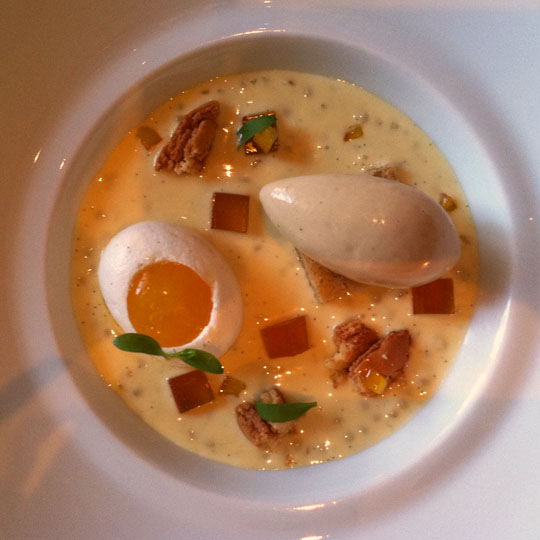 Two desserts: Floating island, almond tapioca, creme Anglaise, mandarin confit and black tea ice cream and, below, lime meringue compressed pineapple, hibiscus and coconut sorbets.
What's amazing to me about this is that the salon was meant only as an elegant waiting area and a bulwark separating the dining area from people entering the restaurant, diners using the restroom, hostesses taking coats; but what Keller has done is turn it into its own kind of restaurant. The dishes are still fabulously expensive (and the photos here show why), but it's a way to have a taste of what Chef Kaimeh and his staff are doing without having to spend many hundreds of dollars on a full tasting menu.
Donna and I just talked about it again.  She said, "You know what was so wonderful about it? The service. It's just so elegant and you feel so well taken care of."
The food's not bad either.
If you liked this post on Per Se, check out these other links:
© 2011 Michael Ruhlman. Photo © 2012 Donna Turner-Ruhlman. All rights reserved