My neighbor, Lois Baron, gave me a version of this recipe, which calls for roasting and braising a beef brisket. When I told her I intended to give it a shot using leftover pot roast she said, excellent idea! Kreplach, a great way to make use of leftovers. Kreplack are often called Jewish ravioli, a staple of Jewish cuisine. Consistent with that cuisine, the main item is cooked, then it's cooked again, and then its cooked again. (Why is this?!) At least in Lois's recipe. A brisket is roasted, then it's braised, then it's ground with seasonings and egg, wrapped in dough, boiled, cooled then cooked to serve. That's three times that it gets fully cooked before being eaten. These are traditionally used in soup, and they're great that way, but Lois fried some for me and they were out of this world. There's something about the texture that's really really satisfying when they're fried crispy. And given the opportunity to fry, I say fry! I served these ones last night on shredded sautéed cabbage to which I'd added
chicken stock
, whole grain mustard and a few drops of red wine vinegar.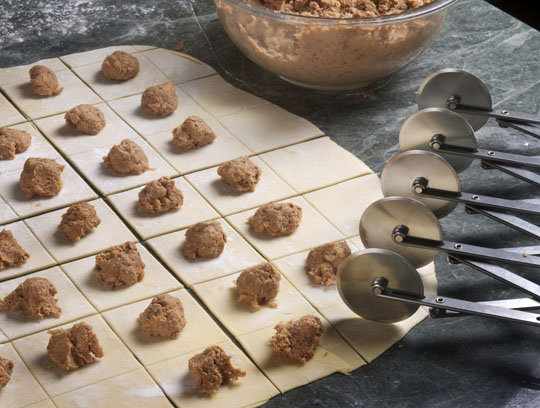 Lois's dough is perfect—supple and soft enough to roll thin, but dry enough that I had no problem rolling it out without its sticking. I happen to have boffo bicycle cutter thanks to
Opensky
for perfect uniformity, but a pastry wheel, pizza cutter, or pairing knife works fine, too; these measured a little under 3 inches square.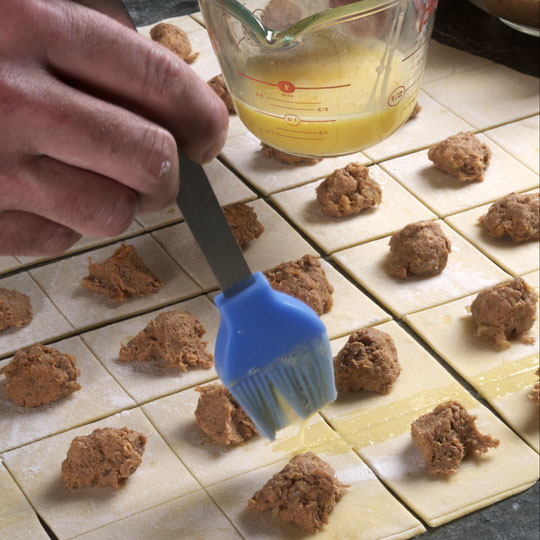 I used egg wash to make sure they had a good seal. I folded them into simple triangles and boiled them. Lois says her mom always had a batch of these in the freezer. Indeed, make a double batch; they're great to have on hand for a last minute meal.
Beef Kreplach
2 cups flour, plus more for dusting
4 eggs
¼ cup water
1 pound cooked beef, diced
½ onion, diced and sauteed till transluscent, cooled
salt to taste
1 teaspoon black pepper
2 teaspoons sweet Hungarian paprika
oil for pan frying
Make the dough by combining the flour, 2 eggs and water in the bowl of a standing mixer and mixing till the dough is baby's-bottom smooth. You may have to finish it by hand (or do it start to finish by hand). Wrap in plastic and set aside.
Make the filling by combining the meat, 1 egg, the onion, salt, black pepper, and paprika in the bowl of a food processor and pulse till it's pureed. (You can also do this by passing the mixture through a meat grinder then stirring in the egg; if you want the onions to remain chunky, fold them into the mixture after the meat is puréed or ground.)
Roll out the dough to less than ⅛th inch thick. Cut 3-inch squares as pictured above. Put a teaspoon of the meat in the center of each.  Mix the last egg with a little water and brush it on adjacent sides of each square, then enclose the filling in a triangular shape, sealing dry edge to egg-washed edge.
Boil the dumplings in salted water till the pasta is cooked, 3 or 4 minutes.  Drain and chill beneath running water or in the cooking pot.
When ready to cook, heat a large pan with enough oil to coat the bottom by about an eighth of an inch over medium high heat and sauté the dumplings till they're golden brown and delicious as they are in the lead photo.
This makes about 40 kreplach.
Checking my two best tomes on Jewish cooking, I see that Lois's dough is identical to one of them, though she didn't know about the book. If you want to know more about Jewish cooking, I highly recommend Arthur Schwartz's excellent and beautifully published
Jewish Home Cooking
.  (But why "home" cooking; isn't Jewish cuisine defined by home cooking? Is there a lot of Jewish restaurant cooking? How about a Jewish tailgating party book? Actually the reason for it isn't a good one, so I shouldn't make light; so much of Jewish cuisine was defined by poverty and life in ghettos. But the fact is, Jewish cooking is the quintessential home cooking, which is why I love it.)
The other great book I use is by this country's doyenne of Jewish cuisine, Joan Nathan:
Jewish Cooking In America
. Both books are rich with story and recipes.
If you liked this post on the great Jewish dumpling, kreplach, check out these other links:
© 2012  Michael Ruhlman. Photo © 2012 Donna Turner-Ruhlman. All rights reserved