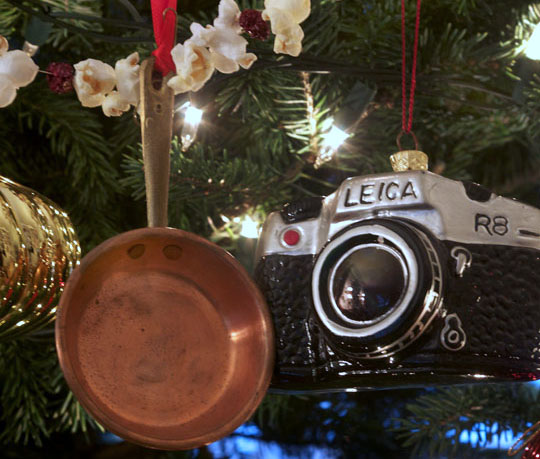 It's been a long day of wrapping and cooking in preparation for Christmas, amazingly stress free because of my amazing wife and colleague Donna. Her photo above is something of a self-portrait of us on the Christmas tree. Mom and James made cookies and I made our annual Addison's Brioche.  Mom wants to use it to make sticky buns so we'll fill some muffin pans with brown sugar, butter and pecans, top each with the brioche and refrigerate till tomorrow morning. It's become a tradition. As has the reading of Twas the Night Before Christmas before bed. Traditions are powerful indeed.
The day has also been occasion to think about how lucky I am, for Donna, for Donna's work, for the health of my children, on this bountiful holiday. I miss my dad who was the very embodiment of The Ghost of Christmas Present. But his spirit is all through this big old house and under the tree.
Many thanks to all the wonderful readers who wander by this site. I hope you all have festive holidays. This is a religious holiday, but I hope it's a time when all of us can remember the most important thing all, what Christmas should embody and what I hope for, Linus's good words: Peace on earth and good will toward all.
Merry Christmas and Happy Holidays.
Holiday inspired:
© 2011 Michael Ruhlman. Photo © 2011 Donna Turner-Ruhlman. All rights reserved