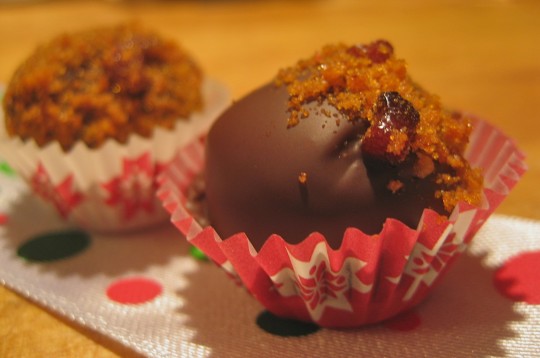 Bacon truffle presented two ways. Photo by Carri Thurman
Carri Thurman has been a friend since she traveled from her home in Homer, Alaska, to visit her fellow Homerian, Daniel Coyle, author and journalist who'd moved to Cleveland with his Cleveland-born wife—bless you, Dan! (His last book was The Talent Code, fascinating look into how talent is developed.) Carri runs Two Sisters Bakery in Homer, and she offers here some fabulous confections for the holidays, right up our alley, proving once again that chocolate, like life, is better with bacon. James and I will be making these as soon as school lets out. Thanks for sharing, Carri, and for all the helpful step-by-step pix! —MR
by Carri Thurman
Bacon and chocolate may be a passing fad in some peoples minds, but I think it is more than just a novelty. It's a classic pairing. The smokey, salty bacon balanced with a chocolate that is neither too dark or too sweet makes for a sophisticated flavor combination, perfect after dinner with a glass of tawny port or a snifter of warm cognac. The key is in the texture, these truffles are smooth with just a little sugary bacon crunch. Nothing like those chocolate dipped strips of bacon sold at novelty booths at the fair (because a slab of meat covered in chocolate is never, ever good eats).
We have been making these at the bakery during the holidays now for the past few years and it's always entertaining to watch peoples response, which usually progresses from disbelief, to curiosity and once that is satisfied they are back for more to take home!
I wrote this post for my blog a few years back and it has become one of the more popular pages visited. I rework the recipe here, gussying it up for Michael and his readers to make a truly special holiday treat. Don't worry, you don't have to an expert with chocolate to make this, either. Just follow the steps, read through the recipe before you start and above all, have fun!
Bacon Truffles
½ pound apple wood smoked bacon
½ cup brandy
1.5 cups heavy cream
½ teaspoon kosher salt
1.5 pounds Semi Sweet Chocolate chips (we are using Ambrosia brand a little darker and less sweet than nestle)
Equipment:
Medium heavy bottom stainless or non stick sauce pan
Wooden spoon
Whisk
Sieve
Non-stick sauté pan
Medium-sized metal or glass bowl
2 sheet pans lined with parchment paper
Pyrex baking pan
Long tonged fork
Truffle cups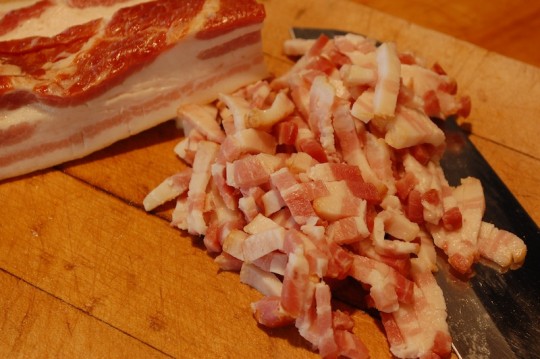 Take the applewood smoked bacon and slice into thin little strips ¼" and smaller.  Fry bacon in a stainless steel saucepan until crisp.
Strain the bacon bits, reserve the bacon fat for use in the truffle coating.
Return all but ¼ cup of the bacon pieces to the pan, turn the heat in medium and pour in ½ cup of brandy. Cook for 2-3 minutes, just enough to burn off the alcohol.
Add 1.5 cups heavy cream and ¼ teaspoon kosher salt and bring just to a boil. Turn off heat and let sit 20 minutes to let the flavor infuse into the cream. Turn heat back on and bring mixture just to a light simmer to thoroughly reheat it.
Measure chocolate chips into a large stainless steel bowl and when time is up, pour hot heavy cream mixture through a strainer and over the chocolate. Let sit for 5 minutes to melt the chocolate.
Whisk together until mixture is very smooth. cover and refrigerate until firm. (about 4 hours)—I like to pour my truffle mixture into a shallow glass baking dish. Cover with plastic wrap pressed onto the surface of the chocolate.
Once truffle filling is firm. portion into little balls and place on sheet pan lined with parchment paper. place in freezer for 30 minutes to harden.
Take your frozen truffle balls out of the freezer and roll them one by one between your palms to get a nice round smooth ball. return to sheet pan and return to freezer while you melt your coating chocolate.
Brickle Topping
In a nonstick pan put the reserved bacon bits, ¼ cup of turbinado sugar and 2 tablespoons water and cook over medium high heat until carmel colored. Stirring often with a wooden spoon.
Once desired color is achieved remove from heat and stir in ¼ teaspoon of baking soda. Stir together very quickly. Mixture will bubble and become opaque.
Dump out onto a sheet pan lined with parchment paper and spread out roughly with the back of your spoon. Let this mixture cool thoroughly before handling.
Break into small pieces and put into a food processor, pulse to break up the mixture into a grainy powder. Set aside until your truffle filling is firm.
For Coating Chocolate
Melt 3 cups semisweet chocolate chips in a heatproof bowl over a pan of boiling water and add ½ cup of the reserved bacon fat. Stir until smooth.
Drop frozen truffle balls into the chocolate coating and retrieve quickly with a long tonged fork, tapping it on the side of the pan to release any excess chocolate (excess chocolate may seem like an oxymoron here, but go with what makes you happy)
Place on clean parchment lined pan and top immediately with a little bit of brickle. you could even just roll a few in the brickle without the chocolate coating for a little variety in your bacon truffle box.
This recipe yields about 50 quarter sized truffles, depending, of course how big your truffle balls are. They will keep in the refrigerator up to four weeks in an airtight container.