People freak out about gravy. I don't know why. Gravy is easy as pie. Actually, a hell of a lot easier than pie. All it is, is a delicious, rich stock thickened with flour. In cooking school, they call it velouté, French for velvety. You take a great stock and give it a velvety texture.
Flour-thickened sauces got a bad name when bad "French" restaurants served heavy terrible sauces. Properly prepared, flour-thickened sauces are light, flavorful, and refreshing. I prefer them to heavy reductions which, prepared thoughtlessly, are gluey with protein and make the tongue stick to the palate.
The key is dispersing the flour uniformly through the sauce. We do this by combining the fat (butter, rendered chicken or turkey fat) so that the granules of flour are each coated with fat to prevent their clumping together. We accomplish this by adding flour to the fat and stirring. But we want to do more than just coat the flour. We want to cook it, too, so that you don't taste any raw flour. Four can be cooked pale (it will smell like pie crust), or it can be deeply browned which gives it a wonderful nutty flavor but reduces its thickening power. I should do a quick plain roux video to show how easy it is, starting with equal parts by volume fat and flour then adding more flour till you have a thin paste (3 parts flour, 2 parts fat is ideal if measuring by weight, but for small quantities, by eye is fine).
The below gravy is simply minced onion cooked in the rendered chicken fat; flour is added, cooked; stock is added and brought to a simmer as the flour absorbs the liquid and expands in the heat to thicken the sauce. Skimming foam is key for a good for smooth velvety finish (that's one of our new offset spoons in the last photo, for basting tasting skimming!). Flavor it any way you want.  Sage? Chopped giblets? Sautéd mushrooms? Go for it. White wine always a good idea for acidity and flavor. Season to taste with salt and a few drops of lemon or vinegar.
You can make this any time of the day, keep it on a low burner or do it the night before and refrigerate. But the most important thing? Make loads—it's one of the best parts of the meal and it helps to keep the food hot! Many a dry turkey breast has been saved by delicious gravy. (But I'll write about how to avoid the dry turkey breast on Monday with a cool dual roasting method.)
Easy Turkey Gravy with Onion
½ spanish onion small dice (½ to ¾ cup)
¼ cup turkey fat or fat saved from a roasted chicken or butter
4 to 6 tablespoons of AP flour
salt to taste
lemon juice or white wine vinegar to taste
In a medium sauce pan, combine the onion and fat over medium heat and cook until the onions are completely tender and just beginning to brown (if you want to brown them, go ahead), about 5 or 10 minutes.
If you want a thin gravy, add 4 tablespoons of flour, for a thicker gravy, add 6 tablespoons. Continue to cook the onions with the flour till the flour lightly browns and loses its raw smell.

Turn the burner to high and pour in the stock, whisking continuously as you do.
Keep cooking until the gravy comes to a boil and thickens.  Season with salt to taste.  Skim and discard any foam that collects on the side of the pan. Add a few drops of lemon juice or white wine vinegar.
Taste.  Does it need more acidity or salt? Add it. Would you like to put pepper in it? Go ahead, it's your gravy. Fan of giblets? If you roasted the gizzard and heart with the turkey, chop those up and add those. Too thick?  Add a little more stock from the cool cooking method I'll post on monday. Too thin? Either make a quick roux of fat and flour and add that or a slurry of corn starch and water. When it's perfect, it can keep warm for ages, covered, while you work on the rest of dinner. Serve piping hot.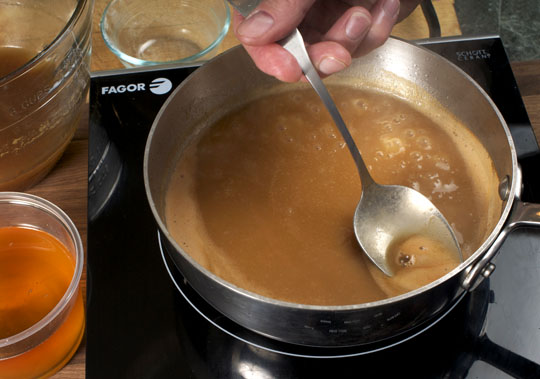 If you liked this post on turkey gravy, check out these other links:
© 2011 Michael Ruhlman. Photo © 2011 Donna Turner-Ruhlman. All rights reserved