I hate book tours. I hate leaving my house. But years ago when I was interviewing David McCullough for my book Wooden Boats, he noted how he hears that from authors all the time and said in his typical exuberant way, and with that inimitable voice, "I love book tours!" It helps that he is universally adored, of course, and is a fine and generous man fawned over wherever he appears. But I thought of him on my return from Durham and Chapel Hill where Anton Zuiker—communications director for Duke Medical Center 9 to 5, and journalist, blogger, husband, dad, angel and friend at all other hours—masterminded a book tour stop for me, in honor of Ruhlman's Twenty, in the unlikely area known as the Research Triangle. The diversity of what one does to promote a book was summed up over the course of two remarkable days.
I'd convinced my wife and collaborator Donna to join me. So that it would not be a complete boondoggle for her, I asked if she'd bring her camera along to document it visually, because it brought together all that one does or might do on a book tour, and more.
We arrived on a gorgeous fall day and had just had time to drive to the Durham NPR affliliate WUNC where I was lucky enough to be on veteran radio journalist Frank Stasio's show, The State of Things, talking food with another food writer, Kelly Alexander.
Kelly brought me a copy of the revised edition of Clementine Paddleford's The Great American Cookbook, arguable the best American regional cookbook every created. Kelly adapted it for its current incarnation and introduces the book. I'm not a recipe guy, but these recipes, collected by the first American food journalist during the 1950s and 1960s, are fascinating to read in describing not just food but the way we lived throughout the country.
We joined Kelly for lunch afterward at Watt's Grocery near Duke University's east campus, a splendid restaurant serving local food—I adored that they had deviled eggs on the menu (superb), and fresh onion rings. It's a personal obligation of mine that, when I eat at a restaurant offering onion rings, I must order onion rings (kind of like the Morgan Spurlock of onion rings, only these won't kill me).  We had time for a quick nap at the Franklin Hotel in Chapel Hill in preparations for the evening's event at The Monti.
The Monti is not a place but rather and event and on this night it happened at Motorco in Durham. It's the obsession of Jeff Polish who fell in love with our most ancient entertainment, live story-telling. Modeled on New York City's The Moth, The Monti invites people to get on stage and tell a story, each event has a theme, and on this night, it was Rescues. Anton suggested to Jeff that I might have a story and I believed I did. But I'm a writer, not a performer, and was janglingly nervous. I did it because it was something that I was afraid to do—stand up in front of a sold out crowd (200+ people) with nothing but a microphone and try to tell a compelling story. A prominent Canadian food writer, with whom I have tangled over vanilla sauce, recently called me cookbook author extraordinaire. I mean, I'm flattered and all, but I never wanted this, I never set out to do this, I didn't even want to be a food writer. How does such a thing happen? It was ordained and not by me: my story involved three rescues, all of a different sort. Perhaps it will make it up on Jeff's excellent podcast (subscribe free on itunes).
What Jeff is doing reminds me of one of the most important lines I have ever read and may in part explain why his shows sell out in mere hours when tickets are released. They were written decades ago by my mentor, Reynolds Price, who taught for 50 years at Duke University, and authored countless books, poems, plays, essays, memoirs and translations.
"A need to tell and hear stories is essential to the species Homo Sapiens—second in necessity apparently after nourishment and before love and shelter." —from "A Single Meaning" published in his book of essays, A Common Room.
Telling stories, like cooking for one another, is a fundamental part of our humanity.
One of five story tellers that night (all excellent), I alone heard the ominous rumbling of the Hippo (the noise emitted when you run on a tad too long), and was further rattled by Anton's wife's cell phone going off immediately after (thank you for not answering, Erin), but managed to get through the part where Thomas kills the rabbits and why, just in time. We had very good beer and very bad deviled eggs at a little former gas station behind the venue where Anton did not explain why he works so hard on other people's behalf.
The next evening I would call him an angel, he notes this in his recent thoughtful post, and I do not take it back.
Up at the crack of 10 the next day, NYTimes in the room with coffee, then off to a food store, an astonishing one called A Southern Season, which makes my local Sur La Table and Williams Sonoma look like rural shakes trading in used antiques and nick-knacks.
Signing books I was surprised by my dear friend Jake Phelps, the first stranger to believe in me as a writer (he was a student advisor and advocate at Duke). He was then and still is an old wonderful hippy living in a cabin in the woods. When I was student at Duke, gangs of us used to lie around naked in the sun on the edge of his lake drinking beer and swimming and philosophizing all afternoon, heavenly afternoons. Thanks, Jake.
Donna and I rushed from there to a Duke recording studio where Kojo Nnamdi hosted me, Monica Bhide and Dorie Greenspan about the new cooking apps inexorably coming on the market. (Dorie gets great coverage in a story about them in today's NYTimes, which also notes the CIA's new pro chef app, which I'm sure to purchase, yes, even at $50.) I've been listening to Kojo for years so it was really cool to be on his show.
Donna and I took some time out to meet with Duke's special collections librarian about my mentor's papers (I may want to write about him one day), strolled the grounds where I was once so phenomenally irresponsible and happy and learned the only thing I really needed to know: how to sit down every day at the same time for the same amount of time, and write.
We grabbed a quick bite of true Eastern NC BBQ (I have a recipe for it in the new book, I love it so much) and some perfect beef brisket at The Pig, and had just enough time to shower for the evening's event and the coup de grace of this leg of the tour: Dinner at Andrea Reusing's The Lantern. Winner of the James Beard best chef south east, Andrea and her crew put together an ambitious and steller menu. I loved her tea eggs, her pork belly, and a new dish for me, pufferfish caught off the Carolina coast. (Andrea has a gorgeous new book out, highly recommended, called Cooking In the Moment.)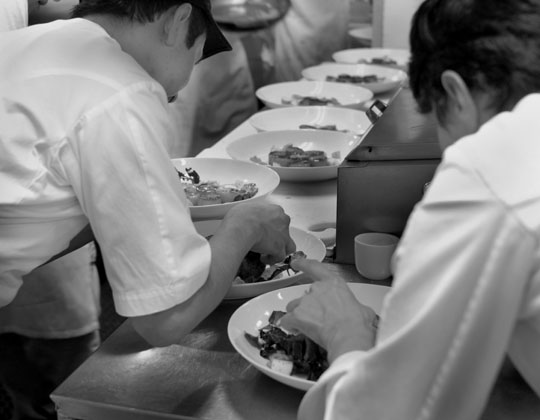 This great food, the conversation of that evening, it's the kind of thing that after all that food and many, many glasses of wine, I feel so lucky I just want to weep.
So, dear Anton, Andrea, Jeff, Jake, Reynolds, Donna, picture me at my computer right now pressing my palms together and bowing to you all.
And to David McCullough, I now say, Yes, aren't they wonderful?