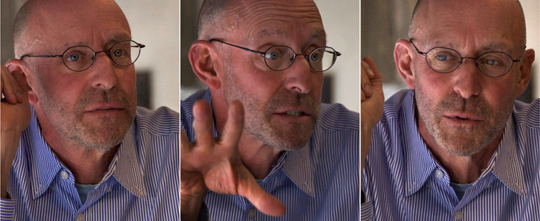 On Monday, Writer's Center Stage and Cuyahoga Public Library brought Michael Pollan to Cleveland to speak. He happened to be free for lunch and seemed delighted to be taken to The Greenhouse Tavern (above, photos by Donna Turner Ruhlman), for a taste of fall.
Pollan, who lives, teaches and writes in Berkeley, CA, is tall and lanky, bobs his head a lot, smiles easily, and is engaging in conversation. He was for years a magazine editor in New York, and left full-time employment with no small amount of anxiety to complete his first book. His second book had mediocre sales, he noted (I read it long ago, excellent book). The Botony of Desire faired better, but it was The Omnivore's Dilemma that transformed him from non-fiction author and journalism teacher into a national spokesman for the urgent food issues we face today.
When I asked if he was surprised at the position he's in, he simply shook his head, smiling, and stared down at the table, as if to say, "To put it mildly."  A lot can change in five years.
What makes Pollan so effective and what has allowed his writing and reporting to reach such a broad audience is that he is able to take very complex ideas and situations and simplify them, without making them simplistic, and to convey them in clear compelling prose.
I asked him where are we now in our national food debate, points he would clarify the next day by email. They were two, points of warning of how big business is attempting to frame our national food dialogue. Spin.
The first, he said, is that big business is turning the conversation toward "better for you" foods, rather than emphasing natural foods cooked at home. He used, by way of example, Wal-Mart's coopting Michelle Obama.
"They've drawn Michelle Obama into negotiations on improving the nutritional quality of processed foods," he explained, "which is better than nothing, but her original, and to my mind, much more effective focus was simply on real food—fresh produce, cooking for your family etc. There is reason to doubt that 'better for you' processed foods will do us any good. Think about Snackwell's—the same idea, during the low-fat campaign.  It was 'better for you' yet we binged on better for you products and got fat on low-fat. The same thing could happen again."
Don't get me started on Snackwell's, an emblem of American idiocy (and our own damn fault—I don't blame Nabisco; if we're not smart enough to think for ourselves, well, that's why they have Darwin Awards. (See my Rant: America's Fat Problem.)
Pollan's second point of note was to say that the food giants have begun to fight back, against him, against the makers of Food, Inc., against anyone calling attention to the fact that our industrial food production system is horrible for us on almost every level. They are manipulating the national dialogue in a deviously clever way by creating the US Farmers & Ranchers Alliance, which is, in effect, a $30 million PR campaign to take the country's gaze off CAFOs and processed food and focus it on agriculture itself and its farmers. SPIN!
"Their ads—'How did Agriculture ever get to be a dirty word?'—imply that our target has been farmers and ranchers," Pollan said, "rather than meat packers, feedlots, and manufacturers. Very clever, and perhaps convinces some farmers that their interests and agribusiness's are identical."
The USFRA is a group lead by Bob Stallman, president of the American Farm Bureau, farmers' main lobbying group in DC, with partners that include DuPont and Monsanto. The first line of their mission announces their goal: "Enhance consumer trust in the U.S. food production system."
Julia Moskin, in an article in the NYTimes on the USFARA "dialogues" late last month concludes her story by quoting Myra Goodman, a founder of the organic collective Earthbound Farms, one of the large-scale growers that have so far declined to join the Alliance.
"If in practice it turns out to be a forum for honest, inclusive, productive discussions about the state of our food system, it could be good," she told Moskin. "If it turns out to be all about protecting the status quo, then it won't be so productive."
A good reminder to pay attention to the messenger as well as the message, whether it's from a lobbiest or the inviting Snackwell package at your local grocery store.
Think for yourself.
Civil Eats addresses the USFRA head on.
American opinions on the farming industry, from Environmental Working Group.
If you liked this post on Michael Pollan, check out these other links:
© 2011 Michael Ruhlman. Photo © 2011 Donna Turner-Ruhlman. All rights reserved.