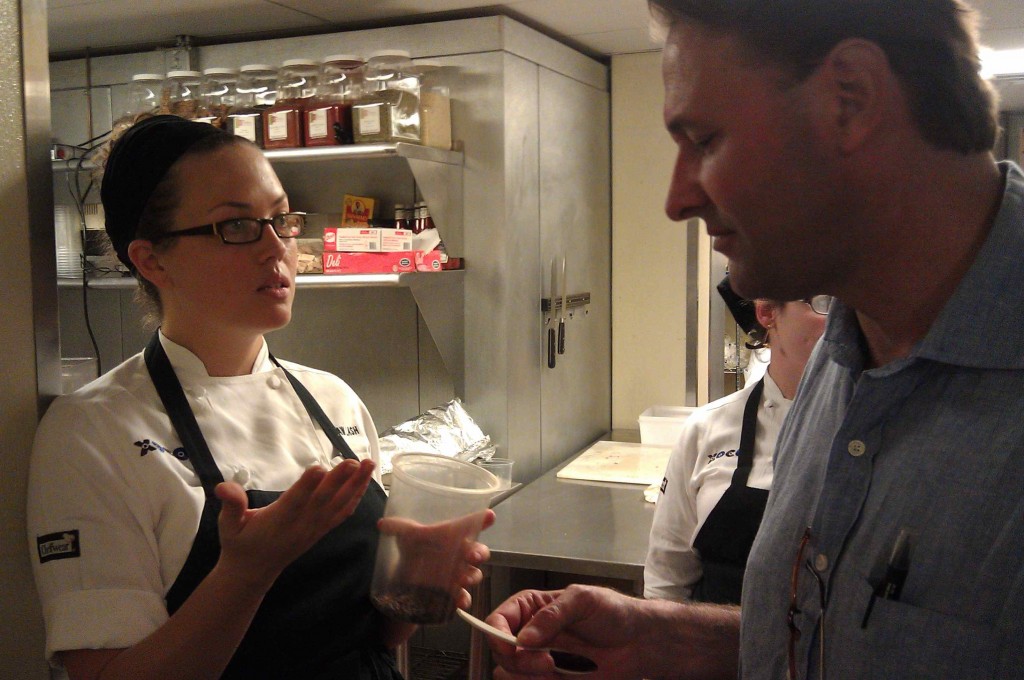 I'm such a homebody, I dread book tour trips and typically stress about them, and I nearly always return thrilled to have gone and surprised and amazed by what I encountered. Last week was Chicago and the schedule was so tight that I took a taxi from O'Hare straight to the Chicago Tribune's test kitchen where Monica Eng, formerly a food reporter now on the investigative beat, reverted to her former purview to join me in making an easy Coq au Vin from Ruhlman's Twenty (I forgot how good it was till I tasted it—haven't made it since Donna took the pix). I had time for a quick lunch after across the street at The Purple Pig (pig ears and the artichokes), excellent casual place recommended by a twitter friend.
That night there was a great gathering at Butcher & Larder with Rob Levitt and a sausage making demo at his shop with an eager, smart crowd. My Chicago based assistant, Emilia Juocys, took me to The Bristol for a bite after (recommended!).  But it was the next day that the revelation came, and it came out of nowhere.
I did a noon demo at The Chopping Block (curing salmon and bacon, cooking bacon in water!, making ceviche—showing how acid and salt transform food). The chef there turned out to be John Peters, whom I'd met and written about several years ago when I was covering Grant Achatz at Trio and Alinea for my book Reach of a Chef. It was great to see John, and after the demo I said I wanted to check out Rick Bayless's Mexican soup and sandwich shop, XOCO, a few minutes away. He said he'd join me, knew a chef there, Shaw Lash, and would let her know we were coming. Someone the day before had told me about the suckling pig torta, and I felt morally obliged to give it a go. It was fabulous, with a killer habanero salsa. Also had a superb Carnitas Caldo, pork-broth-based soup.
But it was Lash, chef for culinary development for Bayless's restaurants, who brought out the hot chocolate elixers and gave us a lesson in chocolate, and who put this lunch over the top. I'd been writing about chocolate two days earlier, or trying to, reading McGee and others trying to figure it all out, what with the cacao becoming cocoa, fat percentages, conching. I wasn't getting it. Shaw, pictured above, not only explained, she brought me some cacao beans that they'd roasted there at the restaurant. They're about the size of a nutmeg. She cracked it open with her fingers and the cocoa nibs fell out. We tasted. She took us downstairs where their conching machine was whirling away.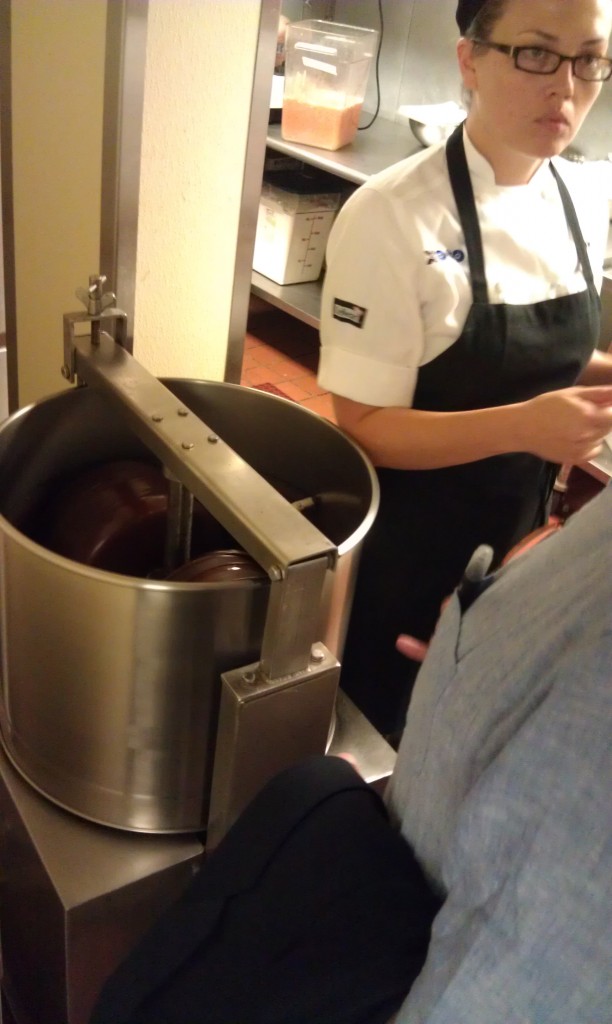 XOCO is one of the few, if only, restaurants that has one of these machines. The nibs are separated from the skin, then dumped into the machine which grinds them. The friction of the grinding wheels generates the heat.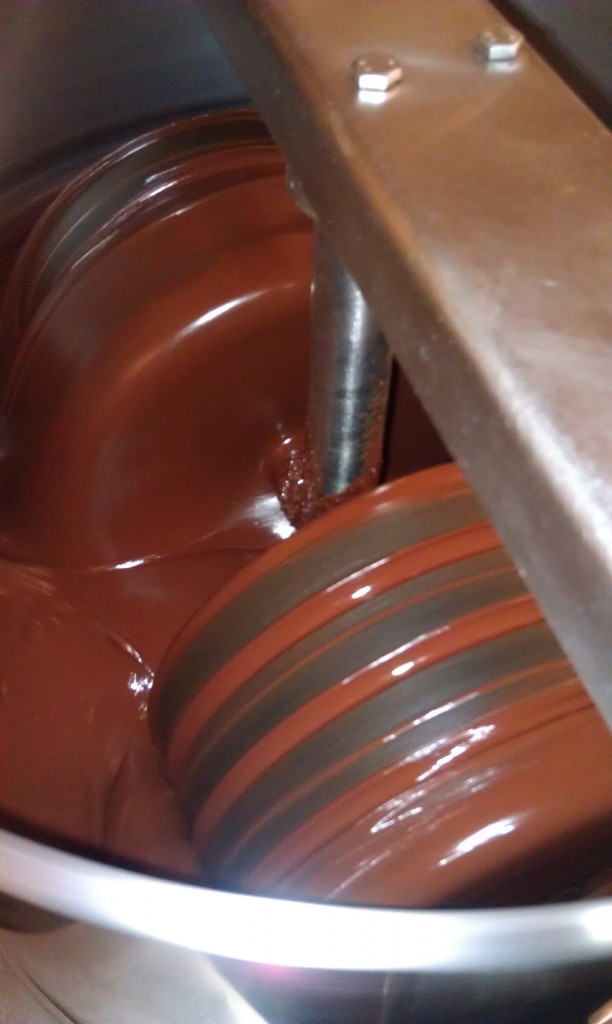 Eventually, the ground nibs become liquified chocolate, unsweetened and astringent on the tongue. The restaurant will sweeten and thin it, with water or with dairy for heavenly hot chocolate drinks, the likes of which I have never had, though which are common in Mexico, where these beans are from (Tabasco, to be precise, the area where 90% of Mexico's cacao is grown and fermented, according to Shaw).
XOCO was followed by a great meal at the Publican, where Paul Kahan and staff had created a fabulous menu inspired by the new book, complete with a touching and expert rendition of my mom's angel food cake (thanks, Sam Radov for that, and the amazing ice cream that went with it!).
I love Chicago.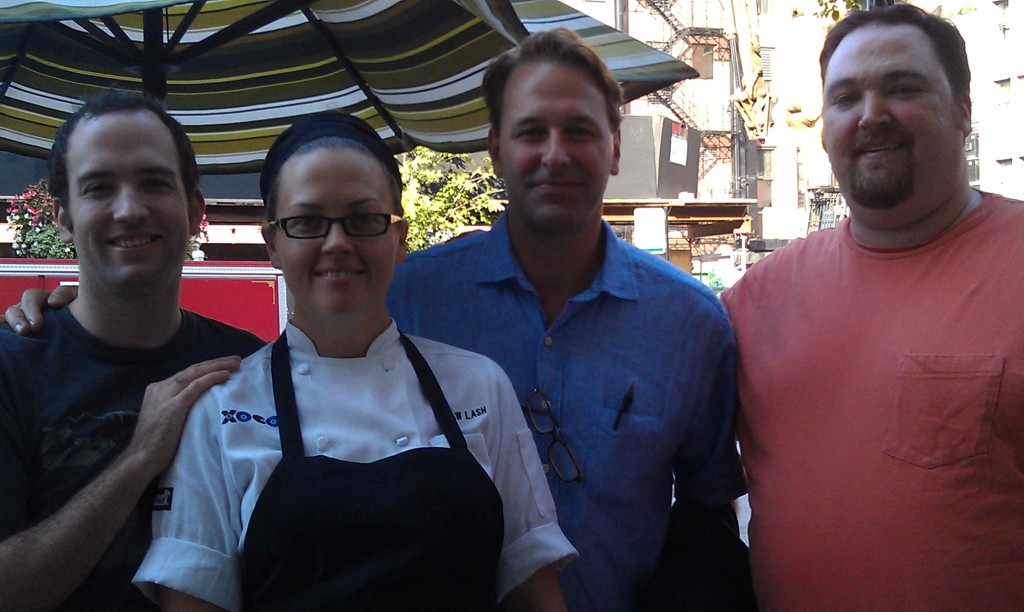 The big man on the right is Chef John Peters, and on the left is Brendan Edwards, a chef at Nightwood, who, along with Emilia, had me totally and perfectly placed for my demo. Thank you, Brendan and Emilia (and thanks Brendan for these pix)! Thank you John, Paul, Rob, and special thanks to the impressive Chef Lash for the education in chocolate. Amazing what you can get when you seek out a suckling pig sandwich in Chicago!
If you liked this post on Chicago & Chocolate, check out these other links:
© 2011 Michael Ruhlman. Photo © 2011 Donna Turner-Ruhlman. All rights reserved.