These are some of the pix we didn't use in the new book, Ruhlman's Twenty, and I wanted to share them because they make me hungry for pork belly. But when I sat down simply to mention this dish, Crispy Pork Belly with Miso-Caramel Glaze, it surprised me with all the lessons it has wrapped up in it. First of all, it's a delicious dish (I was delighted that Rob Misfud, in his review of the book in Toronto's Globe and Mail, tried it and loved it—while it's not difficult, it's more involved than most of the other recipes in the book).  But go below the deliciousness and you will see it's a lesson in braising, in understanding the nature of pork skin, of the power of sugar, of using a definitively sweet ingredient in a savory dish, of how easy caramel is to make, and of the remarkable ingredient miso.
Braising can be done in water, in stock, in a fruit juice (see below), or it can be done in oil or rendered fat (which we would call confit). The point is that pork belly is a tough muscle that needs a long time in low heat to become tender. Pork skin, the skin itself, not the layer of fat below it, is composed of tough connective tissue, protein.  This too needs time to break down in moist heat. Also, it's got lots of water in it after it's cooked, which you have to cook out before it will get crisp. I usually use a non-stick pan because pork skin is seriously sticky, skin side down, low and slow. You could also deep-fry it, which is easier and quicker, but more of amess, and less economical. (Contrary to what most people think, skin is not fat, it's protein, the same protein that will make an overly reduced stock feel sticky on the tongue. Cracklins—they're good for you! High in protein!  Practically health food!) And caramel sauce, such an easy transformation of sugar. The below sauce was quickly made in the pan, easy and delicious but in my haste I cooked it a little too hard and some of the fat is breaking out of the sauce. Still every bit as delicious, but something to be careful of. Below I give two caramel sauce recipes, one traditional and one a la minute using just sugar and butter.
This is how I cook and this is how I think about cooking. Recipes are the tip of the iceberg—it's what's below surface of the recipes that makes cooking so exciting.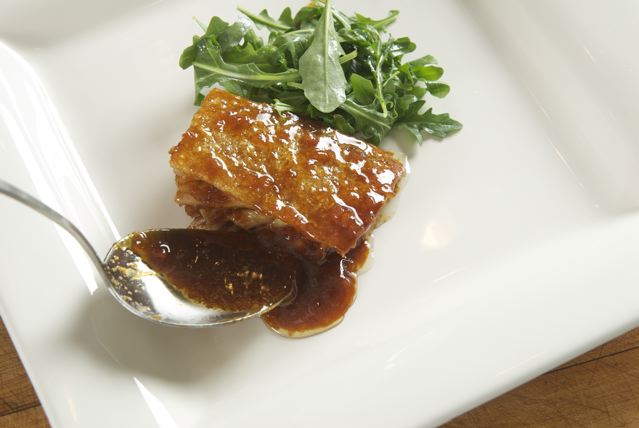 You need to make this dish at least a day ahead of serving it, and as many as a five days ahead, because the pork needs to chill in its cooking liquid, which can be water, pork or chicken stock, or, as here, orange juice.
I recommend that the pork be finished with caramel-miso glaze and garnished with scallions and red chiles, but the basic braised pork is a great base and can be flavored in any way desired. The pork could be used with beans in a stir-fry or be sautéed until crispy and served with a salad and red wine vinaigrette. You could sauté it and make a pork sandwich with nothing more than bread and a good mustard. Few meats match the glory of pork belly.
Braised Pork Belly with Caramel-Miso Glaze
Serves 6
1 ½ teaspoons coriander seeds
1 ½ teaspoons black peppercorns
3 pounds/1.4 kilograms pork belly
Kosher salt
2 bay leaves
1 large onion, sliced
5 garlic cloves, smashed with the flat side of a knife
1 cup/240 milliliters freshly squeezed orange juice
Canola oil
Caramel-Miso Glaze (recipe follows)
2 tablespoons seeded and minced red chiles
2 scallions, white and pale green parts only, finely sliced on a bias
Combine the coriander seeds and peppercorns in a sauté pan and toast over medium-high heat until fragrant, 2 minutes. Transfer to a cutting board and crush with the bottom of a pan.
Preheat the oven to 250°F/120°C/gas ½.
Season the pork liberally on all sides with salt. Place it fat-side up in a baking dish. The more snugly it fits, the better. Scatter the crushed spices, bay leaves, onion, and garlic over the pork. Add the orange juice and cover the dish tightly with aluminum foil. (You can also wrap the pork along with the other ingredients, using only ¼ cup/60 milliliters juice, in aluminum foil; be sure to seal it tightly.) Put the dish in the oven and cook the pork until fork tender, about 6 hours. Allow it to cool in the cooking juices, then cover and refrigerate until thoroughly chilled, overnight or for up to 5 days.
Remove the pork from the dish, scraping off the seasonings (all of which you can discard, though the cooking liquid can be strained and used in the Caramel-Miso glaze). Cut the pork into 12 equal cubes.
Coat the bottom of a nonstick pan with canola oil and put it over medium-high heat. Sear the pieces of pork on all sides, then add the glaze to reheat it and coat the pork. When the pork is heated through and nicely glazed, arrange on plates. Spoon the glaze over the pork, and garnish with the chiles and scallions.
Caramel-Miso Glaze
Makes 1 cup/240 milliliters glaze
There are many ingredients here, but the key players are the caramel sauce and miso Miso, a fermented paste made from rice, barley, and/or soybeans, adds great flavor and depth to many savory dishes and is a staple in Japanese cuisine. The stock distributes the ingredients, and the vinegar balances the sweetness of the caramel and miso. Shiro miso is sweeter and less salty than regular miso. Use the glaze for braised pork belly or with any pork preparation.
1 tablespoon butter
1 tablespoon minced shallot
1 teaspoon minced garlic
Kosher salt
Freshly ground black pepper
½ cup/120 milliliters pork cooking liquid, or pork or chicken stock
¼ cup/60 milliliters Caramel Sauce (recipe follows) or Easy Caramel-Butter Sauce (recipe follows)
2 tablespoons shiro miso
3 tablespoons red wine vinegar
1 tablespoon soy sauce
1 tablespoon fish sauce
In a small sauté pan, melt the butter over medium heat. Add the shallot and garlic and sauté until translucent. Season with a two-finger pinch of salt and some pepper. Add the cooking liquid, caramel sauce, miso, vinegar, soy sauce, and fish sauce. Bring to a simmer and cook for 30 seconds or so, then remove from the heat. The glaze can be used immediately or refrigerated for up to 2 days.
Caramel Sauce
Makes about 1 ¾ cups/420 milliliters sauce
Made with just sugar and cream, caramel sauce is one of the great renditions of sugar. I grew up with a jar of store-bought caramel sauce in the door of the refrigerator, never realizing that my own, more delicious and more-fun-to-make caramel sauce could be finished in the time it took me to find the opener to get the stuck lid off the jar. It is as easy as melting a little sugar until it's amber, then adding the same amount of cream. Cool the sauce a little by setting the pan in water for a warm caramel sundae, or let it cool completely so it doesn't melt the ice cream.
Technically, you don't even need cream. You can make a good caramel sauce with sugar, butter, and water, all of which we commonly have on hand, so it can be a last-minute creation.
And it can be varied. Make caramel sauce with brown sugar. Cook brown sugar with half as much butter until it's brown and frothy, add the cream, season with a few drops of lemon juice and salt, and you've got an amazing butterscotch sauce.
Caramel is not just for topping ice cream, or for making Caramel-Pecan Ice Cream. It can be featured in a rich caramel and chocolate tart, or drizzled over cakes or brownies.
Caramel works great in savory preparations, too. There's no reason you couldn't improve on any barbecue sauce by replacing the sugar with caramel, or use caramel in a sauce for miso-glazed pork.
Caramel is a cooking basic. There are two ways to begin the process: melting the sugar dry by itself in the pan or melting the sugar by adding just enough water to make it look like wet sand. Both work fine. I prefer the wet approach because I feel it gives me a little more control as the water first dissolves the sugar, then cooks off. Resist the urge to stir too much. Wet or dry, stirred sugar will clump up into grainy pebbles. If this happens, be patient—the clumps will eventually melt along with the rest of the sugar. Use a silicone spatula or a flat-edged wooden spoon to stir the hot sugar.
Simple though caramel is, it comes with a major warning. Sugar can get hot, as hot as oil, and worse than oil, if you spill it on yourself, it will stick like tar. Some of the worst burns in the kitchen are sugar burns, so be careful. Use a high-sided, heavy saucepan (enameled cast iron is a good choice). When adding other ingredients such as cream, be watchful—some of the water will vaporize on contact, and the sugar will foam up in steamy violence during the first several seconds. Have a source of cold water within arm's reach, whether a faucet or a bowl of water just in case. (Cooling the pan with water is also a good way to stop a caramel from overcooking if you sense it's going to burn.) Lastly, never leave melting sugar unattended on the stove.
The following proportions can be doubled or halved as needed.
1 cup/200 grams sugar
1 cup/240 milliliters heavy/double cream, warmed in a microwave
Put the sugar in a small, heavy-bottomed saucepan. Add 3 tablespoons water, if desired. Set the pan over medium heat and cook the sugar without stirring until it liquefies and begins to brown. Stir gently with a heatproof spoon until the sugar turns amber, 5 to 10 minutes. Carefully add the cream (the sugar is so hot that the cream will boil on contact, which is why you need a high-sided pan) and stir to incorporate. Allow the sauce to cool, or refrigerate, covered, for up to 2 weeks. If the sauce is very stiff, rewarm it gently in a microwave.
Easy Caramel-Butter Sauce
Makes about ½ cup/120 milliliters sauce
If you don't have cream, but still feel like making caramel sauce, try this recipe, which requires only sugar and butter. I use the dry caramel method here, but feel free to add a little water at the start when melting the sugar.
½ cup/100 grams sugar
4 tablespoons/55 grams butter
Put the sugar in a small, heavy-bottomed saucepan over medium heat and cook without stirring. When the edges are melting and turning brown, gently swirl the pot to distribute sugar or give the sugar a delicate stir. When the sugar is a dark amber, add the butter and then ¼ cup/60 milliliters water, and stir until the bubbles subside. Continue to simmer for another minute or so. Remove from the heat, pour the sauce into a heatproof container, and let cool. The sauce can be refrigerated, covered, for up to 2 weeks.
If you liked this post on crispy pork belly with miso glaze , check out these other links:
© 2011 Michael Ruhlman. Photo © 2011 Donna Turner-Ruhlman. All rights reserved.