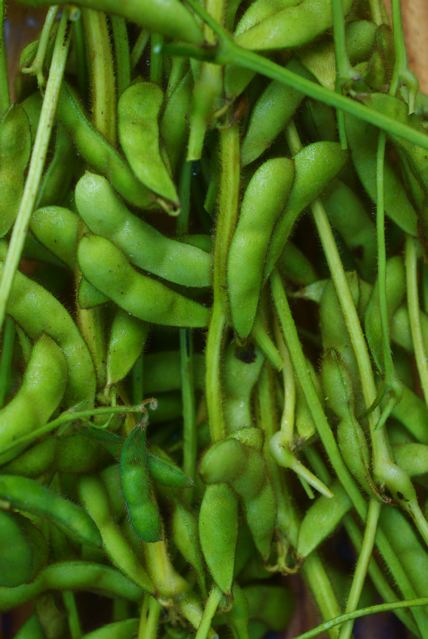 Last Saturday at our farmer's market at Shaker Square in Cleveland, one of the farmers was selling fresh soy beans still on the stalk (above, photo by Donna Turner Ruhlman).  It's a great way to sell them.  I don't mind doing the picking of my own beans (he charged $3.50 for what amounted to a pound of soybeans). "They'd be a lot more expensive if I had to pick them," he told me.
These beans, often sold cooked as edamame (their Japanese name), are so good when you cook them yourself, a delicious nourishing snack or a great ingredient.
To prepare the soy beans, simply boil them in their pods until they're tender, then chill them in ice water or in plenty of continuously running cold water. They pop right out of the pod. You can simply sprinkle a bowl of cooked pods with coarse salt and serve as is. You could oil and salt them and heat them over coals for a grilled soy bean treat.  Or use them in one of my favorite late summer dishes when the corn is getting fat and the weather cooling off. I love the bacon in this dish but it's not critical—for a meatless succotash, saute the onion in a little butter before adding the remaining ingredients. This is a fabulous vegetable dish.
Late Summer Succotash
4 ounces bacon, diced
½ large onion diced
1 cup or so of cooked soy beans
1 cup or so of fresh corn
2 ounces butter
2 ounces cream
salt and freshly ground pepper to taste
In a large saute pan, cook the bacon over medium heat until it's golden brown and its fat has rendered, about 10 minutes.
Add the onion and cook till it's translucent, then add the soy beans and corn, stirring to heat them, a minute or so.
Add the butter and the cream, and raise the heat to medium high. Bring the cream and butter to a simmer, season the succotash with salt and plenty of freshly ground pepper, and serve.
If you liked this post on late summer succotash, check out these other links:
© 2011 Michael Ruhlman. Photo © 2011 Donna Turner-Ruhlman. All rights reserved.