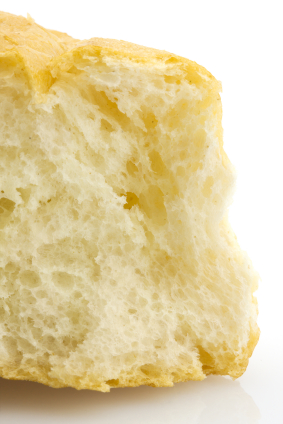 I accidentally upgraded my wordpress account and it wreaked havoc.  Lost all kinds of posts and it broke countless links.  F@$#!  One of the many post sent off unanchored into the ethernet was this guest post (and photo) by freelance writer Stephanie Stiavetti. As with her gluten-free fried chicken, enough people have asked about it that I'm reposting it again. I've really only recently become aware of what a rotten disease celiac is, especially for people who love to cook, and to eat, and to write about it.  This post with Carol Blymire (alineaathome.com) describes the situation, um, vividly (the post also has glutenfreegirl's awesome pizza dough recipe). It's also impressed on me how important it is for chefs to understand celiac disease and gluten-free cooking. Stephanie Stiavetti, a social media consultant and reluctant techie based in the Bay Area, blogs at wasabimon.com. — M.R.
by Stephanie Stiavetti
In the very beginning of my gluten-free life, I had some dark days indeed. I used to watch everyone else eat their cookies and sandwiches, and in my mind, I just could not reconcile the fact that wheat was suddenly bad for me. It was incredibly difficult to unlearn a lifetime of nutritional education that simply did not apply to me anymore. And how would I survive in the modern world, where nearly everything seems to contain gluten? Oh, woe is me! After a few moths of feeling sorry for myself, I got over it.
There's a whole world of food out there that doesn't involve gluten, so I got busy rediscovering how to feed myself. Not only did the rules of nutrition change for me, but so had the rules of cooking in general. Everything was different - how I made sauces, soups, and most distinctly, breads. Many years ago, back when I could eat regular wheat-based bread, I remember loving brioche. I'd inhale slice after slice, slathered with with butter, turn it into Thanksgiving stuffing, and slice it up into the most amazing French toast I've ever eaten. I was terribly sad to give it up, but that's what I had to do to stay healthy.
Zoë François and Jeff Hertzberg developed this gluten-free brioche recipe for Healthy Bread in Five Minutes a Day, and I'm so excited to have brioche in my baking repertoire again. The first thing I made was a Prosciutto, Havarti and Tomato Panini, and then I went on to make Brioche Cinnamon Rolls and Chocolate Chip Buns. This recipe is so versatile that it can even be used to make Mini Summer Pizzas. For more info about the lovely folks who created this recipe, be sure to check out a short interview with Jeff and Zoë, wherein they share some tips for gluten-free baking. A note on pans and shapes: While this recipe makes a loaf of bread, feel free to turn it into classic brioche shapes if that's what you prefer. Here are some non-stick brioche moldsavailable online or at your local baking supply store.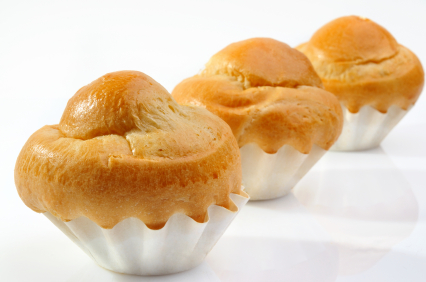 Gluten-Free Brioche Recipe
From "Healthy Bread in 5 Minutes a Day" by Zoë François and Jeff Hertzberg
Makes enough dough for three 1.5 pound loaves
1 cup brown rice flour
1 cup tapioca starch (tapioca flour)
3 ¾ cups cornstarch
2 tablespoons granulated yeast
1 tablespoon kosher salt
2 tablespoons xanthan gum
2 ½ cups milk
1 cup honey
4 large eggs
1 cup neutral flavor oil, such as canola or vegetable oil
1 tablespoon pure vanilla extract
Egg wash (1 beaten egg with 1 tablespoon water) for brushing on loaf
Raw sugar for sprinkling on top crust
Whisk together the brown rice flour, tapioca starch, cornstarch, yeast, salt and xanthan gum in a 5-quart bowl, or a lidded (not airtight) food container.
Combine the liquid ingredients and gradually mix them into the dry ingredients using one of the following: a spoon, a 14-cup food processor (with dough attachment) or a stand mixer with a paddle attachment. Mix just until there are no dry bits of flour. You might need to use wet hands to get the last bits of flour to incorporate if you are not using a machine.
Cover (not airtight!) and allow the dough to rest at room temperature for 2 hours.
The dough can be used now, after this initial rise, or it can be refrigerated for up to 5 days - do not store in an airtight container!
On baking day, grease a 8.5"x4.5" nonstick loaf pan. Use wet hands to break a 1.5 pound piece of refrigerated dough and shape it into a ball. Note: the dough isn't stretched because there's no gluten in it - just gently press it into shape. You might need to wet your hands to keep the dough from sticking and to create a smooth surface. Do not make the dough soggy.
Elongate the dough into an oval and put it in the loaf pan, smoothing the surface with your fingers. Cover loosely and allow to rest for 90 minutes (40 minutes if you are using fresh, unrefrigerated dough).
Preheat the oven to 350°F.
Just before putting it in the oven, use a pastry brush to gently paint the top of the loaf with egg wash and sprinkle raw sugar.
Bake in the center of the oven for about 40-45 minutes. The loaf is done once it is caramel brown and firm to the touch. Smaller or larger loaves will require adjustments in resting and baking times.
Remove brioche from the pan and allow it to cool on a rack before slicing and eating. If it will not come out of the pan, let it sit for five minutes to allow the loaf time to steam itself loose from the pan. To firm up the outer crust again, place it back in the oven for three minutes to dry out the damp sides.