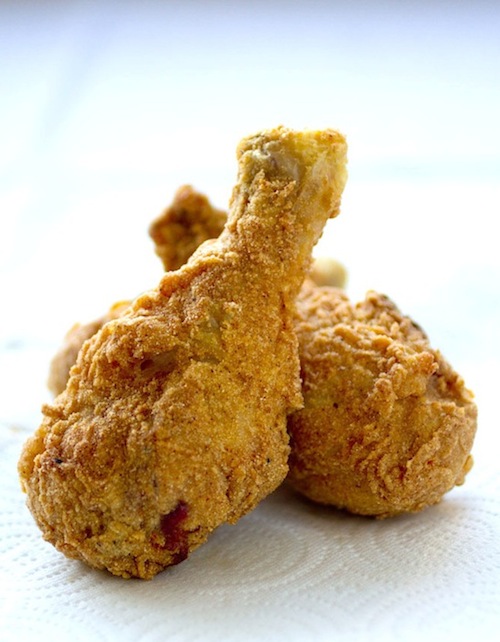 I accidentally upgraded my wordpress account and it wreaked havoc.  Lost all kinds of posts and it broke countless links.  F@$#!  One of the many post sent off unanchored into the ethernet was this guest post (and photo) by freelance writer Stephanie Stiavetti. It was so popular I felt bad when people began complaining they couldn't find the link, so here it is again.  Steph blogs at wasabimon.com. She's also a social media consultant and reluctant techie based in the Bay Area. — M.R.
by Stephanie Stiavetti
A decade ago, those of us living with a gluten sensitivity were left clamoring for the "specialty" ingredients necessary to make decent substitutions for the dishes we loved and missed; rice flour cookies were rock-hard, while potato starch pizza crusts were a crumbly mess. And don't even get me started on tapioca breads - I swear, one could build a sturdy house using only tapioca loaves and a little water to bind them.
A decent crispy fried chicken recipe is one of those American favorites that gluten-free folks have historically lived without. Sure, you can coat a drumstick in rice flour and drop it in hot oil, but old school gluten-free flour coatings tend to get sticky and smear off during the frying process. At their best they're soggy, and at their worst, well, why even bother at that point?
These days, there's a huge assortment of alternative flours available to anyone eschewing gluten. Chickpea, quinoa, amaranth, sorghum, teff - you name a grain, and it's been turned into a gluten-free flour. While individually none of these flours make for a stellar crispy fried chicken coating, mixed in certain combinations, with a few leaveners added for lift, some of these grains join forces to make for one of the better fried chicken recipes I've ever had. Really.
If you're new to gluten free cooking, rest assured that while these ingredients might be new to you, none of them are difficult to find. You can buy any of the flours below in the baking section of your local natural foods grocery store, or you can find them online. Same goes for xanthan gum, which is a common ingredient in gluten-free cooking and baking.
Crispy Gluten Free Fried Chicken Recipe
Makes about 3 pounds of chicken
3 pounds of assorted chicken parts, bone-in with skin on
8 cups of your favorite frying oil
⅓ cup sorghum flour
⅓ cup corn flour
⅓ cup quinoa flour
⅓ cup potato starch
¼ teaspoon xanthan gum
¼ teaspoon baking soda
½ teaspoon baking powder
½ teaspoon finely ground black pepper
2 teaspoons cayenne pepper
1 teaspoon parsley flakes
1 teaspoon salt
4 egg whites
Dry all chicken parts with a paper towel and set them on a plate that has been lined with a few more paper towels.
Pour oil into a deep, heavy pan, such as a Dutch oven. Set over medium flame and heat to 380 degrees F.
Combine all dry ingredients in a bowl. Mix well, and then sift them all together into a large, shallow dish.
In a large bowl, hand-beat egg whites with a fork until they are frothy and have doubled in size.
Dip a piece of chicken in the egg whites and shake to remove excess moisture. Roll chicken in flour, then really get in there with your hands and pack the coating onto the chicken (like Laurie Colwin recommends). Shake the chicken to remove any loose flour and set on a clean plate. Repeat for remaining chicken pieces.
Once all of the chicken has been coated with flour, roll each piece through the flour again to make sure they've got as much coating as they can hold. Set aside until oil is up to temperature.
Once the oil is at 380 degrees, use a tongs to slowly lower the chicken into the fryer. Submerging the chicken slowly allows the bottom to crisp up before it hits the pan. Don't crowd your fryer - only cover about 50% of the bottom of the pan. This is important if you want crispy fried chicken.
Keeping the oil over a medium heat, fry the chicken for 8 minutes, turning once in the middle. Once the chicken is a solid golden-brown, remove it from the oil and place it on a paper cooling rack lined with a paper towel.
Bring the oil back up to 380 degrees, and continue frying chicken in batches until you've worked through all of the chicken.
For more information on how to keep up the crisp, check out tips for making crispy fried chicken.
While Stephanie Stiavetti is freelance writer for the likes of NPR and Mom Magazine, she spends most of her time blogging about food at Wasabimon.com. Catch her there or follow her on Twitter under @sstiavetti, where she posts regularly about cooking writing, and how to get along this is vast social media world.
If you liked this post on gluten free fried chicken, check out these other links:
© 2011 Michael Ruhlman. Photo © 2011 Donna Turner-Ruhlman. All rights reserved.