I've known of Dorie Greenspan for ages, author of numerous books, highly respected and well-liked in the food world, even has large group of blogs at Tuesdays with Dorie, dedicated to her book, Baking: From My Home To Yours.  But it wasn't till last fall at a BlogHer gathering did I get to see for myself what a sweetheart she is. She looks like and reads just like who she is, a genuine cook and wonderful spritely soul.
Last fall she published Around My French Table, an exquisite book of her favorite recipes (and a steal at $22 from Amazon—how do they do it?!). My dear friend Lee asked for and received this book for Christmas. When we had Lee and her husband Les over for that spatchcocked grilled turkey, Lee appeared with an hors d'oeuvres from Dorie's book. The light was right and Donna asked to shoot it. And Dorie was nice enough to send along the recipe. It was exactly as delicious as it looks in the picture.  Thanks, Dorie!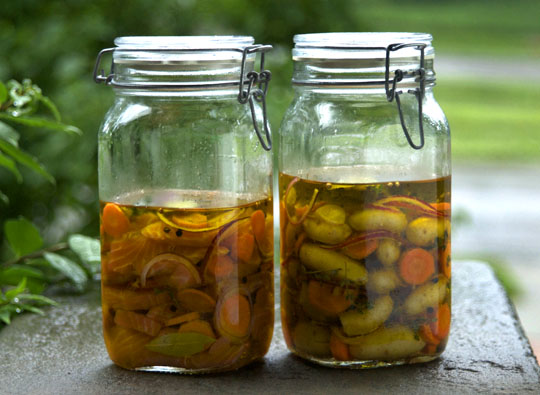 Salmon and Potatoes in a Jar
from Dorie Greenspan's Around My French Table: More Than 300 Recipes From My Home To Yours
Straddling a space between gravlax and tartare, this dish is a never-fail knockout, even when you serve it, as I often do, to savvy Parisians who know it's a modern version of a humble bistro classic, herring and potatoes. Packed into canning jars or crocks, which look great when you bring them to the table, this is really two dishes in one: there are boiled potatoes marinated in aromatic oil and chunks of salmon cured in sugar and salt, just like gravlax, then marinated. The dish is simple in every way — the only cooking involves boiling the potatoes. But you must have patience, since you have to wait a day or two before you can dig in. However, the duo is always surprising, especially to people who know the original from restaurants; they'll invariably give you cheers for serving something most people think can only be made by a chef.
The recipe will work with any cut of salmon, but it's best (and looks best) if you use a piece cut from the thick center portion of the fillet. With a center cut, you can slice meaty chunks of salmon that will all cure evenly.
Finally, don't be frightened by the amount of olive oil in the recipe — it's a lot, but you won't be eating it all. Although you need a large quantity of oil to cover both the salmon and potatoes, neither of them will absorb much. You can use the leftover potato oil to season or cook other vegetables or to make a vinaigrette, and the salmon oil to make a vinaigrette or even a mayonnaise for other fish dishes or salads.
Be prepared: You'll need to start at least 1 day ahead.
Makes 6 appetizer servings or 4 lunch main-course servings
2 tablespoons kosher salt or other coarse salt
1 tablespoon sugar
1 one-pound salmon fillet, cut from the thickest portion of the fish, skinned
1 pound fingerlings or other small potatoes, scrubbed
20 coriander seeds
20 black peppercorns
4 bay leaves, halved
8 thyme sprigs
2 large carrots, trimmed, peeled, halved lengthwise, and thinly sliced
1–2 small onions, red or yellow, halved and thinly sliced
About 4 cups olive oil
Salt
3 tablespoons distilled white vinegar or white wine vinegar
Lemon or lime wedges, for serving
At least 1 day before serving: Stir the salt and sugar together in a bowl. Slice the salmon into 12 equal pieces, toss the pieces into the bowl, and gently turn the salmon around to coat it evenly. (It's easiest to use your hands for this.)
Arrange the salmon snugly in a bowl or terrine (you can layer it), cover tightly with plastic wrap, and refrigerate for at least 12 hours, or for up to 18 hours.
The following day: Have two quart-sized canning jars or crocks ready. (If you've got really small fingerling potatoes, they might fit into a pint jar.)  Alternatively, you can use terrines, bowls, or even heavy-duty zipper-lock plastic bags.
Bring a large pot of salted water to a boil. Toss the potatoes into the pot and cook until they can be pierced easily with the point of a knife, 10 to 20 minutes, depending on their size. Drain the potatoes and, if you'd like, peel them. (I usually leave the skin on.)
Rinse the salmon under cold water (discard the brine) and pat dry.
Divide the spices, herbs, carrots, and onions in half. Start packing the salmon into one of the canning jars, using half the aromatics. Make a layer of salmon and cover it with some of the coriander and peppercorns, a piece of bay leaf, a little thyme, and some carrot and onion; continue until all the salmon is in the jar. If you can arrange it, it's nice to finish with a layer of spices, herbs, carrot, and onion. Pour in enough of the olive oil to cover the ingredients and seal the jar.
Pack the potatoes, whole or cut into chunks, into the second jar following the same method, but this time adding a pinch of salt to each layer (potatoes have a way of gobbling up salt). When the potatoes are packed and you've added the oil, pour in the vinegar, seal the jar, and shake it gently a couple of times to mix the vinegar into the oil. (If you've packed your potatoes in another kind of container, just swish the ingredients around as best you can.)
Put both jars in the refrigerator and chill for at least 6 hours, or for up to 3 days.
Serve, directly from the jars if you like, with lemon or lime wedges.
Serving
I like to bring the jars to the table and pass them around with lemon or lime wedges — the salmon is nice with a squirt of juice — along with some rye, pumpernickel, or other dark bread and a hunk of butter. You could pass around a lightly dressed green salad too.
Bonne idée
Roasted Cured Salmon. Rather than marinating the salt-sugar-cured salmon, you can roast it. The salmon will be firm on the outside, rosy pink and satiny inside. To serve 4, use 4 pieces of center-cut salmon fillet, each 5 to 6 ounces, and cure them for 12 to 18 hours in a mix of 3 tablespoons coarse salt and 2 tablespoons sugar. When you're ready to cook the salmon, rinse the pieces well and pat them dry. Center a rack in the oven and preheat the oven to 425 degrees F. Put the salmon on a foil-lined baking sheet and roast for 5 to 7 minutes, or until a knife inserted into the fillets reveals flesh that is set but still very pink. Serve the salmon with a gloss of melted butter or olive oil and, if you'd like, a salsa (page 305), a mango chatini (page 489), some pesto (page 488), or a parsley coulis (page 76).
If you liked this post on salmon and potatoes in a jar, check out these other links:
© 2011 Michael Ruhlman. Photo © 2011 Donna Turner-Ruhlman. All rights reserved.