This one was all Mac.  Mac Dalton who, at a New Years All Day Eat and Drink party at our house, arrived early and shoveled the walk, dry-humped guests at random ("Cut it out, Mac" was the typical response), helped me cook and feed thirty people laughing the entire time, dropped trou to show us his favorite Christmas gift (Scooby Doo boxers), and single handedly did every dish and glass in the house at the end of the night (and at parties like that you use every single glass available). That's Mac.
He did one other thing that day. He said, "Hey, Michael. I gotta show you what I do. I make things. I can make anything, what do you want to make?"
I picked up the offset spoon, one I bent myself pictured in this site's banner which I use for basting, and said, "I want to make this. You can't buy these."
Mac said, "I can do that."
And so we began.  We started producing cooking tools, high-quality flat-edged wood spoons, The Badass Perforated (aka Egg) spoon (more in stock by the end of the week), awesome reuseable All-Strain cloths, for straining stock, making greek-style yogurt, or even cheese.  Wash, dry, use again--no more money on cheesecloth. (All available on my page at OpenSky.)
One day Mac showed me a falling apart bamboo wok scrubber. He loved it, but couldn't find another. I said, "Yeah, so what. Those things are flimsy and fall apart, and don't work—I don't know why anyone would buy one."
"I want to make one," he said. We found some at William's Sonoma, but they were likewise really flimsy.
I said, "OK, let's make one that really works."
And so we did. A big sturdy mother. It scrapes off baked-on cheese, baked-on egg, scalded milk. Best of all, your sponge doesn't get all gunked up. The bamboo scrubber washes clean. This is meaningful when you're cleaning up flour. Mix flour and water and you get gluten, a gummy substance that gives us great bread but is not water soluble, so ruins sponges. Gluten does not stick to a bamboo scrubber. Watch this video, made by son James (thanks James!).

Oh yeah, and those cast iron pans and woks that you don't want to use soap on—this scrubber is what you want.
This thing will even clean your grill.
Thanks, Mac.  But seriously, you can just tell us about the underwear next time.  I promise we'll believe you.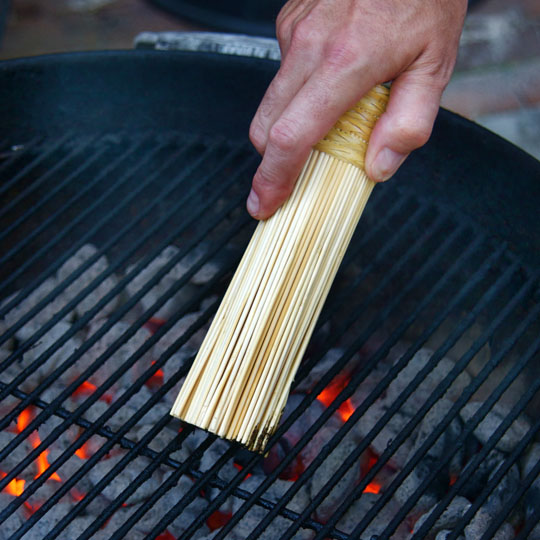 More links:
© 2011 Michael Ruhlman. Photo © 2011 Donna Turner-Ruhlman. All rights reserved.