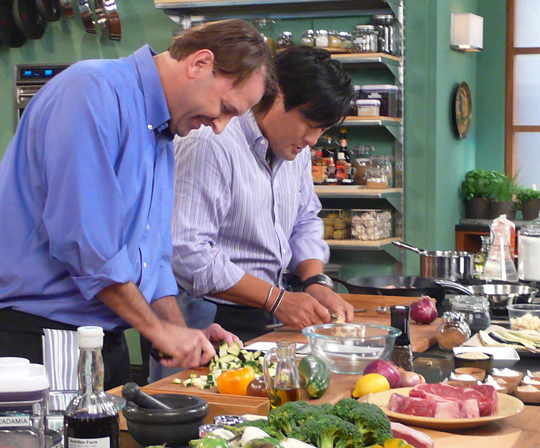 For years I've wanted to devise a new way to present how-to cooking information on a show. There's a reason why they've been dubbed dump-and-stir; because they're inherently rote. Given that there are only about twenty things you need to know to cook just about anything, it's inevitable that presenting a few of those techniques is going repetitive after oh, 40 or 50,000 shows.  Yes, people are pushing the format.  Michael Symon does a good job with Cook Like an Iron Chef. Others are trying to put cooking info in the framework of a story, adding layers of media.
My old friend from Cooking Under Fire, Ming Tsai, invited me out to be part of his ninth season of "Simply Ming," a how-to, yes, but always interesting, always informative, with travel, and knowledgeable guest chefs (look for Jacques Pepin in this season). This season, he's changed the premise of the show; it's a subtle change—if you watched the show without sound you wouldn't know it had changed, but it simplifies the format while making it more interesting and informative. I've told him I won't reveal specifics, but it basically allows Ming and his guest to cook whatever they want, which is what all cooks like to do (it begins to air on PBS this fall).
There's still a teaching element (my personal love), there's still travel, guest chefs, but with a simple flip the urgency and the meaning bring it closer to home cooking, to what really happens in a kitchen, to how chefs really cook at home.
And provided my Boston-Cleveland flight is on time—gray and rainy here in Boston this morning—it's an easy and fun excursion. I got to Ming's studio in Milford, MA, at 2:30 yesterday; Kim Do—who shot these pix, thanks Kim!— took the shine off my face and covered up a pimple on my nose that appeared as if to show itself off just for TV. Ming lead me thorough the various acts of the show, we got rolling, I got to talk about one of my obsessions: salt, and the many ways it alters food, and the show was done in an hour and a half.  All food cooked in real time.
The only thing I hate about TV is all the stuff there isn't time for.  Salt is so complex, there's so much that didn't get said about it.  There was no time to talk about America's salt fear (too much salt can be bad for you, but you're not likely to over salt food you cook for yourself; the bad quantities tend to be in our processed food).  Also, in the unnatural situation of cooking in front of cameras in an unfamiliar studio kitchen (a truly unique skill, different from regular cooking), I forgot to add the fish sauce I said I wanted to in my zucchini salad.  Damn. Another point not made: adding salty ingredients to your food to season the dish.
But that's exactly the kind of thing that can happen at home as well.
After the show, Ming signed copies of his latest book for a couple dozen fans who had watched, then headed to a wrap party (they conclude this afternoon) at his restaurant, and he treated me, two of my friends and another guest, Houston Chef Brian Caswell, to dinner at his restaurant.  One errand in a busy schedule but it sure is fun.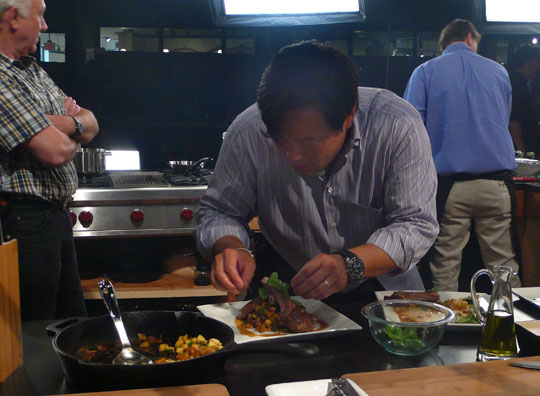 If you liked this post on Behind the Scenes with Ming Tsai (he's plating his final dish above for the beauty shots), check out these other links:
© 2011 Michael Ruhlman. Photo © 2011 Donna Turner-Ruhlman. All rights reserved