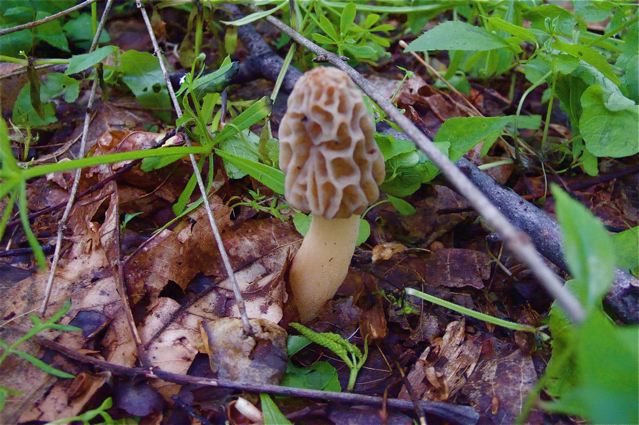 In the spring of 1996, a CIA instructor took us on a hunt for morel mushrooms. Why do you love these mushrooms, I asked him. "They're just too cool," he said  And they are.  Morels are what mushrooms are all about. They've got that gnomish head, brain-like, peculiar, twisted. They're wild, what forager Connie Green calls a gift-of-God mushroom, unpredictable. And kind of scary looking, dangerous (hopeful phallus, menacingly wrinkled cap).  And they taste so deeply mushroomy, of the earth they rise out of.  We spent all day in the Hudson Valley, and I didn't find one. My friend Adam did, found two, gave them to me with a scowl, angry he didn't find more. I cut them open; tiny bugs scurried everywhere inside.
When my friend JD Sullivan said "Want to go look for morels? My dad's plumber told me where they are. My sister found a bucketfull over the weekend." I said sure.
I can't say I expected buckets, but it was a thrill to find my first (above, my photo, Donna's shot of the handful I found below) and then a second and then a cluster of three. They grow out of nowhere, and for no apparent reason. It's a wonder these incredibly fragile fungi are able to push through the matted leaves and mast at all.  But they do.
It was a cold wet spring. I was told via twitter that morels like just so much moisture and warmth. JD said we need to go looking as soon we smell the lilacs next year, when it's drier and warmer. I'm glad now to know where to look.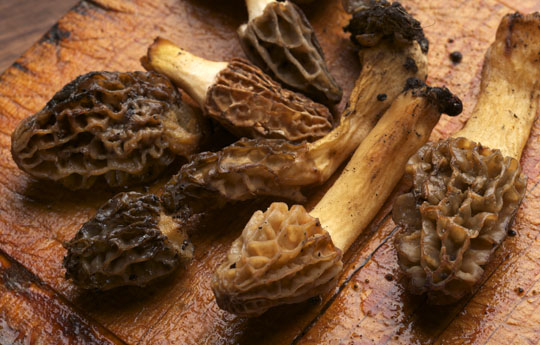 I cleaned the above off and sauteed then with an eensy bit of shallot in butter, and Donna and I ate them as is, just to savor their flavor.  You have to cook morels to neutralize their toxin (I've read); don't eat them raw. They taste best cooked gently in a little dairy fat. They go with any mild meat—veal is a classic, fish, chicken.
And if you can't wait till next spring, they dry beautifully and can be ordered from Earthly Delights. The following sauce is designed to highlight the morel, but it works with all mushrooms; wild are best, but if you want to use button mushrooms, sear them hard first, give them some color then add them to the cream (see this post on how to cook mushrooms).
Morel Mushroom Cream Sauce
1 medium shallot minced (about ¼ cup)
1 tablespoon butter
kosher salt to taste
¼ cup dry white wine
a handful of fresh morels or 1 package Earthly Delights dried morels, reconstituted in warm water for 30 minutes
6-8 ounces cream
squeeze of lemon
freshly ground black pepper
Sweat the shallots in the butter in a small sauce pan, giving them a three-finger pinch of salt.
Add the wine and reduce by two-thirds.
Add the remaining ingredients, and simmer over medium low heat for five more minutes.  Taste and ask yourself if it needs more salt, pepper or lemon juice and adjust accordingly.
Serve with any meat, fish. pasta, or eggs.
Serves two to four.
If you liked this post on Morels, check out these other links:
© 2011 Michael Ruhlman. Photo © 2011 Donna Turner-Ruhlman. All rights reserved