In the headlong rush to turn everything into an app, we have created amazing apps (shazam is truly amazing) and ridiculous apps (won't name names).
The publishers of cookbooks and chefs are among them.  Some publishers (S&S, my last publisher) are not entering the market; smaller more agile ones are (Chronicle, by chance publishing my next book).
But what makes a valuable app? Since teaming up with Will Turnage, VP of technology and invention for the digital media firm R/GA, I've been creating apps for the iPad and smartphones and so have been thinking about how to proceed.  They take a lot of time and work and so far, return on investment is spotty (except in the games department).
My goal is to create only apps that take unique advantage of the technology available.  Therefore, I won't build an app that does what something else does just as well.  I won't create a bunch of recipes.  Books are great at this, computers and google, too.  Books are great at showing gorgeous or informative food.  TVs and computers are great at presenting video.  Apps that allow you to create grocery lists are of no interest to me—pen and paper is faster and easier.
But what if an app could generate a recipe based on the tools I have in my kitchen, the way I measure (metric or Imperial weights, or volume measures), or how many servings I needed.  Recipes that changed with the touch of a button, just for me.
This is what the Ratio app does (iPhone app & Droid app), and this is what the Bread Baking Basics app does. Eager to put the large face of the iPad to use, we built the bread app for that (we're working on a sausage app, one that will basically allow you to build any kind of sausage you want). But so many people asked for a smart phone version, we built one for the iPhone/iPod/iTouch, just out this week (we're at work on one for Android).
And I've just signed a contract with sideways.com to create a Ratio app for iPad.  It will do all the computing that the smart phone apps have but it will include voluminous photography (something books can't do), will enable users to create their own ratios, and publish variations on ratios available to everyone who has the app. It will be called the Ratio Network, for that reason.  We may have video, it depends. Any other suggestions?
One of the coolest apps I've seen is ... I'm going to hold off on that till next week, with a guest post, even I'm jealous of this one.
Visions of the future are tantalizing. Apps that, using bluetooth devices to transmit measurements from scales and thermometer to apps in useful ways is on the horizon.
So I'm curious.  I'd love to hear comments about what you'd like to see in a cooking app, or what you find most valuable in an app?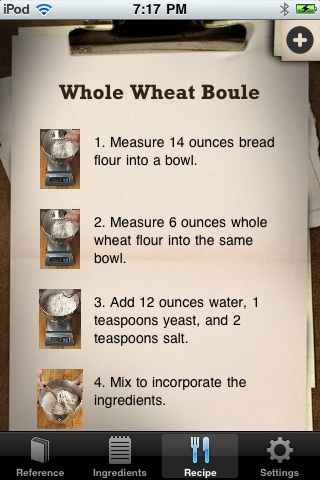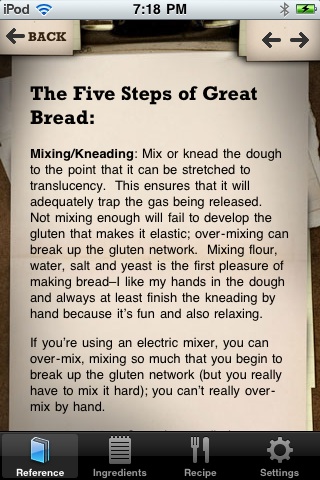 If you liked this post on iTouch Bread App, check out these other links:
© 2011 Michael Ruhlman. Photo © 2011 Donna Turner-Ruhlman. All rights reserved