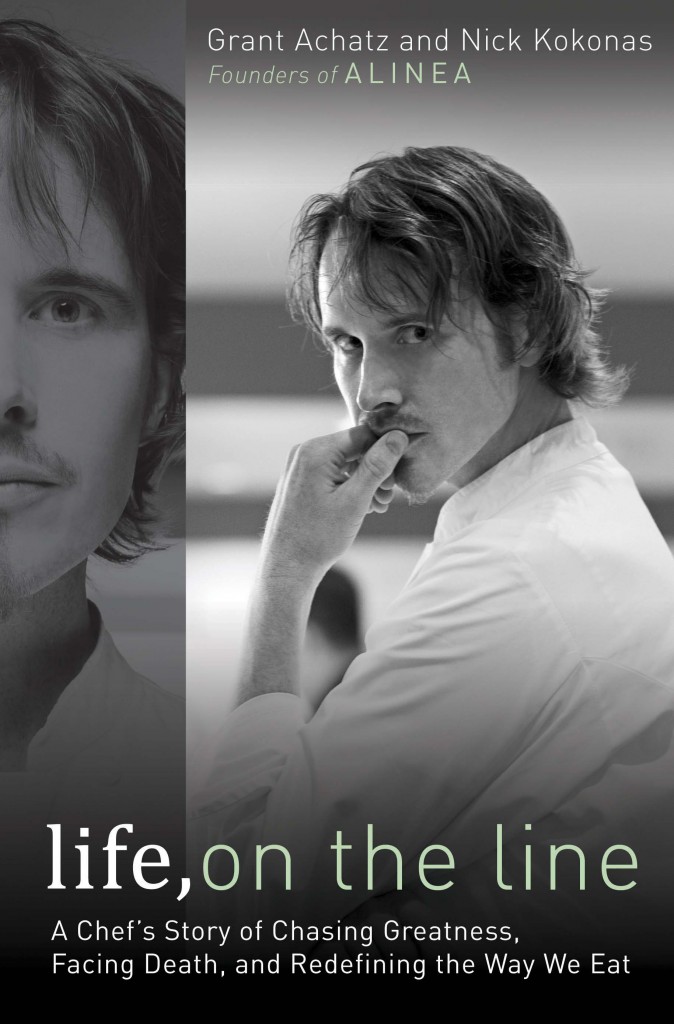 Two very good memoirs have been published by chefs I admire and whose food I have eaten many times with great satisfaction, though the experiences are wildly different.  Gabrielle Hamilton, chef of Prune has published Blood, Bones and Butter, which I reviewed for The Wall Street Journal. It was preceded by a much talked about, high-six-figure advance, which had to be returned when Hamilton failed to deliver, after which the book was repurchased and published last month. It's a fabulous read by a very odd creature who has a visceral love of the homey food she serves at her restaurant.  Frankly, it's exactly the kind of food I love most, personally, braises and bone marrow and offal. It's the kind of food that chef's love to eat when they get off work. She cooks the kind of food she personally loves to eat and these kinds of chefs seem to be in the vanguard now: April Bloomfield at The Breslin and Spotted Pig, Paul Kahan at Publican, David Chang at Momofuku Ssam Bar, Jonathon Sawyer at The Greenhouse Tavern here in Cleveland.  All of them no doubt have books in them, but none of them likely can write like Hamilton, who has actually studied writing and is truly gifted.
On the opposite side of the cooking spectrum is Grant Achatz at Alinea, in Chicago, which serves Modernist cuisine, inventive playful dishes that require explanations about how to eat them, food that doesn't always look like the food it's pretending to be. At Trio, he created a pizza that was in fact a little square of edible paper. flavored with pepperoni and mozzarella; the shirmp cocktail arrived in a little spritzer and you tasted it as if you were using a breath freshener. Flavored exactly like a shrimp cocktail.  Made you smile, made you scratch your head.
This kind of wild innovation came of age when he opened Alinea with Trio regular Nick Kokonas, a Chicago businessman, where Achatz honed and polished the dishes to earn Michelin stars, immediate coverage in The New York Times, regular postings in top ten lists of the world's best restaurant, and the number one restaurant in America according to Gourmet magazine.
I first met Grant while working on The French Laundry Cookbook, wrote about him briefly in Soul of a Chef, devoted a lengthy chapter to him in The Reach of a Chef.  I wrote the intro to his cookbook, Alinea.  He's a friend, as is Kokonas. So this can hardly be considered an unbiased appraisal of the book. But keep in mind that neither Grant nor Nick asked me to write about it, and frankly if I thought the book sucked, I wouldn't write about it at all.
Life On the Line is Achatz's autobiography written as joint venture between Achatz and Kokonas.  After service at Alinea, Achatz would send Kokonas 2000 word emails on various parts of his life, and Kokonas would rewrite and expand them and give them structure; Grant would read and rewrite, expand on some of Nick's passages.  This back and forth voice, mainly first person from Achatz's vantage, but sometimes from Kokonas's, printed in a different font, is a risky and difficult strategy; while it can feel a little clunky at times, ultimately it works because the two are able to convey important but differing information and perspectives an in intimate first person way, such as Kokonas's nut and bolts description of opening a restaurant and the personal trauma of watching his business partner and friend diagnosed with advanced tongue cancer that most docs said would likely kill him—but only after they removed his tongue and part of face.
Life On the Line recounts Achatz's life from his upbringing in St. Clair, Michigan, where he worked at the family restaurant from the age of five, through his training at the French Laundry, the revelatory but only days-long stage at El Bulli, to convincing Trio's owner to allow him to experiment with Modernist cuisine, a marriage resulting in two kids and a divorce, through the opening of Alinea.
The final section of this book recounts his cancer, the experimental treatment that saved his tongue and his life, and it is harrowing. Even people close to Grant, then in his early 30s, had no idea what he was going through, and his will is astonishing. It was the will of a young cook who wants to reach the top of his profession. I wondered at times had he not been a cook with such drive and determination for all these years, would he have had the stamina to endure the radiation required to kill the cancer (he narrated to Kokonas the Alinea cookbook during hours of chemo; throughout the entire treatment, he rarely missed a service).
This is a book for all young chefs to read and anyone interested in the profession of cooking. It also describes in blunt and open detail how Alinea opened, information about finding investors, how much it cost, and how Kokonas maneuvered through the city codes to open on time.
If there's a fault in the prose, it's that both Achatz and Kokonas can come off as a little cocky, bragging too much. That's kind of Kokonas's style, but frankly the guy walks the walk, too, as does Achatz; they have succeeded at every goal, and then some; you can't say they haven't earned it.
If there's an omision readers may find disappointing, it's that Achatz talks so little about the actual food, its evolution and how he comes up with this crazy stuff.  This didn't bother me because, the subject ultimately disappoints: what can be described is common sense, and the mechanisms of the creative mind, how imagination works, how innovations are generated from within are very hard to get at. I'm glad he didn't bog down in the creative process, which almost always comes off as self-important or pretentious.  (The video below is Achatz's description of how he arrives at flavor pairings, it's excellent and all you really need to know. If you want more details on how the food is actually created, buy the Alinea cookbook and also invest in Modernist Cuisine, the awe-inspiring new multi-volume cookbook and manifesto detailing its every aspect).

While Life On the Line lacks the artfulness of the Hamilton memoir, it's nonetheless straightforward, clear, and compelling.  In a world where chef-memoirs are becoming increasingly common, this is an uncommon one, by an uncommon chef and his innovative business partner, a valuable and captivating addition to the literature of gastronomy.
True to the Modernist dictum—"Make it new"—the two have just opened the restaurant Next; if the opening night video (by Christian Seel, the restaurant's in-house videographer) is any indication, it's going to be dazzling.

If you liked this post on Grant Achatz, check out these other links:
© 2011 Michael Ruhlman. Photo © 2011 Donna Turner-Ruhlman. All rights reserved