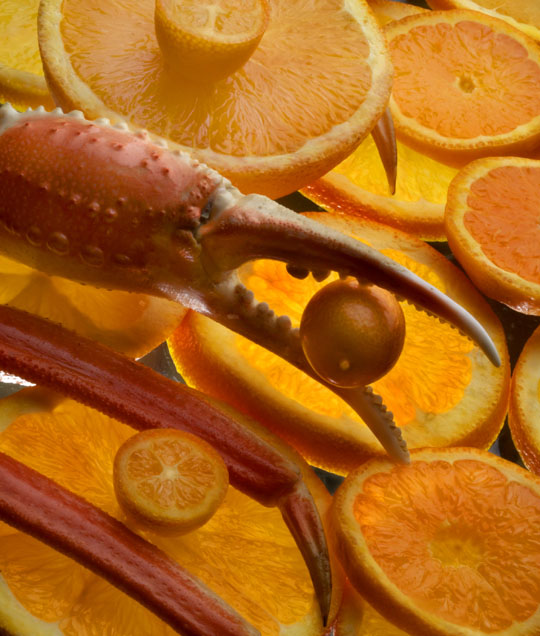 Photo by Donna Turner Ruhlman
Long enamored of black and white, my wife and collaborator has been working on a series of food shots featuring not food so much as the color of food. If you like her work, let her know or have a look at her gallery at ruhlmanphotography-404.com.
Update: In response to a comment below, Donna says she can make available reasonably priced 11x14 prints of this photo or any of her shots on her site. Email her there or send me an email via the above contact tab, and one of us will get back to you next week.
I'm on vacation from now until Monday, April 4.  Until then, check back in here every other weekday for another of Donna's photos.
As ever, I'm grateful to all who come to this site, especially those who comment and keep the conversation lively! Thank you!
Want more food writing?
Dianne Jacob I do a fun Q&A about cooking apps over at her blog, Will Write For Food.
For deep forays into the world of professional cooking, my "Of A Chef" series, The Making of a Chef, The Soul of a Chef, andThe Reach of a Chef.
My opinionated essays on the basics of cooking and an equally opinionated dictionary of cooking terms: The Elements of Cooking, a steal for under $6!
A book that teaches the basics of cooking using proportions of ingredients rather than set amounts: Ratio: The Simple Codes Behind the Craft of Everyday Cooking (it's also a smart Phone App, watch the Ratio App video demo.
A lot of readers aren't aware that I've written four general (non-food) non-fiction books: Walk On Water, about a surgical team that repairs complex congenital heart disease, a brutal, fascinating sometimes tragic account of fixing children's malformed hearts; Wooden Boats, about a boatyard on Martha's Vineyard and the people who build and sail plank-on-frame vessels, House: A Memoir, about buying a run-down, century-old house in one of America's first streetcar suburbs, reflections on the importance of houses, homes, and living in a single place in our era of vagabondage; and Boys Themselves, a school story, a year at an all-boys school that is defiantly pro-single sex for boys.
Happy cooking, everyone!
© 2011 Michael Ruhlman. Photo © 2011 Donna Turner-Ruhlman. All rights