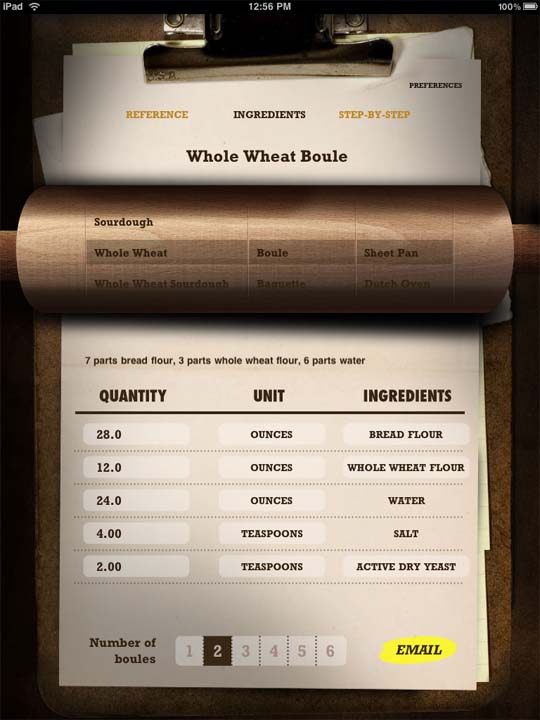 Baking bread is one of the oldest forms of cooking, fundamental to civilization and satisfying to the individual soul. Is it because baking bread is so powerful that so many fear it, feel that it's beyond them? Baking bread is easy and and its pleasures are deep, not just for the one baking but for everyone in the house. The smells of baking bread are a natural analgesic and stress reliever, the bread itself nourishing.
This fall, talking with my partner in digital productions Will Turnage (by day, Will is the upstanding VP of Technology and Invention at R/GA, a digital ad agency—I want to be a VP of Invention!; by night he's a digital Mr. Hyde), about what kind of App to do next, we looked to the iPad because tablets are the future, and the format, so huge relative to smart phones, is so enticing. Our plan would be to create a series of inexpensive basic cooking applications that would encourage more people to cook. Using the basic gears that propel the smart phone app, Ratio, based on the book, the Bread Baking Basics App ($1.99) generates countless personalized recipes for all kinds of bread—white, sourdough, whole wheat, whole wheat sourdough, rye, rye sourdough, multi-grain and multigrain sourdough, ciabattas, baguettes, boules, loafs, and pizza dough.
Select how you mix your dough (with a mixer or by hand—both take the same time, one is more fun, one is more easy), select how you want to measure ingredients (ounces, grams, or cups) and all recipes will be generated in the format you choose. To bake bread, choose the type of bread you want, the shape, the baking surface and how much you want, and the app will generate a personalized recipe for you and your kitchen with step-by-step instructions and photos by Donna.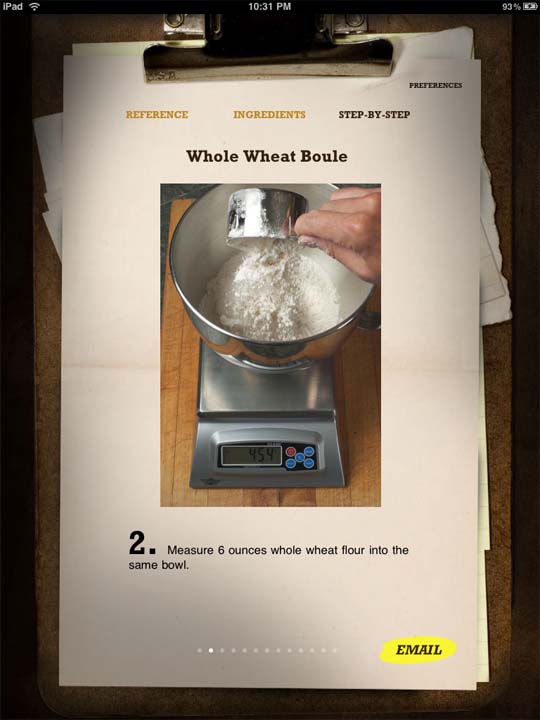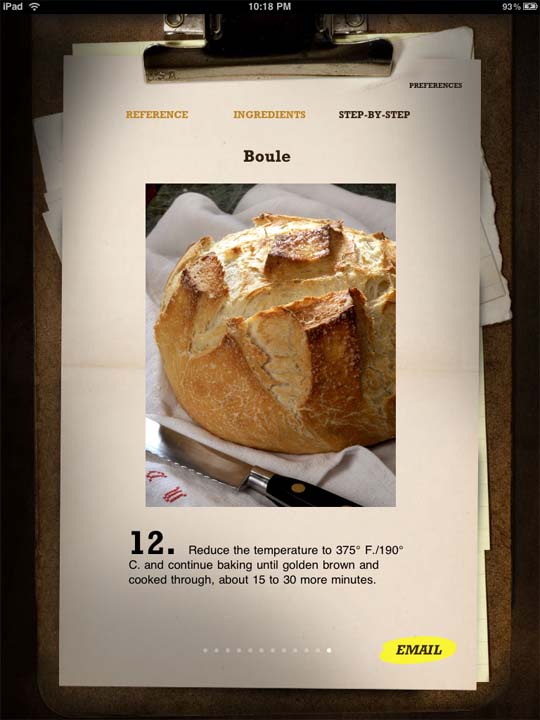 Each recipe has a step-by-step illustrated guide to that particular bread and shape, what it looks like when it's risen, how to shape the dough for a boule, for a loaf, for a baguette. The email feature allows you to send specific recipes to friends as well as to print a copy for yourself. (Being able to send exact recipes is an especially good feature for your iPadless friends who also what to use the app!)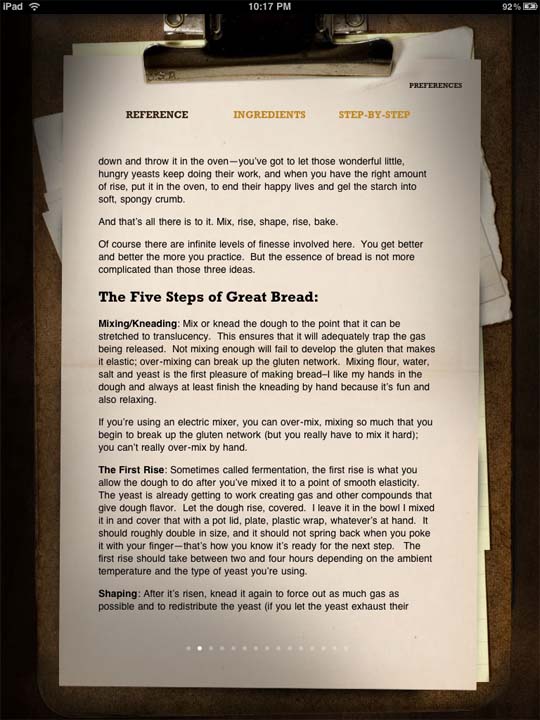 I've written a bread baking basics reference section that spells out all you need to know to bake great bread at home, with notes on technique, ingredients, a discussion of yeast and salt, grains, and various bread baking tools.
We're very excited and hope you'll give the app a try. Let us know how you like it. And this is important: if you run into any bugs or problems or have any TECH SUPPORT needs, let us know at apps@ruhlman.com. We've already caught a few typos and memory bugs.  Let us know any you catch and we'll upload version 1.0.1 on Friday.
Fianlly huge thank yous to Will Turnage, Donna Turner Ruhlman, and Manuel Dilone, who created the visual design.
Happy Baking!
For more posts on bread baking: