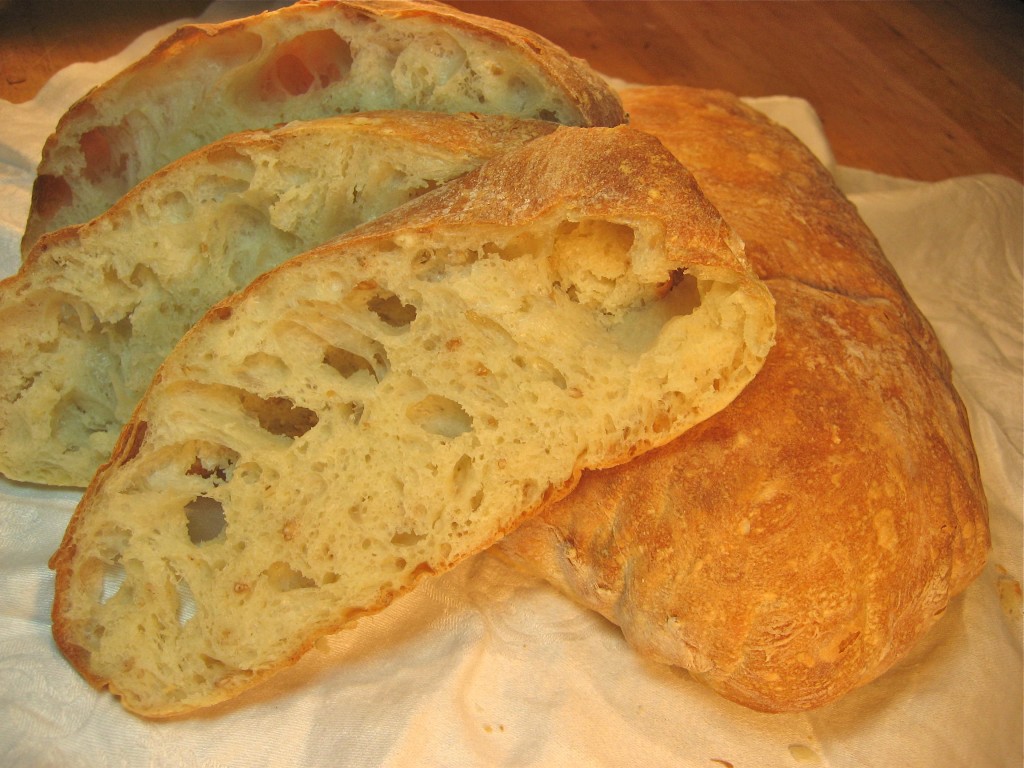 Donna and I met Carri Thurman, who owns and runs Two Sisters Bakery in Homer, Alaska, a year ago fall when she came to introduce herself bearing bread from On the Rise Bakery and some of her own Lilac Jelly.  The day was exquisite fall and the jelly inspired a great still life from Donna. And it was a pleasure to meet a fellow blogger and frequent commentor on this site. Naturally, this professional baker was first on the request list for a guest blog during bread baking month. Herewith, Carri Thurman, and a ciabatta recipe that interests me in two specific ways.  First, it requires a kind of starter or what some people refer to as a preferment: a little bit of yeast is allowed to ferment for 12 to 24 hours, which gives the dough more flavor. Second, it's a very slack dough, as much stirred as mixed, and so differs from the standard mix, rise, shape, rise, bake routine.  An intriguing ciabatta (photo by Carri). If you make it, let me and Carri know how it goes.
—M.R.
Ciabatta
by Carri Thurman
"Give a man some bread and he eats for a day, teach that man to bake and…"oh wait, it wasn't really bread they were talking about was it? Still the moral of the story is there for all to see.
I applaud Michael in his efforts to get people to bake bread at home.  For us, here at our little bakery in Homer, the power of baking bread comes not just in the selling of the loaf, but in the sharing of the whole experience that created it.  With that spirit we have always openly shared our recipes with anyone who requests them; however, the bread formula we are most often asked for is one that until now, I was unsure of breaking down for the home baker.  Some very talented people have tried. Their explanations about yeast and hydration percentages make even my eyeballs roll back into my head.  Seriously, does it have to be this hard?  Do we have to understand the science behind something in order to do it successfully?  We grapple with these questions often as we work on our recipes and how to teach them to others.  Sometimes you just need someone to tell you what to do. So here you go.
Traditional rustic Ciabatta bread is made with a very wet dough.  So much so that it's better off in a bowl rather than rising right on the counter.  It uses a stiff dough starter, mixed the night before, preferably, which is then worked into a thinner wet batter with the addition of water, yeast and a little more flour.  Instead of kneading, it only requires a series of 'turns', which is basically just reaching in and scraping the dough away from the side of the bowl.  Other than time, the fact that you have to fiddle-faddle with it every little while is the only thing that makes this a fussy recipe.  The end result is so worth it, you won't mind having to stir the dough in between paying the bills and walking the dog.  This is a perfect bread to make once a week.  The result lasts a long time on the counter, (well, at some people's houses) and can be frozen and reheated to crisp the crust, giving you a loaf that tastes like you just baked it.
Please Note: the cracked wheat and rye are not absolutely necessary to the success of this bread, but it does give it a nubby texture and depth of flavor we love. Also, it is important to use unbleached flour; when you use bleached flour, it comes out totally different, like inflato bread or something. I'd love to know why
Ciabatta
To make the starter:
1 tablespoon cracked wheat berries (or whole wheat flour)
1 tablespoon cracked rye berries (or rye flour)
3 cups/14 ounces/400 grams unbleached white all purpose flour
1 cup/8 ounces/240 grams tepid water
¼ teaspoon/1 gram active dry yeast dissolved in 1 cup warm water (set aside)
Combine the grains and tepid water in a medium sized mixing bowl.
Add 1 teaspoon of the yeasted water (discard the rest)
Mix it into a firm ball, kneading it  just a bit.
Cover the bowl and let it rest at room temperature for 12 to 24 hours
To make the dough:
1 teaspoon/4 grams active dry yeast
3 ¼ cups/15.5 ounces/430 unbleached white all purpose flour
1 tablespoon/.4 ounces/11 grams salt
Cut the starter dough into 6 or 8 pieces and put them in a large mixing bowl. Pour 2 cups/450 grams warm water over it and let sit a few minutes to soften. Feel free to get your hands  in there to break it up a bit more.
Add the dough ingredents and, using a wooden spoon, beat the mixture together well. It will resemble a stiff pancake batter and appear quite rough, don't worry about completely incorporating the starter dough. (This can also be accomplished in a stand mixer using the paddle attachment, but I think it comes together better with a wood spoon or paddle).  Let the dough sit, covered lightly, in a warm spot.
Come back to it every 20 minutes or so and pull the dough away from the sides of the bowl and into the center using a rubber spatula or dough scraper. Do this four times. After the last turn you will be able to see that the dough has become smoother and more uniform, now cover and let it finish rising for another hour and a half. Total rising time for this period should be 2 ½ to 3 hours.
Scrape the dough out onto a well floured surface and fold together lightly. Divide into two equal loaves and either pull apart into a flat focaccia style or fold the two ends into the center, like folding a letter, to form rectangular mound.
Place loaves on parchment paper lined sheet pan side by side for final rise, ½ hour to 45 minutes.
Prep your oven by preheating to 450 degrees F/230 degree C. and putting a baking stone, or in my case, a cast iron griddle on the middle rack and a baking pan half full of water right on the very bottom. Mine is long enough for both loaves (if you have neither, just bake it right on the pans).
When ready to bake, lightly flour the tips of your fingers and dock each loaf, deflating some of the bubbles; don't worry, it'll bounce back in the oven.
Cut the parchment paper between the loaves to separate, and slide each loaf right onto to the stone or griddle. Bake until dark golden brown and internal temp reaches 200 degrees, approximately 25 minutes.
Makes two 1-¾ pound ciabattas