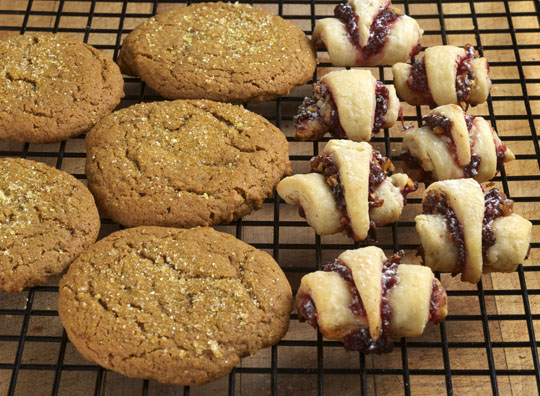 Congratulations on the holiday cookie recipe challenge to Bryony DuPont of Cleveland Heights, Ohio, whose spice cookies wins the drop cookie category, and to Robin Cohen of Arlington, Massachusetts, author of the dovesandfigs blog, who's Rugalach wins the cut cookie category.  I assure you that my affection for Cleveland Heights and my affection for people who cook with goosefat (see Robin's current post), did not weigh into the verdict (cookies above, photo by Donna Turner Ruhlman, thanks Donna!).
The cookies were executed and evaluated by Marlene Newell and several bakers at her site CooksKorner: Dana Noffsinger, Kim Shook (she has public virtual recipe book here), Kerry Beal, aka The Chocolate Doctor, and Anna Serginson.  Thank you all!  My able assistant Emilia Juocys, also a primary tester, tabulated all results on a spread sheet.  Cookies were evaluated on a scale of 1 to 5 each in taste, texture, appearance, festiveness, and replicability.
Bryony and Robin will receive the excellent Gourmet Cookie Book.  Thank you two, and thank you everyone for your submissions (which came from as far away as India).  What was most interesting for all of us was the debate about what a cookie is. When does a cookie no longer qualify as a cookie.  For instance, must a cookie have flour? After fierce debate, during which several testers nearly came to virtual blows, the answer was yes, it must. I was not a tester.  I know I know!  Some will disagree!  But there it is.
Emilia expounds: "Harold McGee defines a cookie in his book On Food and Cooking as a 'sweet bite-sized baked goods of all sorts; crumbly and laminated pastries, wafers, butter and sponge cakes, biscuits, meringues, nut pastes.'  Not all meringues have flour or even a nut flour. So how does that count? On further review of the CIA and Cordon Bleu baking guides there was no clear effort to truly define a cookie.  They both shared the various types of cookies and mixing methods, but no steadfast concept of the cookie.  I emailed pastry chefs Jacquy Pfeiffer founder of the French Pastry School in Chicago and Joe Decker, CMPC from Schoolcraft College in Livonia, MI.
"Decker: 'Really the best I can describe it, a cookie is kind of an American name. In Europe petite four (literal translation: small oven) is a classification of small dry items that don't require refrigeration. Petite four glace, madeleines, tuile, macaroon, palmier, Florentine cookie can all be classified as petite fours.'"
"Pfeiffer: 'How do you define a cookie?  Something usually small, one or two bite size (unless it is an oversized cookie ), can be moist, crunchy or both, is usually served at room temp and usually has a shelf life of at least a week. What are the basic elements and ingredients of a cookie? Usually flour, butter, milk or cream, sugar, eggs and a flavor. Are a cookie and a petit four the same or different? Yes, but they woudl be called petits fours secs (dry) or petits fours moelleux (moist).'
"Holiday cookies do two things," Emilia concludes, "provide sweet snacks to families and friends and bring smiles to peoples faces.  There is nothing better than to see the smile on someone's face when a plate of holiday cookies are placed on a table, let alone a platter of them.  To me it is the essence of the season."
Thank you Emilia, Marlene, all testers and bakers who submitted recipes!
Here are the winners!
Cranberry Raspberry Rugalach
"Each year at Hanukkah I helped my Dad make hundreds of buttery, flaky rugalach," writes Robin.  "When I moved from New York to Boston, I fell in love with cranberries and added them to many recipes including rugalach.   Everyone loved them and now I bake Cranberry Raspberry Rugalach for Dad every Hanukkah."
These are indeed festive treats and require a little more time than a drop cookie.  They require a dough, a filling, a cinnamon sugar, and then the putting together.  I liked the rolled wedge shape technique.  The dough is particularly flaky and buttery, love it.  In fact, I'm going to have a couple right now!
Dough
2 cups all purpose flour
1 cup cold unsalted butter
1 egg yolk
¾ cup sour cream (do not use light or low fat)
Filling
2 cups fresh cranberries
½ cup golden raisins
3 tablespoons orange juice
½ cup sugar
1 cinnamon stick
⅔ cup seedless raspberry jam (homemade or store bought)
¾ cup walnuts (finely chopped)
Sprinkle Topping
½ cup sugar
1 ½ tablespoons cinnamon
6 tablespoons melted butter
Equipment: food processor, rolling pin, pastry brush, pizza cutter wheel, parchment-lined heavy baking trays
Making the Dough
Cut butter into the flour using a pastry blender or food processor until the mixture resembles coarse crumbs.
Mix egg yolk into sour cream.
Add sour cream mixture to flour mixture and blend until it forms a ragged ball. (like a pie dough).
Divide the dough into four even pieces and wrap each piece tightly in plastic wrap.
Chill for at least two hours.
Making the Filling
In a medium saucepan, combine cranberries, raisins, orange juice, cinnamon stick and sugar.
Cook until cranberries are popped and soft and juices have thickened (about 15 minutes).
Removed from heat and remove cinnamon stick.
Add raspberry jam and process filling in a food processor to make a chutney-like, spreadable mixture.
Chill until ready to assemble cookies.
To Assemble Cookies
Heat the oven to 350 degrees F.
Take one piece of dough and roll out to a 9-inch circle.
Brush dough circle with melted butter.
Gently spread  ¼ of the cranberry mixture onto the circle.
Sprinkle with ¼ of the nuts and a two teaspoons or the sugar/cinnamon mixture.
Cut the circle into 12 even wedges with the pizza cutter or a knife as if cutting a pizza.
Roll each cookie from the outside edge of the circle into a crescent shape.
Place the cookies on baking trays.
Brush with melted butter and sprinkle more cinnamon sugar on each cookie.
Continue with remaining dough and filling.
Bake for about 20 minutes until puffed and light golden brown.
Eat warm or room temperature.  These cookies also freeze very well.
Yield: 4 dozen
Chewy Molasses Spice Cookies
"These cookies are an inside joke in my family," writes Bryony.  "My boyfriend loves strong spices, but my stepfather won't go near them. So, I made batch after batch of these cookies over the last three Christmases, gradually slipping in more and more spices, tricking my stepfather – and he LOVES them!"
I too loved the intensity of these spice cookies, and also their chewy texture.  My dad, a spice cookie aficionado, would have loved them too—perfect, easy drop cookies.  Bryony offers elaborate chilling and shaping instructions—I was rushing and the dude did not abide, but his cookies came out fine.  Oddly, Bryony opted for "butter flavored shortening."  When queried on this, Bryony replied, "I know, butter-flavored shortening is blasphemous. However, for these cookies I wanted the baking effect of shortening (the chewiness, which is impossible to duplicate with butter) but with the traditional flavor profile of butter (since butter flavor is so reminiscent of Christmas cookies)."
Me, I can't recommend anything "butter-flavored" except butter.  These cookies were tested with both butter-flavored shortening and regular shortening.  I will leave the choice up to the individual baker.
¾ cup shortening (plain or, wince, butter-flavored)
½ cup white sugar
½ cup brown sugar
½ cup molasses
2 eggs
2 ½ cups all-purpose flour (whatever amount makes the dough not sticky!)
2 teaspoons baking soda
½ teaspoon salt
½ teaspoon ground cloves
½ teaspoon nutmeg
1 ½ teaspoons ground ginger
2 teaspoons cinnamon
decorative holiday sugar
Preheat the oven to 350 degrees F. Cream together shortening and sugars until fluffy and light-colored.
Beat in molasses until completely incorporated. Add eggs, one at a time, mixing thoroughly.
In a separate bowl, combine flour, baking soda, salt, cloves, nutmeg, ginger, and cinnamon.
Add flour mixture to shortening mixture in two or three divisions, beating until completely combined.
Test to see if you can roll the dough into a ping-pong sized ball without the dough sticking to your hands. If the dough is too sticky, add ¼ more flour and beat until combined, and test the stickiness again.
Flatten the dough against the inside of the bowl and cover the bowl with plastic wrap, and stick the dough in the refrigerator for 15-20 minutes.
Once the dough a bit cooler, remove it from the refrigerator. Roll the dough into ping-pong sized balls. Fill a shallow bowl with the decorative holiday sugar and roll each dough ball in the sugar until completely covered.
Return the sugar-coated dough balls to the refrigerator or freezer to cool them again, for thirty minutes or so, or until the dough balls are cold enough to hold their shape easily.
Place dough onto foil-covered cookie sheets.
Bake for 7-10 minutes, or until the tops of the cookies start to show cracks. It is important to under-cook the cookies a bit to help make them soft and chewy, so keep a close eye on them.
Remove cookies to a cookie rack to cool.
Yield: 2 dozen