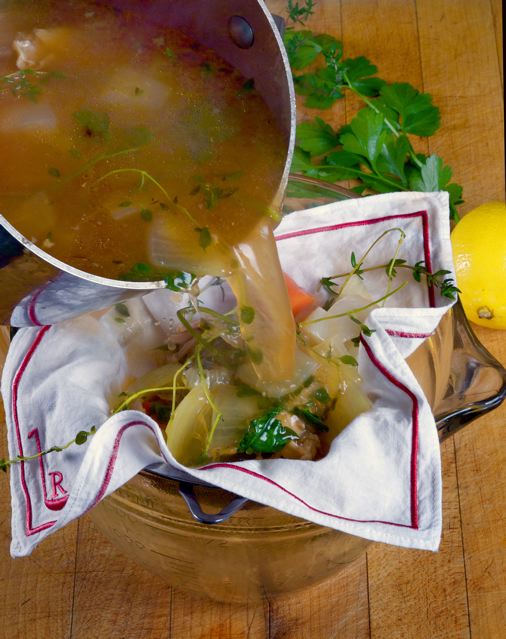 Who would have thought I'd have a future with the man showing off his new Scooby Doo underwear in my kitchen at a New Year's Day celebration?  Yet here we are!  Mac Dalton and I have conspired to create a small number of cooking tools that were either hard to find, non-existent or that we simply love.
This is a big experiment for us. With little capital, we're starting slow to gauge interest and are thus producing in limited numbers. We'll be introducing more new tools as they become available. It's important to say that these are not products some company has asked me to endorse or put my name on. We've created these tools based on my desire for them, and thanks to OpenSky, a new e-commerce site, we can distribute them efficiently.  We're hoping to get a response that allows us to produce them in numbers that will help us reduce their price and offer them more widely.  Also, it will allow us to tweak design based on users' comments and figure out how to offer them.
So here they are the first three.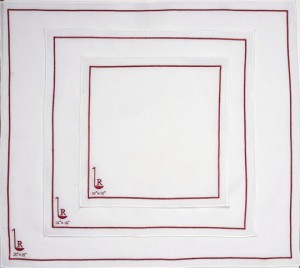 All-Strain Kitchen Cloths (pictured above, all photos thanks to Donna Turner Ruhlman): I don't always strain my stocks through cloth but when I want something really clean, I do. I also strain the whey out of cultured whole milk for a rich creamy, Greek-style yogurt. When tomatoes are abundant, I chop and salt them and let the tomato water drain through cloth. But I hated to spend money on cheesecloth that would only get thrown away. So I started using handkerchiefs, which could be washed and reused. But they were difficult to mark "for kitchen use only," weren't always big enough, and Donna found my using handkerchiefs to strain food through kind of gross.  Thus, reusable, cotton cloths specifically for the kitchen, embroidered and labled by size for easy identification.  The small one, 10" x 10" can be used for a sachet d'épices, the biggest 18" x 20" fits in my chinois or holds a colander full of tomatoes.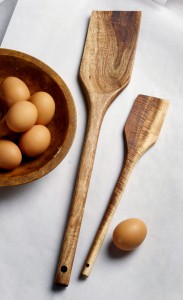 Acacia Wood Paddles: These are by no means new, a wood paddle or spoon.  Indeed, I consider the flat-edged wood spoon to be among the five most important kitchen tools in my kitchen.  But I hate, hate, hate round wood spoons—useless (yet they're the first thing that comes up when you search wooden spoon on Amazon). These flat-edged ones are made of excellent acacia wood, are built to last, and importantly they come in two sizes. A big one, The Spanker, and a little one, Spanky.  The Spanker is unbeatable for stirring big pots of stewing goodness.  Spanky is your all-purpose everyday tool for stirring. The flat edges lifts food off the bottom of the pot and the angled tip gets into corners of your pan.  Chefs working in kitchens, you will love The Spanker—we've given testers to some chefs in Cleveland and they absolutely refuse to relinquish them (and the chefs haven't had any issues with health inspectors and the wood).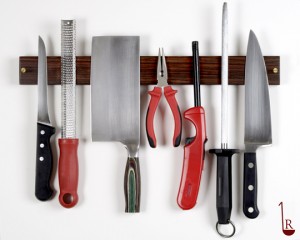 And last, The Easy-Clean Knife Grabber: This too is not an absolutely unique product, but they were so popular when I offered them on OpenSky, the manufacturer we were using stopped giving them to us, so we decided to make them ourselves, beautiful wood, wall-mounted knife and tool holders.  Not only are the gorgeous and enhance the kitchen, they're easy to clean (the metal ones get all gunked up with kitchen grease).  They also hold other tools—I always know where my clicker is when my gas burner won't light and the microplane is always at the ready for last second zesting.  There's no better way to store a knife, keeping it from getting dinged, keeping it out of the way when not in use—but on view.  I love the sight of them.  These come in 18-inch and 12-inch versions, a pale one made of America maple, and a dark one made of African wenge (beautiful wood, but how is it pronounced?!). These things are great in heavily used kitchens because they're so easy to clean (again, chefs, we've had no wood issues with health department here in Cleveland).
These items are available through OpenSky only. If you haven't heard of this site, where passionate people gather to recommend products they love, check it out.  On my page, you can also see the products I use and recommend.  For the passionate sausage maker in your home, see the meat grinder I use, and the sausage stuffer I recommend and use. I wouldn't be without these sidetowels. This boos board is second to none. And of course our new ruhlman.com products. Stay tuned for more products to be introduced soon. And please, let us know what you think.
Life is better when we cook for ourselves—never stop cooking!