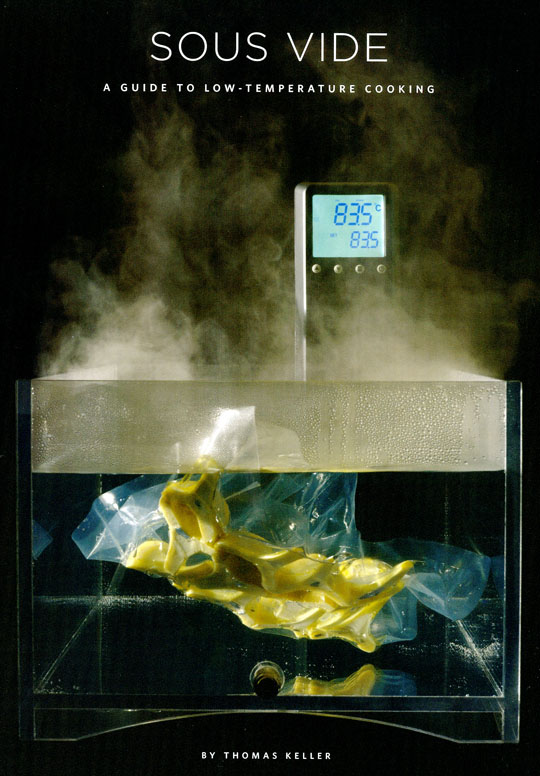 YES! It's true!  The mad genius at Polyscience, Philip Preston—creator of the anti-griddle, the smoke gun (looks like paraphernalia I used to oogle at High Times on Coventry in the 70s), and other magico creations to make cooking more fun—has sent me the latest version of the Polyscience professional immersion circulator for sous vide cooking to play with, something I am eagerly doing.  But as I already have one, there is nothing for me to do but give this sleek machine away to one lucky reader!
First, the circulator: the original now seems like a little Datsun compared to this sleek Beemer. Its design has been honed, its size has been tightened, its power enhanced. This baby operates great.
Leave a comment on how you want to use the circulator along with a working email (not to be published) and your name is in the hat. Special consideration may be given to innovative suggestions on how to use this wonderful contraption.  I haven't decided.  Only one comment per person; anyone caught leaving multiple submissions will be forever banished.
For those who are unclear about what this thing is or does: An immersion circulator is a high tech piece of equipment that heats water to exact temperatures and circulates it so that the temperature surrounding the vacuum sealed food is constant (sous vide = vacuum sealed). This allows you to cook meat to say, exactly 132 degrees F., and keep it there till you need it. It allows you to cook short ribs for three days at 137 degrees F./58 degrees C., long enough to melt the tough connective tissue and make them tender, but at a temperature that keeps them medium rare.
It's an amazing machine and it's quickly working its way from the professional kitchen to the home kitchen.  If there were any doubt that sous vide cooking has gone mainstream, my local Williams Sonoma at La Place in Beachwood, Ohio, said they had four available when I called them up.  Yes, Williams Sonoma carries the immersion circulator.
I first began studying sous vide cooking while writing the book Under Pressure: Cooking Sous Vide, with chefs Thomas Keller, Jonathan Benno and Corey Lee.  Much of this material, the basics of sous vide cooking along with home cook friendly recipes and a thorough discussion of safety issues, has been published in a stylish spiral bound book (cover above), that comes with the machine, along with a DVD, temperature chart and instruction manual.  (Full disclosure: because I wrote the material sous vide manual, I receive some royalties for it; it is only available with the machine, alas.)
There are other machines out there that do similar tasks. The Sous Vide Supreme, a countertop appliance, was built with the home cook in mind.  Plus side: It works as advertised and it's considerably less expensive; on the negative side, you're limited by the 9 x 12 x 7-inch box, and it takes up substantial counterspace.  I know some people have figured out how to jury-rig a rice cooker to cook sous vide (recommended for tinkering geeks, but not for most cooks).
The Polyscience Immersion Circulator is a serious professional machine, portable and powerful.  I've just been using a stock pot, but this will keep a big Lexan tub of water exaclty heated. I highly recommend it for restaurant kitchens. If you are a committed home cook and have the scratch ($799) and want to make sous vide a part of your routine, then I recommend it as well. It's a great machine. (More company pix on flickr.)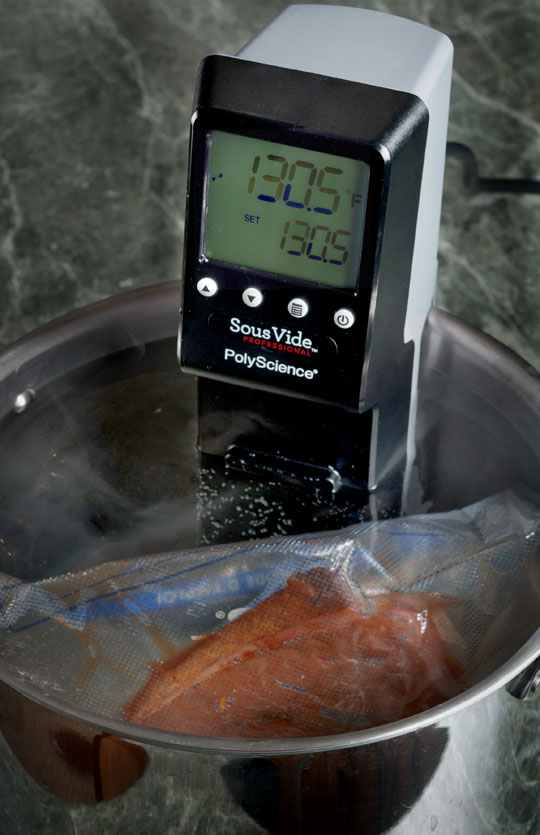 And the one I'm using (above, photo by Donna, cooking last night's London Broil cut) could be yours! Leave a comment and you're in the running.  I'll announce the winner on Tuesday at noon, Eastern time.
"Small Print": Please only one entry per person, we'll be checking, and yes, you can game the system but you probably won't win and you'll risk bad karma for years to come. I will cover shipping in the US, but a shipping and handling fee will be required for shipping to Canada.  I cannot ship to other countries (it's too much of a headache, sorry). And last, personal friends and family are not eligible.
As always, happy cooking!